The Florida Gators easily dispatched the Kentucky Wildcats, 84-65, Saturday afternoon in the season finale for both SEC squads.
Final: Florida 84, Kentucky 65. #Gators move to 29-2 and first team in SEC history to go 18-0 in league play. Hail seniors!

— Chris Harry (@GatorZoneChris) March 8, 2014
UF proved beyond a reasonable doubt that it is currently deserving of the No. 1 seed in the nation, while UK has a lot of questions to answer ahead of the upcoming NCAA tournament.
Florida dominated in every aspect of this game, aside from a short stretch coming out of the locker room in the second half.
The team shot 59.6 from the field and connected on a ridiculous nine of 15 three-point attempts. It also racked up 32 rebounds, dished 20 assists and completely shut down the Wildcats defensively.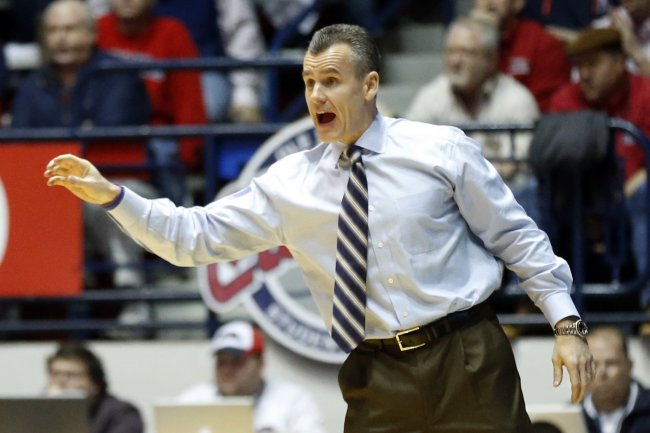 Rogelio V. Solis/Associated Press
Kentucky simply could not hang and struggled to get stops, while succumbing to tough defensive pressure and shooting a mere 45.1 percent from the field and hitting four of 10 from deep. The Wildcats looked outmatched and mustered just 27 rebounds and 10 assists.
Aaron Smith of Rivals pointed out that while the Kentucky defense played poorly for much of the season, its offense was reaching new lows:
UK's defense has been worse than shaky all season. But to see its offense devolve into this is ridiculous.

— Aaron Smith (@ASmithRivals) March 8, 2014
It wasn't the result freshman James Young hoped for, as the swingman told Kyle Tucker of The Courier-Journal that the Wildcats wanted to use this matchup to show the world his team could beat anyone:
UK's James Young says today is "to show people we can play with everybody and beat everybody." Cats have done the former, not the latter.

— Kyle Tucker (@KyleTucker_CJ) March 8, 2014
However, it was a fitting outcome for the Gators' seniors in the last home game of their collegiate careers. Tucker noted that UF employed four senior starters against Kentucky's all-freshman starting five:
Senior Day festivities under way. Cats' five freshmen starters trying to knock off UF team with four senior starters playing last home game.

— Kyle Tucker (@KyleTucker_CJ) March 8, 2014
Trevor Sikkema of ESPN posted a photo of a Senior Day sign spotted in the Gators' student section, poking fun at Kentucky's legion of one-and-done athletes:
Shots fired from the @MBKRowdies. pic.twitter.com/p9el39n1BW

— Trevor Sikkema (@TampaBayTre) March 8, 2014
There weren't many Wildcat fans inside the Stephen C. O'Connell Center for this showdown, as Mark Long of The Associated Press pointed out that Florida packaged tickets with other games to keep the travelling contingent of Kentucky supporters away:
Not a lot of Kentucky fans here today. Gators packaged tickets to this game with others just to deter UK fans from buying them

— Mark Long (@APMarkLong) March 8, 2014
No. 1 Florida finishes its 2013-14 campaign with an unblemished record in conference play, going 29-2 overall and becoming the first team in history to go 18-0 in the SEC, per ESPN's Dick Vitale:
Gators heading 4 perfection & history as 1st team ever to go 18-0 in SEC - putting hurt on Cats!

— Dick Vitale (@DickieV) March 8, 2014
The Gators look like a shoo-in for a top seed in the upcoming NCAA tournament after this historic feat.
The No. 25 Wildcats' shortcoming Saturday means they will end the season having lost three of their last four games and four of seven overall. Kentucky finished the 2013-14 campaign with a 22-9 record, going 12-6 in the conference.
Game Grades
Patric Young, C, Florida: A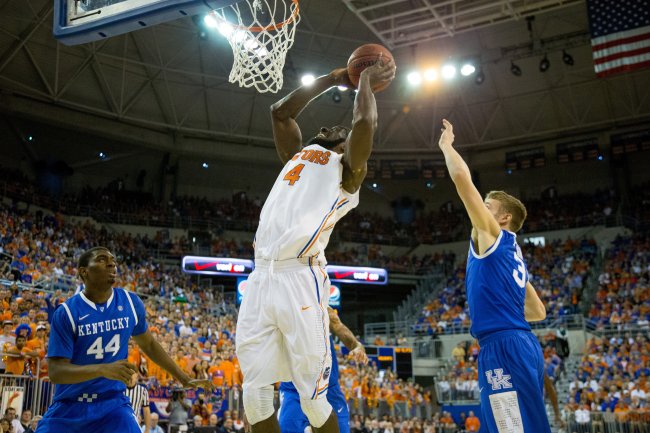 Rob Foldy/Getty Images
Young was Florida's finest player in his final home game. The senior center put up 18 points on 8-of-13 shooting, grabbed seven rebounds and blocked a shot in the contest.
Kevin Brockway of The Gainesville Sun noted that it was, fittingly, a career high for the star big man:
Season-high 18 pts now for Patric Young.

— Kevin Brockway (@gatorhoops) March 8, 2014
Young did most of his work in the first half, as he compiled 13 points before the teams even went into the locker room after 20 minutes of play. Had he played as well in the second half as he did the first, UF would have likely won by an even bigger margin.
Regardless, he deserves a ton of credit for this super senior performance and showed why the Gators will be one of the toughest teams to beat in the upcoming tournament.
Michael Frazier II, G, Florida: B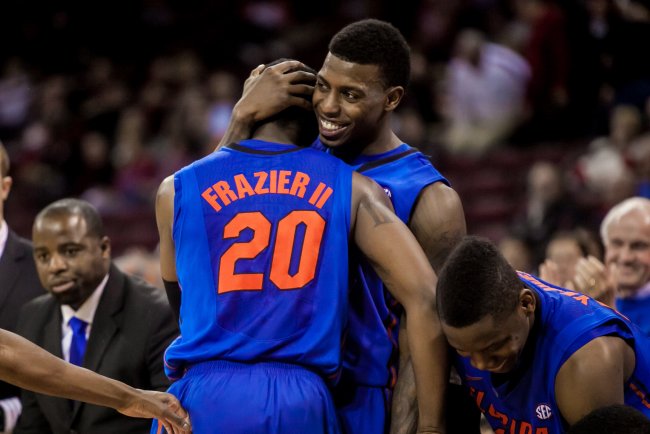 Jeff Blake-USA TODAY Sports
Frazier is the only non-senior starter in the Florida starting lineup, and the sophomore continued to show why coach Billy Donovan is able to trust him.
While he wasn't as potent as he was during a 37-point showing earlier in the week against South Carolina, the sharpshooting guard scored nine points, all on three-pointers, and helped stretch the defense. He added two assists on the day.
While Frazier isn't a departing senior, he did have a special occasion to play for. According to Brockway, Saturday marked the sophomore guard's birthday:
Along with seniors being honored, it's Florida soph g Michael Frazier's 20th birthday. Frazier coming off 37 pt game v. S. Carolina.

— Kevin Brockway (@gatorhoops) March 8, 2014
Julius Randle, F, Kentucky: C+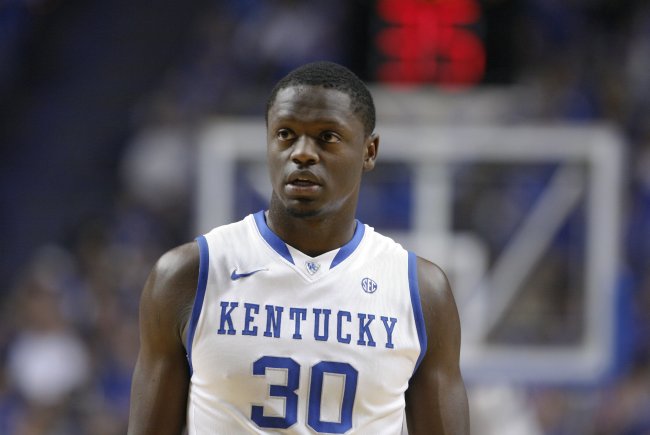 Mark Zerof-USA TODAY Sports
Randle was hurt in the first half with his team trailing by a large margin. Prior to exiting, he hadn't contributed anything to the scoreboard and had zero points.
According to Jeff Goodman of ESPN, Randle had his knee looked at by a trainer:
Julius Randle being attended to on the bench by trainer. Knee injury. Has really struggled today and is scoreless thus far.

— Jeff Goodman (@GoodmanESPN) March 8, 2014
Bleacher Report captured the freshman star limping off:
However, Randle eventually returned ahead of the end of the first half and started putting on a clinic. He would finish the game with 16 points, 10 rebounds and one assist.
His defense was a bit suspect, however, as Smith noted the forward struggles in zone:
Julius Randle remains the worst defender in that zone. Far too often out of position.

— Aaron Smith (@ASmithRivals) March 8, 2014
Had Kentucky's best player performed better in the first half, the Wildcats might have kept this one closer and even had a chance to win it.
What's Next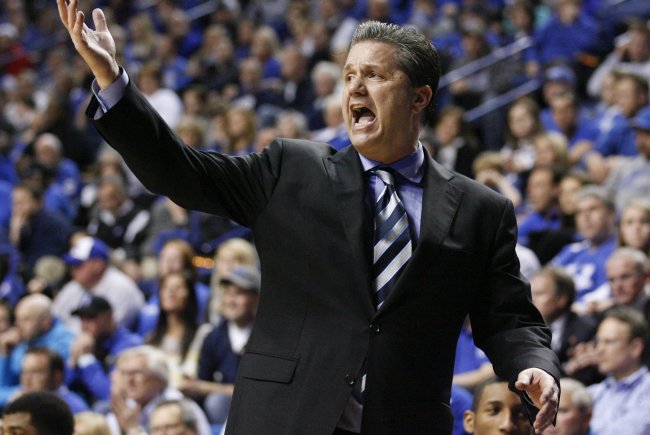 Mark Zerof-USA TODAY Sports
This game wrapped up the season for both teams, who will now head to the SEC tournament hoping to build momentum before the NCAA tourney.
Florida and Kentucky had locked up the top two seeds in the conference tourney prior to this contest, earning first- and second-round byes. They both will take to the court in the Georgia Dome for the quarterfinals on March 14.
Which team will win the SEC tournament?
Should each team win its respective game, the Gators and Wildcats will clash for the third time this season. The stakes will be raised, however, as the SEC championship will be on the line and could have a drastic impact on how the selection committee chooses to seed these two powerhouse programs.
If this game was any indication, the Wildcats are going to need to play a lot better and perhaps have some luck on their side in order to have a chance. Florida is the class of the SEC, and it will be downright surprising if the Gators fall ahead of the Big Dance.