Arsenal emerged as the first team to qualify for the FA Cup semifinal, beating Everton at the Emirates by a score of 4-1.
While the Gunners certainly deserved the win, the scoreline was somewhat flattering as Everton put together a fine display in what was a highly entertaining cup tie. But some clinical finishing late in the game and fantastic displays from Santi Cazorla, Mesut Ozil and Olivier Giroud ensured Arsenal would progress from Saturday's fixture.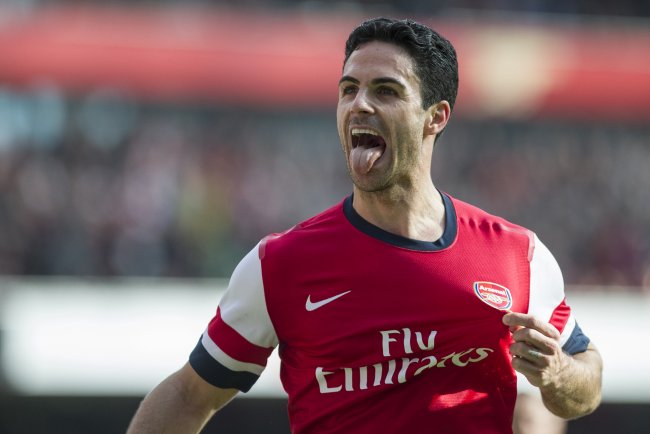 Bogdan Maran/Associated Press
Arsene Wenger came into the game needing a result, with critics partly blaming the veteran French manager for his team's heavy loss at the hands of Bayern Munich. His decision to rest Mesut Ozil against Southampton was shot down by pundits and analysts around the globe, but as Sir Jenkinson points out, it may have been all for the best:
Arsene Wenger 2 weeks back - "You'll see a different Özil from now." 1st start after Bayern - 1 goal, 1 assist today. Long way to go, Mesut.

— Sir Jenkinson (@theEpicGooner) March 8, 2014
Powered by the brilliance of the German orchestrator and the continuous movement of Mikel Arteta, the Gunners played arguably their best game since the turn of the year. The Daily Telegraph's Henry Winter reported Wenger seemed to be happy with his decision to rest Ozil:
Wenger on Ozil: 'physically he looked regenerated. There was more power in his runs. And he did a lot of 'dirty' work, tracking back' #afc

— Henry Winter (@henrywinter) March 8, 2014
It was a day on which Wenger could seemingly do no wrong, and his decision to keep Giroud on the bench seemed to spark the French international after the break. Arsenal's official Twitter account shared some of the praise Wenger showered on his compatriot:
Wenger: "Giroud was important today. He showed he can score goals when he has come off the bench." #AFCvEFC

— Arsenal FC (@Arsenal) March 8, 2014
Indeed, this win belonged to Wenger as much as it did to his players. Dave Seagers put it best:
Full credit to Wenger. Great selection and great substitutions at telling times. He realised what today meant to club and fans. Hats off.

— Dave Seager (@goonerdave66) March 8, 2014
Wenger also chimed in on the health of Laurent Koscielny, as reported by Le Parisien's Julien Laurens:
Wenger on Koscielny: "He should train again tomorrow and he has a chance to play on Tuesday at Bayern."

— Julien Laurens (@LaurensJulien) March 8, 2014
Laurens also shared Wenger's quotes on the upcoming game against Bayern, with the French manager seemingly balancing optimism with realism:
Wenger on Bayern: "We can be inspired by focus and desire of today's game. We go to Munich with the same spirit. But stats are against us."

— Julien Laurens (@LaurensJulien) March 8, 2014
Indeed, coming back from an 0-2 deficit against the reigning UEFA Champions League holders will be no easy task, but if the Gunners can put in a similar performance as the one we witnessed against Everton, an upset could be on the books.
In an interview with ITV, Roberto Martinez made it clear he felt the penalty decision leading to the Gunners' second goal was 'soft," as reported by The Sport Review:
I still think the penalty was soft but these key moments affect the game

The key moment was the second goal. I feel it was a situation when Gareth Barry is fighting for the ball.

Of course there is contact but is it enough to give a penalty? It's a difficult decision and possibly one you need to go in your favour. It was always going to change the game and that was the case.
Some pundits voiced their criticism with the selection of backup keeper Joel Robles, whose performance was somewhat of a mixed bag. BBC's Phil McNulty was blunt in his assessment:
Lots of feedback from Everton fans on Martinez's decision to play Robles. I won't be changing my mind. A mistake in this game.

— Phil McNulty (@philmcnulty) March 8, 2014
The Spanish manager left the FA Cup with a final salute to its format, shared here by the FA's Twitter account:
Martinez: 'This tournament (#FACup) is still the best in the world. Phenomenal. We'll try our best next season.'

— The FA (@FA) March 8, 2014
The FA Cup will resume on Sunday, with Sheffield United taking on Charlton Athletic.