Do most NBA players get excited when the owner stops by for a pregame meeting? Probably not, but most players do not play for the Charlotte Bobcats and Michael Jordan.
The greatest player of all time—and the guy who signs the players' checks—stopped by the Bobcats' locker room before Friday's matchup with the Cleveland Cavaliers, per the Charlotte Observer's Rick Bonnell:
Michael Jordan addressed Bobcats pre- game to impress the importance of this playoff push.

— Rick Bonnell (@rick_bonnell) March 8, 2014
While a visit from the owner wouldn't normally qualify as an earthshaking event, particularly before a home game, the The Plain Dealer's Mary Schmitt Boyer and Jodie Valade made it clear that Jordan does not mingle with his players under normal circumstances:
Told that Jordan very, very rarely even walks in Bobcats locker room, let alone addresses team. #Cavs #Bobcats

— M.S. Boyer/J. Valade (@PDcavsinsider) March 8, 2014
Indeed, this was a critical game against a team behind Charlotte in the race for the last few playoff spots in the Eastern Conference.
Jordan told Bleacher Report's Jared Zwerling that he has been impressed with his team and the new direction the Bobcats have taken under first-year head coach Steve Clifford:
(Clifford) has them understanding that everyone must contribute on that end of the floor. We cannot rely on one or two guys on defense to win games. He has his principles—limiting fast-break points, second-chance points and opponents' free-throw attempts—and he sticks to them.
The Bobcats' commitment to defense this year must certainly impress Jordan, the 1987-88 Defensive Player of the Year and nine-time first-team All-Defense selection.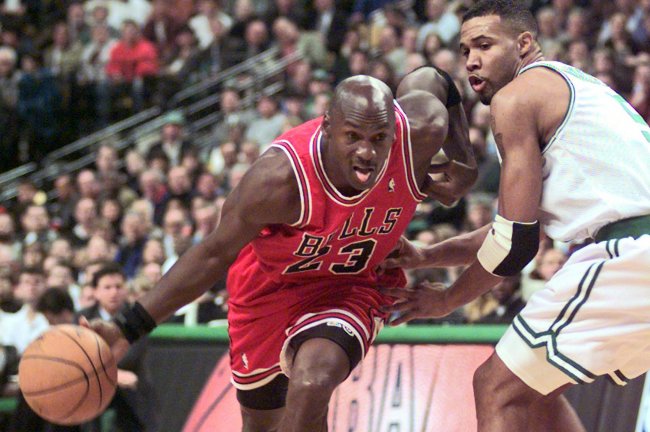 STEPHAN SAVOIA/Associated Press
It would appear that His Airness hasn't lost the magic touch, as his Bobcats went on to beat the Cavaliers 101-92. Center Al Jefferson led the team with 28 points, while Kemba Walker had 20 points and 14 assists.
After the game, Jefferson credited Jordan's appearance for helping to fire up the team, per Bonnell:
Al Jefferson on Michael Jordan's pre-game speech: "If that doesn't motivate you, I don't know what will."

— Rick Bonnell (@rick_bonnell) March 8, 2014
The win over Cleveland, coupled with a loss from the Detroit Pistons, gives Charlotte a five-game cushion for a playoff berth. The Bobcats will likely be headed to the postseason for only the second time in franchise history.
Here's hoping the owner, who knows a thing or two about winning himself, is proud of his guys.