At the 2013 United States Grand Prix, Red Bull Racing set a new Formula One record with the first sub-two-second pit stop.
Changing four tyres in under two seconds is an incredible feat of human skill and engineering—as readers will surely know if they have ever struggled with a jack and lug wrench on the side of the road.
However, race team manager Jonathan Wheatley told the Red Bull website at the time that the team can—and does, in practice—go even quicker. He acknowledged, though, that, "in a race with the noise, the pressure and everything else going on, it's probably unlikely we'll see it."
As the new season gets underway, I asked the Red Bull team a few questions about the future of pit stops in F1. Wheatley answered via email.
Bleacher Report: After four seasons under the refuelling ban, are there still further improvements to be made in terms of the technology used during pit stops, or have we reached a point (or will we in the future) where the law of diminishing returns makes it unrealistic to keep investing in this area?
Jonathan Wheatley: I think that's an interesting question. As you know, last year we managed to do two sub-two-second pit stops, and so I think our target at the moment would be to be at that level consistently, rather than every now and then. To be honest, most of that's going to come from human performance and not mechanical advantage or any special system. I don't think there's going to be a huge amount of spend in that area, we're pretty much there in terms of equipment.
B/R: What kind of pit-stop times are possible in a race? Or are you not really aiming to go faster at this point?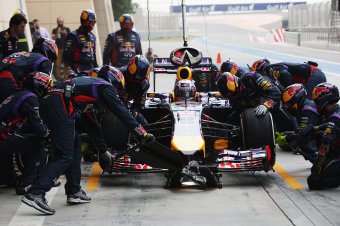 Mark Thompson/Getty Images
JW: We've shown that the car being stationary for under two seconds is possible. We've also shown that, despite having largely the same equipment and pit crew for the whole year, we only did it twice in all those pit stops, so I'd say the equipment's about right, but it comes down to getting all those people to have a great day on the same day, so our target, as always, is actually to have the car stationary for no more than two-and-a-half seconds all year. So I'm not really interested too much in the sub-two-second stops as such.
B/R: Does the fact that the stops are so quick hurt the spectacle for the fans? The car has barely stopped and it is gone again.
JW: I would think the opposite, because I think it's extraordinary what we're achieving: We're getting an awful lot of people, there's as many as 22 people involved in a pit stop, to safely send a car in that amount of time, I think it's a spectacle in itself.
B/R: Do you envision F1 making changes to the pit stop regulations in the near future (e.g. limiting the number of team members working on each car)?
JW: It's possible that in the future we'll have further restrictions placed on the amount of personnel that are allowed to travel around the world with us, so I can easily see a situation where we will have to logically reduce the amount of staff in a pit stop because we've perhaps reduced the amount of staff we have at the circuit.
Wheatley's answers bring up a few interesting points. First, he acknowledges that pit-stop technology has matured enough that further investment will not necessarily mean faster stops.
While that may be true for the big-budget teams, it is not necessarily so for everyone on the grid. When I asked Caterham's head of communications Tom Webb a similar question in a phone interview over the winter break, he said that while the team's mechanics practice as much as any others, the technology is not always available to them.
"For us," he said, "if it comes down to a choice between spending money on a new wheel gun or on a new aero piece, for example, we have to make a choice. For a team like Red Bull, they may be able to do both." So it is not only on the track that the bigger-budget teams have an advantage.
As well, Wheatley also alludes to one potential aspect of the incoming spending cap: Limiting team personnel. Certainly one effective way to cut costs would be to limit the number of people teams can fly around the world. And if that led to fewer people involved in the pit stops, so be it. IndyCar manages just fine without three people to change each tyre.
Blink and you may miss an F1 pit stop, but the differences between the teams—and the ever-present possibility that something will go wrong—still make the stops a dramatic part of any race.
Follow Matthew Walthert on Twitter: