Updates from Friday, Mar. 14
ESPN's Adam Schefter reports a deal is done:
Colts and WR Hakeem Nicks reached agreement on a one-year deal, per source.

— Adam Schefter (@AdamSchefter) March 14, 2014
NFL Network's Ian Rapoport first reported Nicks could be closing in on a deal:
The #Colts are closing in on a deal for WR Hakeem Nicks, per source.

— Ian Rapoport (@RapSheet) March 14, 2014
Updates from Thursday, Mar. 13
ESPN's Josina Anderson reports that Nicks isn't locked into going to Carolina just yet:
WR Hakeem Nicks just told me, "I'm flying to Indy tonight. The plan is to meet with the Colts tomorrow."

— Josina Anderson (@JosinaAnderson) March 13, 2014
NFL Network's Ian Rapoport added more on Nicks' potential landing place:
Hakeem Nicks is visiting #Colts tomorrow (as he told @JosinaAnderson), and the #Panthers and #Chargers are in the mix. Nerves in Carolina.

— Ian Rapoport (@RapSheet) March 13, 2014
Joe Person of The Charlotte Observer previously reported the Carolina Panthers will target Hakeem Nicks to replace Steve Smith, who Bill Voth of the SportsXchange reports will be cut today:
NEWS: Unable to find a trade partner, the #Panthers will release WR Steve Smith today, officially ending his 13-year career w/the club.

— Bill Voth (@billvoth) March 13, 2014
I'm told Hakeem Nicks is the Panthers' top target to replace Steve Smith. Panthers hope to bring him in for a visit soon.

— Joe Person (@josephperson) March 13, 2014
CBS Sports' Jason La Canfora quickly followed Person's report to state the Panthers have already made an offer to Nicks:
With Steve Smith on way out of CAR, Panthers still talking to Hakeem Nicks. Offering deal worth about $4.5M/season. Badly need WRs

— Jason La Canfora (@JasonLaCanfora) March 13, 2014
Late Thursday ESPN's Adam Schefter reported another team interested in Nicks:
Patriots free-agent WR Julian Edelman is scheduled to visit the 49ers on Friday, per source. SF also interested in Giants WR Hakeem Nicks.

— Adam Schefter (@AdamSchefter) March 14, 2014
Updates from Sunday, Mar. 9
ESPN's Josina Anderson provides a statement from Hakeem Nicks discussing his NFL future:
Ideally this is what I want: I want to go to a team where I'm the missing link. There are a number of teams that I have my eye on once I hit the market. I know if I went to a place like Indianapolis I would be dangerous with a quarterback like Andrew Luck. I can see myself catching passes from Cam Newton or even Philip Rivers. Players have already started to reach out to me from other teams saying they would love for me to come join them. I just want to make it clear that I want a long-term deal and I want to be happy. I'm excited about talking to teams and making it work.
Original Text
Hakeem Nicks is one of the more intriguing options set to hit the open market this offseason, as the veteran wide receiver has plenty of proven production and experience under his belt.
While the 26-year-old wideout has been dealing with various injuries and suffered through the first touchdown-less season of his career in 2013, he's still going to be a hot commodity when free agency officially begins.
There are a number of potential suitors emerging for Nicks' services, but the incumbent New York Giants are not one of them. It doesn't seem likely that the G-Men will get involved in the bidding for the player they selected in the first round of the 2009 draft, based on everything team personnel have said thus far.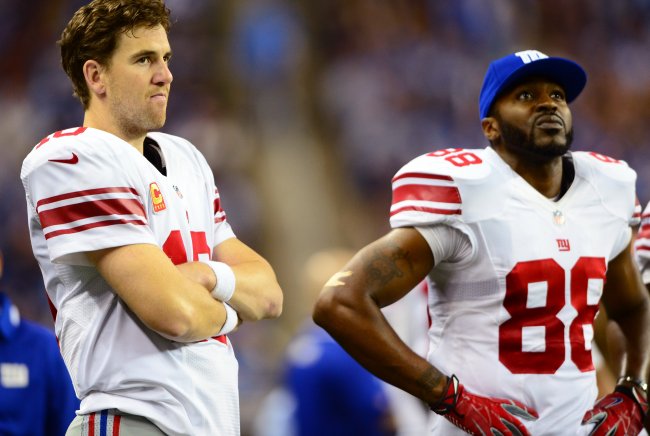 Andrew Weber-USA TODAY Sports
According to Jordan Raanan of NJ.com, Giants head coach Tom Coughlin spoke about Nicks at the NFL Scouting Combine two weeks ago, and he did not give the UNC product a ringing endorsement:
He's a free agent. Who knows? You'd basically like to have all of your free agents back. That doesn't happen. You have guys that are injured, you have limitations on salary.

I'm sure that the [free-agent] market will be where Hakeem will go and we'll see what happens.
As if Coughlin's words weren't enough indication, a source close to the situation informed Raanan that there is "close to zero" chance that the Giants retain Nicks in free agency.
Derek Havens of PatsFans.com noted that the Giants' store may have given away the team's plans:
Just saw the Hakeem Nicks jerseys are 40% off on the #Giants website. Looks like they've made their decision lol

— Derek Havens (@PatriotsHaven) March 3, 2014
One place where the five-year veteran may land is Baltimore, as there has been some talk that the Ravens "could end up" adding the underachieving receiver this offseason.
That conjecture comes courtesy of ESPN's Jamison Hensley in response to a question about which position the Ravens would address by signing a "big" free agent. Hensley stated that Nicks is an option, although he noted he's "not sure that would classify as a 'big' free agent."
Ravens wideout Torrey Smith believes the team needs to add a "move-the-chains guy" at receiver, per Garrett Downing of the franchise's official website.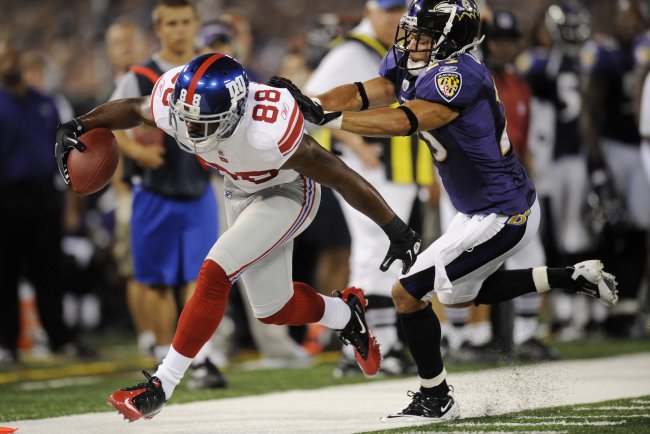 Nick Wass/Associated Press
While Nicks isn't regarded as a possession receiver, the 6'1", 208-pound star does have the size to become a reliable option for quarterback Joe Flacco. However, possession doesn't seem to fit the type of game that Nicks has built his reputation on in the NFL.
The Charlotte native served as Big Blue's No. 1 wide receiver and even during his mediocre 2013 campaign averaged 16.0 yards per catch—the 11th-highest mark in the league. His game is far too similar to that of Smith, who averaged 17.4 YPC this past season.
Should Baltimore decide to pass, the New England Patriots are another club that might be willing to roll the dice with Nicks.
According to Jeff Howe of the Boston Herald (via ProSportsDaily), the Pats have a lot on their plate, and how they handle incumbent receiver Julian Edelman's impending free agency may have a great impact on how much flexibility they have to sign a premier wideout.
Howe listed Nicks as one potential premium option, along with Eric Decker and Jeremy Maclin, who has since re-signed with the Eagles. It might cost the Patriots a pretty penny to bring in the receiver who had back-to-back 1,000-plus-yard seasons in 2010 and 2011, but they also may get a discount depending on the market and how his physical exam shakes out.
Regardless of whether the Pats are interested, it doesn't seem that Nicks is going to be a first-day target for most teams. His health is a major factor in his earning ability, and passing a physical with flying colors could be a multimillion-dollar ordeal.
Expect team doctors to take a good, long look at Nicks before any offers are extended, but there is little doubt he'll land with a new team and be hungry to jump-start his career in 2014.