As Diego Lopez discovered against Atletico Madrid on Sunday, it's tough at the top.
Gabi's thunderbolt flashed past him and before it had even hit the back of the net, people were clamouring for Iker Casillas to be reinstalled in the first team.
It wasn't exactly a dreadful goalkeeping blunder, but it was impossible not to wonder if Casillas would have been able to save it.
But as previously discussed on Bleacher Report, the Real Madrid captain is a statesman for the team, diplomatic and dignified in dealing with the media.
Casillas spoke at a press conference, reported by AS, where he backed Lopez to continue in goal for Carlo Ancelotti's side.
As Madrid captain, what I'd like to ask for is respect for all the players who are part of this squad. Here it isn't a question of who should play and who is the best. We have a coach who makes the decisions and we have to observe them. Up to now, the coach has gone for Diego in a competition we're doing well in. Diego Lopez has had a big hand in the fact that we're top. He's doing very well. When I play, I have to do well.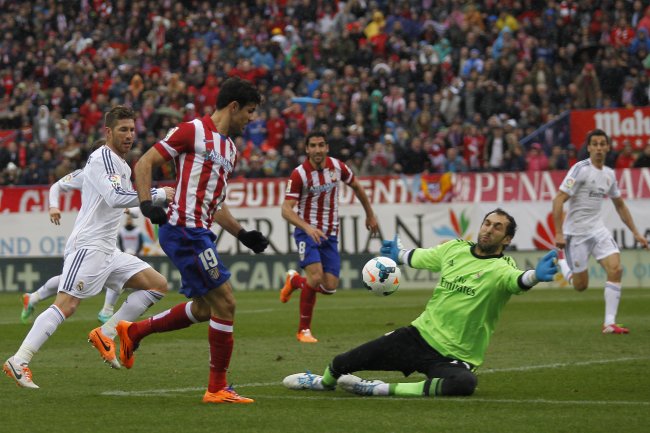 Gabriel Pecot/Associated Press
As we know, Casillas has just been featuring in the Champions League and Copa del Rey for Madrid, with Lopez playing in La Liga.
In some quarters there is a clamour for Casillas to replace Lopez in goal for La Liga matches too, although to do this as a knee-jerk reaction to the Gabi goal would be a bad move.
It would upset the squad harmony, because players would begin to worry about every little mistake instead of relaxing and focusing on their game.
Imagine, for instance, if Casillas made an error after being put back in the side. Then what? Put Lopez back in?
The Spanish national team stopper has played just 14 games out of a possible 41 this season but is still in line to play for his country at the World Cup.
In fact, playing the long game seems to be working out for him.
Jose Mourinho dropped him last season, and Carlo Ancelotti has kept him out of the side in the league this term too.
At some points it seemed like he needed to leave, for his own good. But now, stories emerge of Lopez being linked with a move away instead.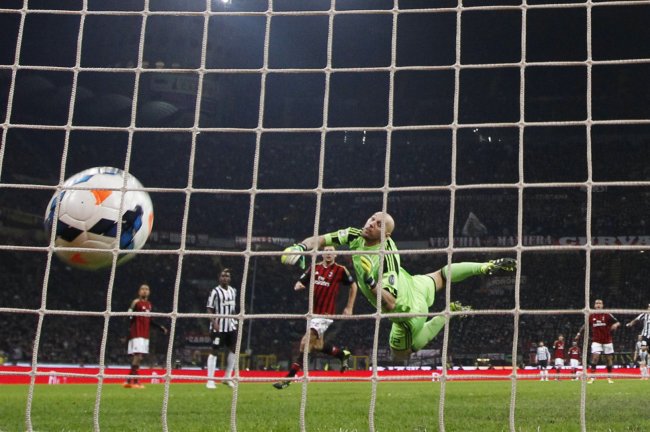 Luca Bruno/Associated Press
AC Milan, according to Tuttosport (h/t AS), want to bring Lopez to the San Siro to replace the ageing Christian Abbiati.
If he does leave in the summer, then Casillas seems set to be restored to first choice in all competitions, something which would be welcomed with open arms by many Madridistas.
Chelsea's young stopper Thibaut Courtois, currently on loan at Atletico, has also been linked to a switch, according to AS (h/t Hannah Duncan of Metro), but this is unlikely to happen.
If it did, the same situation as this season would be repeated, with two goalkeepers who believe they should be first choice.
Casillas, 32, recently announced that he wants to stay at Madrid until he is 40 years old. He told Melody FM, h/t Goal.com:
I can play up to 40. If a goalkeeper is careful they can get to that age now, if you take care. I wish I could play at Madrid until I'm 40, but there will be a moment where it isn't possible. When I finish my contract it'll raise the question of whether I stay at Madrid. I want to keep winning titles. It's wonderful to have the opportunity to win trophies and then go and enjoy it with the fans.
Casillas might not even have to wait until next season to get back in goal for La Liga matches.
Earlier this year, Ancelotti told journalists, as reported by Sky Sports, that if the club reached the Champions League final then he might play the goalkeeper for some league fixtures too.
It seems things are looking up for Iker.