It took a while, but the San Antonio Spurs were finally able to get their revenge on the Miami Heat.
Gregg Popovich's team missed its chance to totally redeem itself from a Finals defeat when it lost to Miami in January, but on Thursday, the Spurs put on an early offensive clinic and rolled to a 111-87 victory.
Tim Duncan finishes with a double-double (23 pts, 11 rebs) as the Spurs take down the Heat 111-87! pic.twitter.com/DniJfvMmcT

— Bleacher Report (@BleacherReport) March 7, 2014
Tim Duncan led the way with 23 points and 11 rebounds for the Spurs, who shot 50.6 percent from the field and never trailed, but it was a truly balanced effort.
Boris Diaw didn't miss a shot from the floor on his way to 16 points, eight rebounds and five assists, Tony Parker added 17 points, the second unit chipped in 38 and perhaps most importantly, Kawhi Leonard locked down LeBron James on the defensive end.
ESPN Stats & Info summed up Leonard's performance:
LeBron James has 5 turnovers and 4 have come against Kawhi Leonard as his primary defender.

— ESPN Stats & Info (@ESPNStatsInfo) March 7, 2014
In addition to those five turnovers, James struggled from the field for just 19 points, as Chris Bosh led all scorers with 24 and the Heat dropped their second game in a row.
Bleacher Report's Ethan Skolnick had LeBron's thoughts on his performance:
LeBron says every time he shoots, he feels like jersey is pulling. "I don't have a lot of room for error on my jumper."

— Ethan J. Skolnick (@EthanJSkolnick) March 7, 2014
Behind an offense that was clicking on all cylinders, the Spurs jumped out to a 30-16 lead in the first quarter and eventually pushed the advantage to 17 points early in the second. Miami slowly chipped away at the lead, but after Diaw finished a perfect-shooting half with a three, the Spurs carried a 62-51 lead into the break.
Thanks to Parker's penetration and an ability to get whatever they wanted on the interior, the Spurs finished the half shooting a scorching 62.9 percent from the field.
ESPN Stats & Info gave a look at the numbers in the paint:
The Spurs were 15-for-19 in the paint in the 1st half. The Heat shot 11-for-24 from the paint. Advantage, Spurs.

— ESPN Stats & Info (@ESPNStatsInfo) March 7, 2014
But a combination of increased defensive activity from Miami and a cold-shooting stretch from San Antonio resulted in just 20 points for the Spurs in the third quarter, as the Heat cut the lead to 82-74.
As the San Antonio Express-News' Jeff McDonald noted, it was a good sign for the Spurs:
Spurs an NBA-leading 34-1 when ahead after three quarters, for those of you who track such things.

— Jeff McDonald (@JMcDonald_SAEN) March 7, 2014
San Antonio's second unit was prepared to continue that success, as Patty Mills and Marco Belinelli combined for a trio of three-pointers, pushing the Spurs' lead back to 12 before James and Bosh reentered at the 9:08 mark.
The lead only ballooned from there, as the Spurs extended the advantage to 18 to cap off one of the most comprehensive victories over the two-time defending champions you'll see all year.
This certainly isn't the revenge Popovich and the Spurs are truly targeting, but it was an indication they'll be ready come April.
Player Grades
LeBron James, Heat: C+
James struggled in the first half, missing several mid-range jumpers, as well as his only three-point attempt en route to a 3-of-11 showing for 11 points. As NBA.com's Couper Moorhead noted, it was a rare occurrence for the typically ultra-efficient superstar:
Only the second time this season that LeBron has missed eight or more shots in a half of basketball.

— Couper Moorhead (@CoupNBA) March 7, 2014
To add to the struggles, he picked up two quick fouls to start the third quarter, giving him four for the game and prohibiting him from being 100-percent aggressive. Combined with Leonard's defense for Los Spurs, James struggled to an inefficient 19 points on 18 shots.
Of course, as he tends to do, James found other ways to contribute with eight rebounds, seven assists and two steals. But this isn't the kind of game you've come to expect from the King. Give credit to the Spurs.
Tony Parker, Spurs: B+
Parker set the tone early, scoring or assisting on the Spurs' first seven buckets. After six minutes, San Antonio had built an 18-10 lead, and the lightning-quick point guard had eight points and three assists.
His ability to get into the lane at will completely altered the Heat's defense:
Miami did a solid job of slowing Parker down as the game went on, but he still managed 17 points and a plus/minus of plus-11, which was second-best among starters behind only Diaw.
Chris Bosh, Heat: B+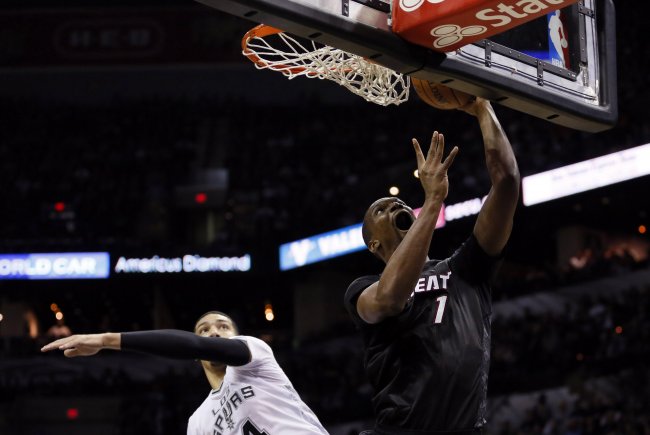 Soobum Im-USA TODAY Sports
With James and Dwyane Wade struggling a bit in the first half, Bosh stepped up and kept the Heat in the game, scoring 15 points on nine shots in the first 24 minutes.
There wasn't much else he could have done on Thursday night.
Tim Duncan, Spurs: A
Tim Duncan did Tim Duncan things.
The Big Fundamental was efficient on the offensive end. He hit nine of his 13 shots and knocked down all five of his free throws. He was active on the glass, collecting 11 rebounds (two offensive). And he made passes like this:
He closed out the game with several buckets down the stretch, and it was about as quiet of a 23-and-11 performance you'll see.
What's Next
The Spurs, who remain within striking distance of the Oklahoma City Thunder in the West, stay home for a matchup against the Orlando Magic on Saturday. After a quick trip to Chicago, they then return home for two more against the Portland Trail Blazers and Los Angeles Lakers.
Miami, meanwhile, is now two games behind Indiana, and will look to halt its mini two-game skid in a tough road game against the Bulls at the United Center on Sunday afternoon.