The U.S men's national soccer team looked completely out of sync in their 2-0 loss to Ukraine, and came away from the game with some unsettling concerns with just a few opportunities to warm up before the World Cup in Brazil this summer.
The game was shifted away from the political turmoil in Ukraine and into Cyprus, but the relatively neutral location didn't seem to help Team USA in the least bit during the game.
The listless display certainly doesn't inspire confidence, considering the looming specter of the Group of Death at the World Cup, which features perhaps the world's best player in Cristiano Ronaldo and the indomitable soccer machine that is Germany.
It wasn't a completely unexpected disaster, as they faced a tough opponent in a Ukraine side with more to play for than just soccer. Still, the 2-0 drubbing highlighted key concerns for the team, some of them well-chronicled and others fairly recent issues.
The Defense Is In Disarray
Actions speak louder than all words except for perhaps those coming from USA goalkeeper Tim Howard.
The USA backline already leaking. Fascinating, in empty stadium to hear Tim Howard riding that back 4.

— Max

Bretos

(@mbretosESPN) March 5, 2014
The poor performance of the makeshift defense featuring Edgar Castillo, John Anthony Brooks, Oguchi Onyewu and Geoff Cameron was the most disappointing aspect of Team USA's struggles. All four players are looking to latch onto the World Cup squad, and they did very little to boost their chances of finding playing time in Brazil.
Jurgen Klinsmann seemed to be aware of the potential for struggle at the backline. According to the Associated Press, via ESPNFC, Klinsmann said, "It's understandable that collectively, it's not clicking. It would be half a miracle if we would click."
Of the four players starting on defense for this match, only Cameron—playing at right back—proved himself capable against Ukraine. The lack of communication between center backs Brooks and Onyewu was appalling, as painfully demonstrated on Ukraine's first goal from Andriy Yarmolenko.
Neither of those two look likely to unseat Omar Gonzales or Matt Besler before the World Cup, but it says something about the depth of this squad that two European-based players can fall so short of their MLS compatriots' standards.
If it weren't for the supreme athleticism of Tim Howard in goal, Team USA may have found themselves on the short-end of a truly lopsided score.
Jozy Altidore's Inability to Score
Not every player's form carries over from club to country, but Jozy Altidore did little last night to calm the fears of U.S. soccer fans who worry that his dire performances with Sunderland this season may hinder his play heading into the World Cup.
Altidore has scored just a single, solitary goal in 23 Premier League appearances this season. Altidore may have found his way into the most star-studded league in the world, but he looks completely out of his depth once he gets there.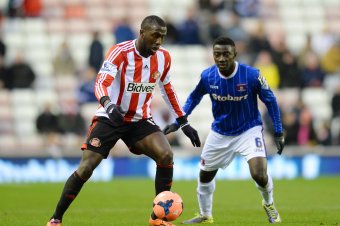 Mark Runnacles/Getty Images
If there was ever a player who needed a goal, any goal, to get back into the swing of things, its Altidore. Unfortunately, Altidore failed to find the back of the net yet again.
He didn't receive the ball enough against Ukraine to ever get in a true rhythm but was merely serviceable where he needs to be razor sharp as the focal point of the U.S. attack.
For a player who looked so sublime for club and country just a few months ago, it is a shame that the old fears of an American team lacking any formidable strikers are creeping back into the national dialogue.
If Altidore can't sort out his game, the U.S. may be relying on youngsters such as Aron Johannsson or Juan Agudelo against teams like Ghana and Germany when it matters most.
Dempsey Is Out of Form
Altidore might be able to shoulder some of the blame onto the quality around him for his lack of goals, but Clint Dempsey's game has worn thin despite always being in the thick of things ever since his shocking move to the Seattle Sounders last year.
In the absence of Michael Bradley and Landon Donovan, it comes as no surprise that Dempsey takes a leadership role when suiting up for the Stars and Stripes. He is a player who generally supplies competence and confidence for his country.
#USMNT Lineup Notes: The U.S. is 6-2-1 with Clint Dempsey as the team captain.

— U.S. Soccer (@ussoccer) March 5, 2014
Lately, however, Dempsey has failed to provide any of his teams with a spark.
Clint Dempsey has 1 goal in his last 80 shots for club and country (1.25% conversion rate). Cold.

— Alex O (@tempofreesoccer) March 5, 2014
He looked out of sorts all game long despite playing with familiar midfield companions such as Jermaine Jones and Sacha Kljestan.
And when America is hurting for a goal from up front, Dempsey is often one to deliver, but he managed just a couple of chances against Ukraine and only really looked threatening for a brief period at the beginning of the second half.
There is still plenty of time for the Klinsmann and his charges to work out the kinks before heading south to Brazil for the summer. If the disappointments from this game can disappear between now and then, Team USA will find itself with plenty of life as they head into their Group of Death.