Arsene Wenger wants the English football season to prioritise Premier League games over FA Cup matches by altering the final stages of the latter competition to midweek fixtures.
The Arsenal boss speaks ahead of a hectic March for his players, which sees the Gunners compete in crucial clashes across the Premier League, FA Cup and Champions League.
Next up is difficult weekend battle against Everton on March 8, which Wenger would rather play on a week day, reported by Josh James of Arsenal Magazine:
The only thing that I might change [about the FA Cup] is the priority it has over Premier League fixtures.

At the moment we postpone games in the Premier League later on in the season when they clash with the FA Cup. That can lead to unfairness in the league season.

What I would think about is not moving Premier League games to make time for the FA Cup. What I would do instead is move the cup game to midweek rather than the league game. I believe that sort of thing would be an interesting change.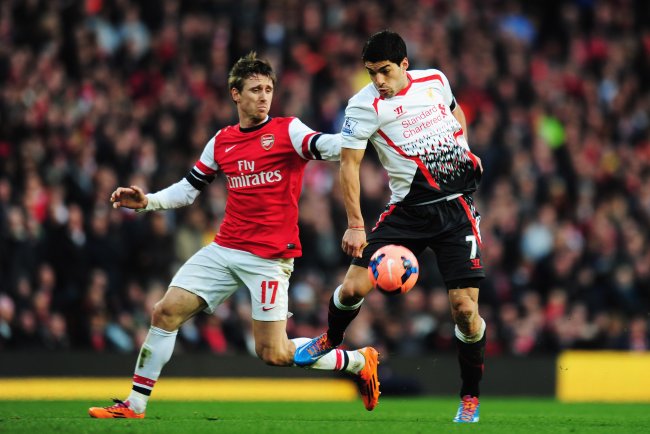 Shaun Botterill/Getty Images
Should Premier League fixtures be prioritised over the FA Cup?
Arsenal's title rivals have the opportunity to gain an advantage in the Premier League standings across the coming weekend. While the club aim to negotiate beyond Roberto Martinez's high-flying Toffees in the FA Cup, Chelsea have the chance to gain vital points in the domestic division.
Jose Mourinho's men will go seven points clear of Arsenal if they beat Tottenham at Stamford Bridge, a result that could have psychological effects on those looking to topple the current leaders.
Chelsea then have a week off before their next match, an away trip to Aston Villa, while Arsenal must journey to Germany for their Champions League round of 16 tie with Bayern Munich. Their next Premier League game is on March 16, giving Chelsea the opportunity to build a double-digit lead by the time Wenger's team return to domestic league matters.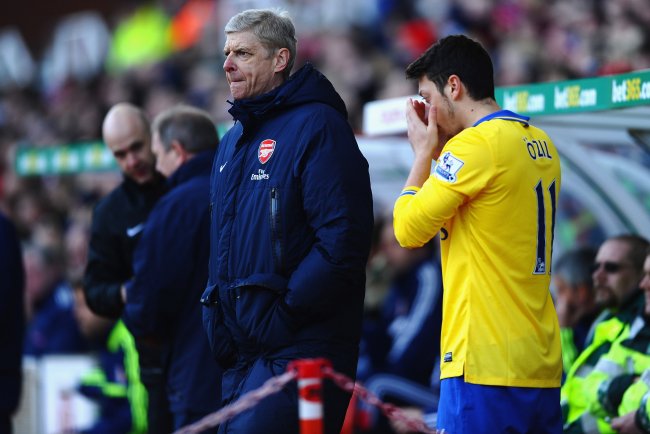 Laurence Griffiths/Getty Images
It is this kind of situation that led Wenger toward saying Liverpool "have an advantage" because the Premier League is "the only competition they play in," reported by Nick Purewal of The Independent.
Neutrals may be excited to watch the team battle it out against elite opponents, but for Arsenal fans, the upcoming schedule presents something of a nightmare, as summarised by Bleacher Report UK:
Arsenal's fixtures in February and March. Daunting? Daunting: pic.twitter.com/usSakG0wKs

— Bleacher Report UK (@br_uk) January 26, 2014
Wenger's failure to sign sufficient squad reinforcements during the January transfer window could see the team struggle with fatigue in the coming weeks. Although Kim Kallstrom is likely to be available soon, Wenger's sole winter signing faces a momentous task to make an impact right away, per Matt Law of The Telegraph.
Shaun Botterill/Getty Images
Arsenal are also looking particularly short in the striking department. Olivier Giroud is destined to keep running until the final whistle is blown, even though Wenger has provided Yaya Sanogo with first-team opportunities in recent weeks, per WhoScored.com.
Will Arsenal win any silverware this season?
The youngster is yet to score in two Premier League appearances and one Champions League outing. Although he appears a real threat when heading into the box, he missed a simple opportunity to rescue a point during Arsenal's recent loss against Stoke.
Altering the schedule would certainly allow Wenger and his players to focus on Premier League fixtures.
As the fixture list currently stands, plenty of time will be spent focusing on Chelsea's potentially massive lead—both at the Emirates and in the media. Once the Blues appear out of sight on paper, it may be difficult for their North London rivals to shake the feeling that Premier League success has already gone.