Updates from Saturday, Mar. 8
Steve Wiseman of The Herald-Sun provided an update on Coach K after Duke's win over North Carolina:
Coach K on health scare: "It wasn't lightheadedness. I was different. But I got all checked out." Had more tests Thursday (stress test)

— Stephen Wiseman (@stevewisemanNC) March 9, 2014
K on health: "I feel good. I just thinking it's been an emotional two months for me. I think that's it. I just have to manage it better."

— Stephen Wiseman (@stevewisemanNC) March 9, 2014
Original Text
Longtime Duke head coach Mike Krzyzewski suffered a bout of dizziness during the second half of the Blue Devils' loss to Wake Forest on Wednesday night. He proceeded to skip the post-game press conference while getting treatment and was eventually cleared.
Steve Wiseman of The Herald-Sun reports the 67-year-old coach was taken back to Duke University Hospital for precautionary testing. Associate head coach Steve Wojciechowski met with reporters and said the emotion of the game was the probable cause:
He has not been ill. He's actually in as good a shape as can be. I just think the emotion of the game, obviously we weren't playing as well as we needed and there was a great emotional investment into the game. Maybe the emotion got the better of him. But we expect a full recovery.
Duke Athletics released a statement early Thursday morning which states the coach's condition had improved following the game and he was allowed to return home:
Coach Krzyzewski experienced lightheadedness during and after the Duke-Wake Forest game on Wednesday night. Following the contest, he was examined by Duke medical personnel on site and again at Duke University Hospital for precautionary tests upon returning to Durham. His symptoms and condition have improved considerably, and Coach Krzyzewski was sent home during the early morning hours on Thursday.
Emotions were certainly running high throughout the game. Duke trailed by three points at halftime before taking a six-point lead with less than 13 minutes left. Wake Forest rallied to regain the lead before pulling away in the final minutes.
It was the second straight road loss for the Blue Devils, which entered the game as the fourth-ranked team in the nation. Every game is key between now and Selection Sunday as they attempt to secure a No. 1 seed in the NCAA Tournament.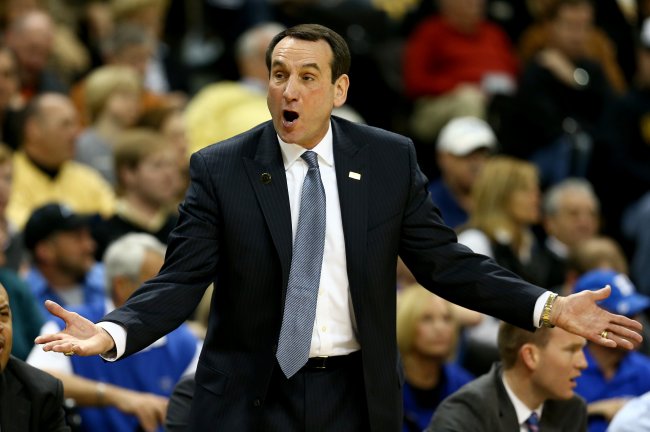 Streeter Lecka/Getty Images
"Coach K" is emotional on the sidelines and a game with so many swings can certainly have an impact. Further comments from Wojciechowski passed along by Laura Keeley of the News Observer note he hadn't mentioned any issues prior to the dizziness:
He didn't complain about feeling poorly either before the game or in the first half. There's a great emotional investment, certainly by him. I've never met a better fighter than Coach K. He pours his heart and soul into everything that he does. His team not necessarily responding certainly can hit hard.
Which team will win on Saturday?
The good news is that nothing abnormal came up during the testing and he should be perfectly fine moving forward. It was just something that happened in the heat of the moment and faded once the contest came to a close.
Duke returns to the floor for a marquee matchup with rival North Carolina on Saturday night. The Tar Heels won the first meeting between the teams a couple weeks ago and the Blue Devils will be looking to exact some revenge at Cameron Indoor Stadium.
All signs point to Krzyzewski being ready to roll for that highly anticipated battle.