For much of the day leading up to the NHL's trade deadline Wednesday, things were quiet. That proved to be the calm before the storm, however, as a flurry of trades rolled in after the 3 p.m. ET deadline involving big names.
With so many teams still in contention, the trade market was quite interesting. Contract situations also added another wrinkle to the negotiations, and while it wasn't one of the busiest deadlines of all time, it may prove to be one of the most impactful.
As is always the case when it comes to the NHL trade deadline, Twitter was buzzing as each new deal was announced.
Here is a look at the biggest trades that went down Wednesday, along with the most relevant reactions surrounding each.
Martin St. Louis for Ryan Callahan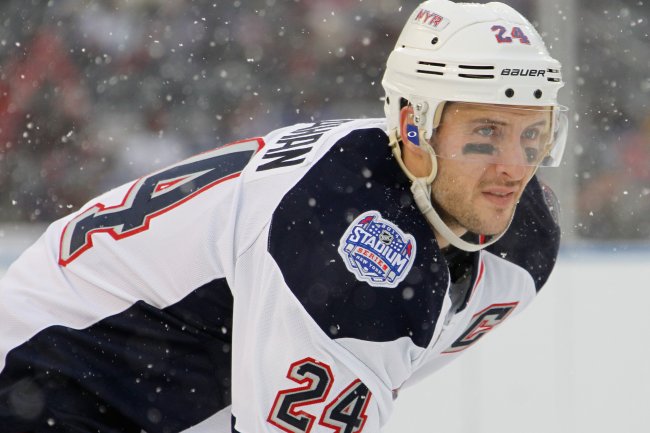 Scott Levy/Getty Images
Which player dealt on deadline day will make the biggest impact this season?
Plenty of big names were rumored to be on the move entering the day, but the two biggest changed locales in the same deal. The Tampa Bay Lightning sent captain Martin St. Louis to the New York Rangers in exchange for captain Ryan Callahan and two draft picks, according to TSN.
The deal had been rumored leading up to the deadline, but it still came as somewhat of a surprise because of what St. Louis has meant to the Lightning franchise over the years.
As is often the case with blockbuster trades, opinions ran the gamut. Sam Carchidi of The Philadelphia Inquirer believed that the Blueshirts gave up too much in exchange for St. Louis:
Rangers got fleeced. Got St. Louis for Callahan and first (2015) and second (2014) round picks.

— Sam Carchidi (@BroadStBull) March 5, 2014
Dan Rosen of NHL.com agreed that the Lightning did well, especially considering the fact that Tampa was essentially pigeonholed into trading St. Louis to the Rangers due to his no-movement clause:
If it's a 1st in 2015 and a 2nd in 2014 plus Callahan for St. Louis, I'd say Yzerman got a lot for a guy who wanted to go to just one team.

— Dan Rosen (@drosennhl) March 5, 2014
After finalizing the deal, Lightning general manager Steve Yzerman wished St. Louis all the best and acknowledged that the star forward was ready to move on, according to Katie Strang of ESPNNewYork.com:
We'd like to thank Marty for everything he has done on and off the ice during his outstanding 13-year career in Tampa Bay. He has been one of the greatest players in the organization's history, but in the end we honored his request today. We wish him and his family the best of luck as he continues his career in New York.
Despite the fine haul that Tampa was able to bring in, Pete Jensen of NHL.com felt as though it was a great trade for the Rangers due to the fact that St. Louis is still an elite offensive player in the NHL:
If you don't like deal from Rangers' standpoint, you're overthinking. Few playmakers League-wide of Martin St. Louis' caliber. Period. #NYR

— Pete Jensen (@NHLJensen) March 5, 2014
Both teams obviously got value in this deal, and while it may benefit the Rangers in the short term, the Lightning may ultimately win out over the long term.
Ales Hemsky to Senators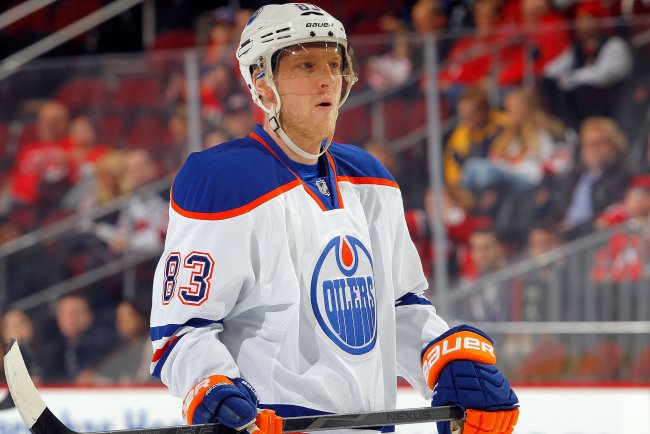 Jim McIsaac/Getty Images
Forward Ales Hemsky has seemingly been on the block perpetually over the past few seasons, and a trade finally came to fruition Wednesday as he was dealt from the Edmonton Oilers to the Ottawa Senators for two draft picks, according to the Senators' official Twitter account:
TRADE: #Sens have acquired forward Ales Hemsky from @EdmontonOilers in exchange for a fifth-round pick in '14 and a third-round pick in '15.

— Ottawa Senators (@Senators) March 5, 2014
Hemsky hasn't had a great season with just 26 points, but he is an extremely skilled player and comes without much risk due to the fact that he is a free agent at the end of the season.
While the Sens didn't have to give up much to get Hemsky, there was some belief that other teams dodged a bullet by not acquiring Hemsky. Steve Mears of NHL Live felt as though it was beneficial that the Pittsburgh Penguins didn't go after the enigmatic Czech:
The last thing the @penguins needed was an injury-prone Ales Hemsky. #Pens

— Steve Mears (@MearsyNHL) March 5, 2014
Hemsky can be a dominant offensive force when he is on his game, but Ottawa will likely have to deal with some inconsistency as it attempts to make the playoffs.
Marian Gaborik to Kings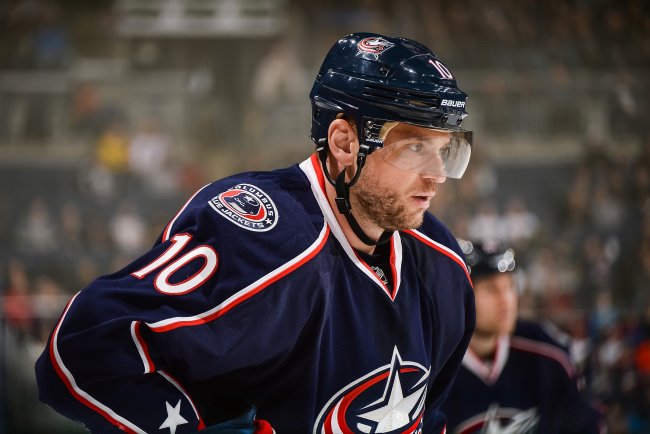 Jamie Sabau/Getty Images
It isn't easy to get a proven goal scorer in the NHL, but the Los Angeles Kings managed to do so when they acquired forward Marian Gaborik from the Columbus Blue Jackets for two draft picks and forward Matt Frattin.
Aaron Portzline of The Columbus Dispatch confirmed the news:

As TSN reports, can confirm ... #CBJ get two conditional draft picks and Matt Frattin from #LAKings for Marian Gaborik.

— Aaron Portzline (@Aportzline) March 5, 2014
Although Gaborik has scored 30 or more goals in a season on seven occasions, he has struggled through injuries, particularly this season. Gaborik is back in action, though, and he has been fairly productive with 14 points in 22 games.
The Kings are starved for scoring as they make a run at the playoffs, and Rosen thinks Gaborik is a logical fit because of that:
If true, Gaborik to LA makes sense. When healthy he's a dynamic scorer. Kings need that. They're 27th in the NHL in goals at 2.32 per.

— Dan Rosen (@drosennhl) March 5, 2014
At the same time, Portzline liked Columbus' decision to move Gaborik since he didn't seem to fit the system:
Gaborik was an East-West player on a North-South #CBJ team. #CBJ thought it would work, but it was never a good fit on the ice.

— Aaron Portzline (@Aportzline) March 5, 2014
The Blue Jackets are in the thick of the Eastern Conference playoff race, so trading a potentially dynamic scorer may not look good on the surface, but they did well to get something for him before hitting free agency.
Tim Thomas to Stars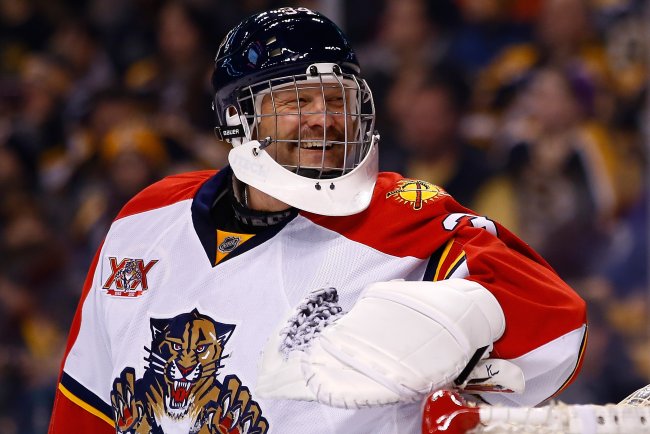 Jared Wickerham/Getty Images
As a former Conn Smythe Award, Stanley Cup and two-time Vezina Trophy winner, goalie Tim Thomas is among the league's most decorated players. He isn't the same goaltender that he once was, but the Dallas Stars were intrigued enough to send goalie Dan Ellis to the Florida Panthers in exchange for him, per George Richards of the Miami Herald:
OK, well there you go. #FlaPanthers get G Dan Ellis from #nhlStars for Tim Thomas. Ellis signed through next year. Clemmensen looks like AHL

— George Richards (@GeorgeRichards) March 5, 2014
The Stars have brought in several former Boston Bruins over the past year, and Thomas is the latest, according to Joe Haggerty of CSNNE.com:
Tim Thomas, Tyler Seguin and Rich Peverley now all in Dallas with Mark Recchi in the front office. Stars are like Bruins South #BruinsTalk

— Joe Haggerty (@HackswithHaggs) March 5, 2014
Although Thomas will likely be Kari Lehtonen's backup, he gives the Stars a veteran presence that they can trust.
Adam Proteau of The Hockey News viewed the move as a sensible one on all fronts:
Tim Thomas is headed to Texas. This makes sense on a number of levels.

— Adam Proteau (@Proteautype) March 5, 2014
With Dallas clinging to a playoff spot, Thomas is a guy who can give the Stars some good starts down the stretch if needed.
Thomas Vanek to Canadiens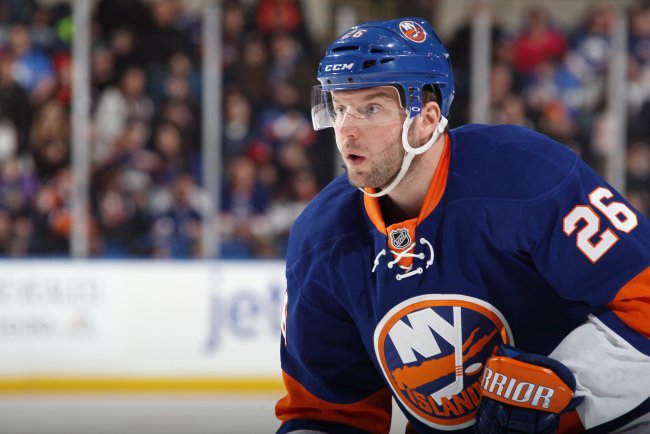 Bruce Bennett/Getty Images
Things didn't go according to plan for the New York Islanders after acquiring Thomas Vanek from the Buffalo Sabres earlier in the season. With the Isles out of playoff contention and Vanek looking to test the free-agent market, New York had no choice but to deal him.
That is what the Isles did on Wednesday as they received a second-round pick and prospect Sebastien Collberg from the Montreal Canadiens, per Arthur Staple of Newsday:
#Isles get Sebastian Collberg and a 2nd round pick for Vanek.

— Arthur Staple (@StapeNewsday) March 5, 2014
Considering how dynamic Vanek can be in goal-scoring terms, it should come as no surprise that the Islanders' return was universally ripped.
Larry Brooks of the New York Post chalked the Vanek experiment up as a failure for the Isles:
Turns out it was Moulson, 1st and 2d for 47 games of Vanek, a 2d and a prospect...Something ventured, nothing gained for the NYI.

— Larry Brooks (@NYP_Brooksie) March 5, 2014
TSN's Bruce Arthur chimed in jokingly regarding the diminishing returns for Vanek over the course of the season:
I feel like if the Islanders really work at this, eventually the return on the Moulson-Vanek deal will amount to a paper clip.

— Bruce Arthur (@bruce_arthur) March 5, 2014
From Montreal's perspective, though, Vanek could potentially make it a Stanley Cup contender, especially with Olympic hero Carey Price in goal.
The Canadiens didn't have to give up any roster players, so it was an ideal trade for them.
Matt Moulson to Wild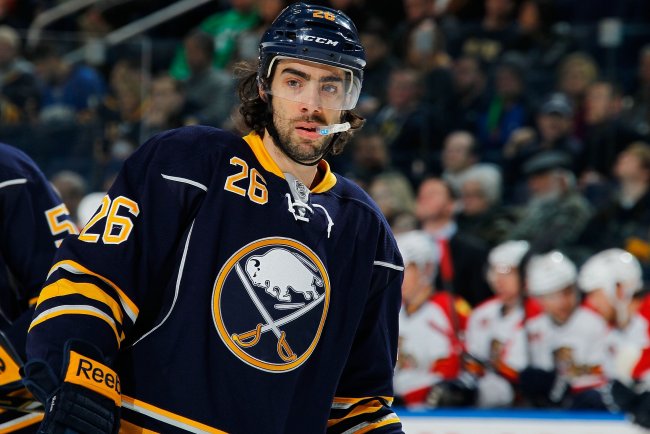 Bill Wippert/Getty Images
After the Buffalo Sabres picked up Matt Moulson along with draft picks from the Islanders in exchange for Thomas Vanek earlier in the season, it was blatantly obvious that Moulson's name would come up once again at the deadline.
The Sabres sent Moulson to the Minnesota Wild, his third team this season, along with forward Cody McCormick for forward Torrey Mitchell and draft picks, according to John Vogl of The Buffalo News:
Source: Sabres send Matt Moulson and Cody McCormick to Minnesota for undisclosed picks and Torrey Mitchell.

— John Vogl (@BuffNewsVogl) March 5, 2014
Moulson was productive for the Sabres, but it was unlikely that he was going to re-sign with them, and he didn't fit in with the rebuild.
Taking the initial Vanek trade into account, Bucky Gleason of The Buffalo News praised the Sabres for what they were able to bring in:
Ultimately, it was Vanek and cash to Islanders for a bunch of picks and Mitchell. Not bad for a guy with one foot out the door, I suppose.

— Bucky Gleason (@TBNbucky) March 5, 2014
This is the second consecutive year in which the Sabres have sent a forward to the Wild at the deadline as they dealt Jason Pominville last season. That turned out to be beneficial for both sides, and the same should ring true regarding this trade.
Follow @MikeChiari on Twitter