When The Shield finally implodes, Dean Ambrose will go back to being a champion once more, the WWE United States Championship keeping him in a prominent spot.
That mostly forgotten title will increase in relevancy once Ambrose leaves Roman Reigns and Seth Rollins behind. WWE writers will be free to focus on his reign, and wearing the belt post-breakup will lead to more solo opportunities.
Signs that The Shield will shatter in front of us have been increasing. On Monday's Raw, the series of hairline fractures in the group's unity became a massive crack.
Seth Rollins, fed up with his teammates, left Reigns and Ambrose mid-match. The trio shrunk down to a duo against The Wyatt Family and the result was predictable—a loss for The Hounds of Justice. Reigns and Ambrose then looked to be on the hunt for Rollins.
No amount of smooth talking is going to heal a division like that. The Shield's expected breakup is coming, and there is no way to push back that tide.
That's great news for Reigns, who has been on the verge of megastardom. After a memorable performance at Survivor Series, Reigns broke Kane's record for eliminations in a single Royal Rumble.
He is now seemingly in line for a headlining spot.
The split will be a boost for Ambrose as well, though. The championship rusting around his waist will surge back into the storylines.
Aside from a Feb. 10 title defense against Mark Henry, Ambrose's title has mostly been an accessory. The U.S. Championship hasn't been defended on a pay-per-view since Hell in a Cell in October.
His reign was far more exciting then, when he followed up defenses against Rob Van Dam and Kane by busting open his chin against Big E.
Ambrose has been busy as part of The Shield's feud with CM Punk, with The Wyatt Family and now itself.
Once The Shield members each venture on their own, having the U.S. title will help Ambrose stay in the limelight. WWE will have challengers coming at him again once he's not tied to The Shield's narrative.
Superstars with little chance to shine as of late, from Tyson Kidd to Xavier Woods, can test Ambrose. Rather than the whiny, non-fighting champion he's become, Ambrose can be made to look gutsy, wily and dangerous as he puts away WWE's midcarders.
As he closes in on 300 days as champ, the company can play up his chances of matching Montel Vontavious Porter's 343-day reign.
Being solo means more one-on-one opportunities and more chances to develop his character outside of his current squad.
Much of his identity has been defined by being part of The Shield. The maniacal predator that Ambrose was in his indy days will have a chance to emerge once he's not spouting The Shield's rhetoric.
There will be no more "Believe in The Shield." Ambrose will have to rely on his own catchphrases.
He won't have to share the mic with two teammates during promos anymore, either. The WWE normally gave each member about the same time to speak, limiting Ambrose's speeches to brief bursts.
Should WWE put him in singles feuds with his challengers, that will change.
He will have more room for his verbal wings. Less airtime may be on its way, but it will be more concentrated when it does arrive. He can focus more on boasting about his title reign, bringing the all-but-abandoned championship more into the foreground.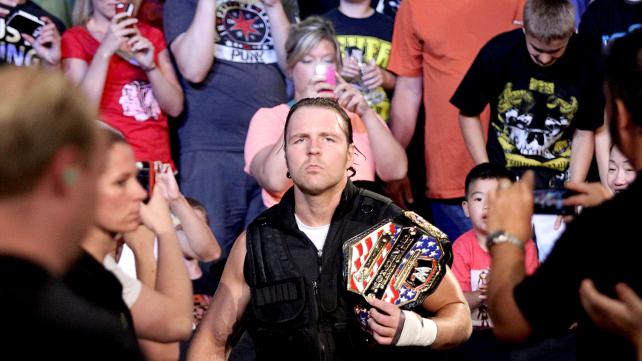 Credit: WWE.com
Of course, this is all dependent on WWE taking advantage of Ambrose's freedom.
It's easy for writers to neglect the U.S. title as Brock Lesnar prepares to face Undertaker, as John Cena and Bray Wyatt get ready to collide and as Daniel Bryan's quest for revenge continues. Once Ambrose is out of The Shield and not competing in a string of six-man tags, though, he'll have better odds of being featured.
He's been juggling championship and team obligations, and it's been the former that has been passed over. He's been playing roles that should have been given to two different wrestlers.
Expect change as Ambrose steps from the rubble that is The Shield with a renewed focus on the title draped across his shoulder.