Luis Suarez's recent admission that his future as a Liverpool player isn't entirely dependent upon Champions League involvement not only stands to benefit him, but the club's chances of strengthening in the transfer market, too.
Speaking with FourFourTwo (h/t The Telegraph's Ben Rumsby), the Uruguayan international states that he would be willing to carry on at Anfield even if it meant Champions League football wasn't part of the seasonal calendar:
I think so. I signed my new contract because I'm very happy here and I want to stay where I'm enjoying football and life. Playing in the Champions League isn't dependent on that.

This is my best season yet. I feel in a very good place, physically and mentally. Every day, I feel better in this club. I hope to continue down this path because we want Champions League football for Liverpool and, personally speaking, I want to continue that mentality throughout the World Cup with Uruguay.
Suarez currently leads the Premier League scoring ranks with 24 goals in 23 matches this season, per Transfermarkt.
The South American superstar is clearly aware of the individual influence he's exerting upon the Reds' fortunes, going on to say:
I'm 27, at my peak, and I feel very happy within the club because I'm part of the best football in the world—the Premier League. I'm enjoying every game I play and my family life here, which is very important. I like winning. I hate losing—I've done enough of that. I'm one of the best players in the world, so having the opportunity to win everything—and losing only occasionally—is what drives me. I'm ambitious. I want to win and won't stop until I score one, two or more goals.
Brendan Rodgers is still reeling from a January transfer window devoid of business, a disappointing turn for the club considering this is their best chance of finishing in the top four, or perhaps even challenging for the title, in some years.
Will Liverpool finish in the Premier League's top four this season?
However, the summer period will be a far easier time in which to do business, players no longer held back by being cup-tied and with a longer window in which selling clubs can find adequate replacements.
That being said, Anfield may not expect to see the money-splurging days of a time gone past, with owner John W. Henry among those looking to instil a more cost-effective policy when it comes to player recruitment.
Failing to qualify for the Champions League would undoubtedly work against the club in luring the truly world-class talents to Merseyside, but to see a player of Suarez's calibre so committed to the cause is only a boon from an outsider's perspective.
To see an individual endure so much only for his club to remain by his side throughout is an enamouring tale of loyalty that some never come to experience in their careers.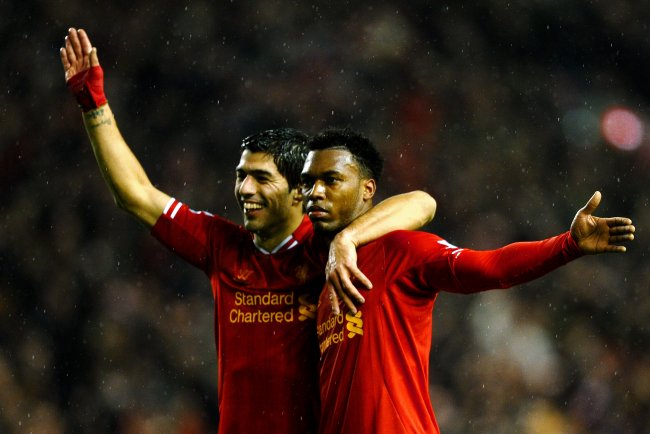 Laurence Griffiths/Getty Images
With that being said, Suarez's on-pitch inspiration is enough to draw players in, too; the chance to play alongside one who admits he's among the best in the world too tempting for some to pass up.
Steven Gerrard recently voiced his belief in the partnership Suarez has enjoyed with Daniel Sturridge, the official Liverpool Twitter account breaking down their performance in numbers:
Gerrard: "If teams want to play 2 v 2 against Sturridge and Suarez - all the best!" Here's why... #LFC #allthebest pic.twitter.com/umJ0dNQFv3

— Liverpool FC (@LFC) March 5, 2014
The next three months will reveal just how well-placed Liverpool's bid is to return to the Champions League, currently hanging in the balance alongside the likes of Arsenal, Manchester City, Chelsea and Tottenham.
However, it would appear Suarez will be there come the beginning of the 2014-15 campaign regardless, and one can expect to see some higher profile names joining the same cause thanks to his presence.