Eddie Hearn has spoken of his desire to see Amir Khan climb back into the ring with Kell Brook as his next opponent, detailing that he's offered the Bolton-born boxer $5 million (£3 million) for the bout.
Speaking in a Daily Mail column, Hearn opened up not only about his enthusiasm for this particular fight, but even went on to back Brook for the win:
I think Kell Brook would knock Amir Khan out. I'm positive about that. Now it's time to try to make the fight. That's the hard part.

I have spoken to Golden Boy Promotions, Khan's people in the US, and made Khan an offer of $5million. I'm not sure if it will happen this summer because Khan seems to be under the impression that he's above fighting Kell, but that is a fight I would love to see.
The Matchroom Sport promoter is fresh after sealing the deal on another all-British affair of titanic proportions, following the announcement that George Groves and Carl Froch will rematch for the WBA and IBF super middleweight titles at Wembley Stadium on May 31.
Hearn goes on to give more information on Brook's upcoming prospects:
Kell will be warming up for his IBF title shot against Shawn Porter with a fight in Liverpool on March 15 and I can reveal here that it will be against the Mexican welterweight champion Alvaro Robles, who has 17 wins (15 KOs) and two losses. If Kell wins that, Shawn Porter will have to defend his IBF world title against him this summer. The only fight Kell would sidestep that for is Khan.

Khan has a lot to lose against Brook. If he gets knocked out, and I believe he will, I think that his career is over. He thinks he can fight Adrien Broner, Floyd Mayweather and then Kell Brook. The problem with that is Brook will go off and fight Porter and if he wins that title then there is no way Khan will be getting $5m as a challenger. Take your risks Amir, but realise what you are turning down.
Khan is still reeling from the news that his dream bout against Floyd Mayweather Jr. is no longer on the table, with the American now confirmed to be facing Marcos Maidana in Las Vegas on May 3.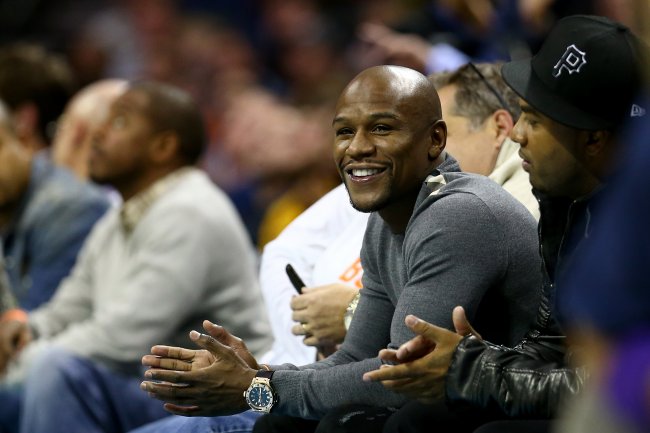 Streeter Lecka/Getty Images
However, Mayweather has left the door open for a potential face-off in the future, per the Press Association (h/t The Guardian), saying that the two will meet—if Khan can beat Adrien Broner.
This is speculation that hasn't gone unnoticed by the Briton, either, with Khan taking to his Twitter account in order to air his views on a Broner matchup:
Dont listen to BS from fighters. Being broner or brook. I will announce soon who I will fight next and it will be a more creditable opponent

— Amir Khan (@AmirKingKhan) March 5, 2014
On a serious note I wouldn't mind beating up broner. Is tht what everyone wants. Me to put broner in his place ?

— Amir Khan (@AmirKingKhan) March 5, 2014
I am blessed to have boxing fans who support me and if they wana see me shut broner up I wud love to take the fight at 147 lbs let's do this

— Amir Khan (@AmirKingKhan) March 5, 2014
Just got told broner doesn't run his twitter page. He can't read or write. It's probably one of his stripper girls hyping it for him.

— Amir Khan (@AmirKingKhan) March 5, 2014
Brook is an intriguing avenue for Khan to explore, unbeaten in 31 fights, 21 of his wins coming by way of knockout, according to BoxRec.
However, some may see it as a drop for Khan to eye up such a fixture considering that his name is being batted about with overseas names, some of a significantly larger profile.
The Daily Star's Chris McKenna sheds some light on Khan's opinion of a Brook fixture:
Khan on Brook: "If I am getting mentioned against Mayweather then I think Brook is quite far away from that. We are on a different level."

— Chris McKenna (@cmckennasport) February 27, 2014
Khan on Brook: "Maybe the fight could happen if Kell wins a world title. Then it is a possible fight. At the moment it is not on my radar."

— Chris McKenna (@cmckennasport) February 27, 2014
That being said, it's refreshing for Hearn to talk so candidly about a concrete offer for Khan, with the last few months providing little else other than rumours and speculation on whom the 27-year-old will fight next.
If Hearn has stumped up such a hefty fee for the pair to fight, it puts all the pressure on Khan, who knows he looks like he is ducking Brook by not fighting him.
With an offer on the table, Khan will now be under increased pressure to take a fight on home soil against Sheffield native Brook, or continue his search for brighter lights on a bigger stage.