Already having lost the top seed for the ACC tournament, Syracuse is doing its best to accomplish the same fate for the Big Dance.
In a game that kenpom.com (subscription required) gave them a 94 percent chance to win, the Orange fell 67-62 to sub-.500 Georgia Tech at home on Tuesday night in what was the most recent exhibit of poor play during a dreadful run for Jim Boeheim's squad.
After starting the season 25-0, Syracuse has had the look of an NIT-caliber squad as of late, dropping four of its last five games with losses at the Carrier Dome to two teams near the cellar of the ACC.
Wouldn't be surprised to see Syracuse on the 3-line come Selection Sunday.

— Jeff Borzello (@jeffborzello) March 5, 2014
Trae Golden led a balanced Georgia Tech attack with 16 points, including six clutch free-throws down the stretch to seal the victory, while Daniel Miller filled up the box score with 15 points, six rebounds, four assists, two steals and six blocks.
As has been the case during the recent slump, offense was a major problem for the Orange, who shot 39.1 percent from the field, 29.4 percent from beyond the arc and 43.8 percent from the charity stripe. C.J. Fair and Tyler Ennis combined for 46 points, but with Jerami Grant sidelined, the rest of the team provided little help, shooting 6-of-22 from the field for just 16 points.
Not having Grant is tough but Syracuse still has more than enough to beat Ga Tech at home. CJ Fair three cuts it to 2 again.

— Seth Davis (@SethDavisHoops) March 5, 2014
Trever Cooney, who served as such a dangerous role player during 'Cuse's win streak, missed seven of his eight three-point attempts, finishing with seven points.
Syracuse's inability to put the ball in the hoop was a major talking point of Boeheim's post-game press conference:
As a result, this was never really close until the end.
How far will Syracuse go in the BIg Dance?
The Yellow Jackets, who shot 47.1 percent from the field and got 17 points from its bench, jumped out to an eight-point lead at halftime, and increased the advantage to 12 points with 9:03 remaining, forcing 'Cuse to employ a full-court press.
Daily Orange writer David Wilson supplies C.J. Fair's thoughts on the flow of the game:
C.J.: "We let Georgia Tech get too comfortable. ... Basically the story of we tried to turn the switch on too late."

— David Wilson (@DBWilson2) March 5, 2014
It was mostly ineffective, though, and Boeheim's team ended up trading buckets until finally making a run on the back of Fair in the final minutes.
A Michael Gbinije layup eventually cut the lead to two with 34 seconds remaining, but Golden calmly knocked down his free-throws to seal the shocking upset.
Player Grades
Tyler Ennis, Syracuse: B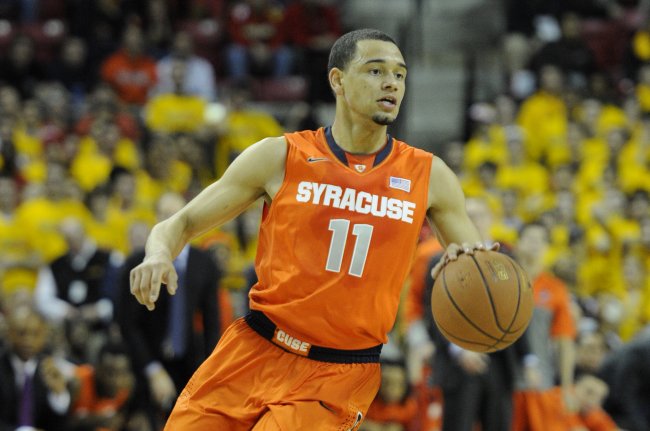 Nick Wass/Associated Press
For the most part, Ennis looked like his typical confident self. The freshman phenom scored 18 points, dished out seven assists, turned the ball over just twice and made some key buckets down the stretch.
However, as more of the offensive load was put on his shoulders, he became inefficient, needing 17 shots to get those points and missing three of his five free throws.
Trae Golden, Georgia Tech: B+
Trae Golden was somewhat quiet in the second half, but he still managed to finish with a team-high 16 points, three rebounds and three assists.
Bigger than the overall stats and two three-pointers that he knocked down, however, was his steady ball-handling (zero turnovers) and clutch free-throw shooting down the stretch.
The man of the hour -- Trae Golden (with his mom) scored 16 tonight with some key FTs down the stretch #GoJackets pic.twitter.com/LCXzRpLqsm

— Georgia Tech Sports (@GTAthletics) March 5, 2014
Tech was missing some free throws and seeing its lead dwindle down the stretch, but Golden saved the day at the stripe.
C.J. Fair, Syracuse: A
There wasn't much more Fair could have done.
Putting 'Cuse on his back, the versatile senior forward scored 28 points, with 23 of those coming in the second half. He got to the rim at will, was seemingly the only player capable of finishing with Miller protecting the interior and knocked down some outside shots.
That's a career-high tying 28 points for C.J. Fair.

— Jeremy Ryan (@JeremyRyan44) March 5, 2014
He was absolutely red-hot in the second half, and although he missed a late free throw and committed a costly turnover, Syracuse wouldn't have been in the game without him.
Daniel Miller, Georgia Tech: A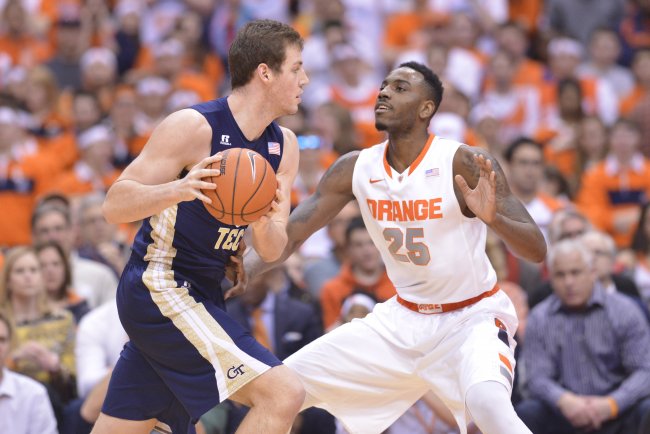 Mark Konezny-USA TODAY Sports
What didn't this guy do?
Although many of his 15 points came as a result of Georgia Tech's press break, he was still a solid force offensively, scoring out of the post and from the mid-range area.
And that was probably the smallest impact he made.
The 6'11", 275-senior put on a rim-protecting clinic, blocking six shots and altering several others.
What's Next
Syracuse still has to travel to FSU. Will the Seminoles be favored? #Duke still in play for ACC No. 2

— Laura Keeley (@laurakeeley) March 5, 2014
Syracuse will attempt to halt its recent slide in its regular-season finale at Florida State on Saturday, while Georgia Tech ends the season at home against Virginia Tech.