2009's Best Mid-Major Quarterbacks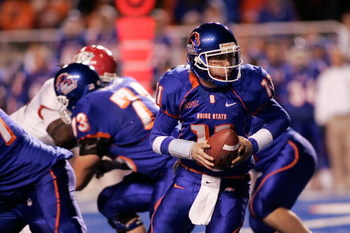 They aren't as recognized as Sam Bradford, Tim Tebow or Colt McCoy. Even Tyrod Taylor gets more publicity than these guys.
Every single year, or more importantly, since the BCS has been established, there seems to be a mid-major team knocking on the door.
Who better to represent these potential BCS-busters than the men holding the reins to the teams.
I present to you the best mid-major quarterbacks for the 2009 season, in no particular order.
Enjoy.
(Players represent schools from the following conferences: MWC, CUSA, WAC, MAC and SBC, in that order)
Max Hall, Sr. | BYU (MWC)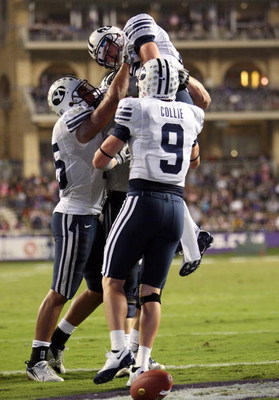 o Last season: 330-477 COMP-ATT, 69.2% PCT, 3957 YDS, 35 TD, 14 INT, 115 NET RU YDS, 4 RU TD
o Synopsis: (6'1" 201) Max Hall transferred from Arizona State in 2004. He went on his required mission, and returned to play the 2007 season (his first in four years). Hall broke several MWC single season sophomore passing records (3848 YDS, 26 TD, 12 INT). Hall (7,805 YDS) could surpass Jim McMahon (9,536 YDS) this season to become third on BYU's career passing list, behind Ty Detmer and John Beck (15,031 and 11,021 YDS respectively, each with one more year playing than Hall).
o What to expect: Hall could only have matured and grown with experience this offseason (shown by his comments, "The way last season ended. You lose your last two games; obviously you want to have a better offseason.") Hall is sure to be prolific once again. There is a question mark at receiver as two of the top three leaders are gone. One of the better TE in the country returns in Dustin Pitta, surrounded by many young WR. Hall should do just fine and lead BYU to a successful season.
Omar Clayton, Jr. | UNLV (MWC)
o Last season: 152-258 COMP-ATT, 58.9% PCT, 1894 YDS, 18 TD, 4 INT, 163 NET RU YDS, 1 RU TD
o Synopsis: (6'1" 200) Clayton became the first player in UNLV history to throw for 300 and rush for 100 yards in a single game. Clayton missed most against BYU and the last four games of the 2008 season (torn MCL), making his season statistics more impressive (most passing TD in a single season since 1997 in just 7.5 games).
o What to expect: Clayton put up some impressive statistics in his first season starting full time for Mike Sanford and the Rebels. He led them to Sanford's first victory against a ranked team in week 3 against #15 Arizona State. With three linemen and four of their five leading receivers all returning, Clayton looks to improve upon his production. His head seems to be in the right place, too—"You're at home for so long, you kind of get bored of going home for so long. I'm ready to get back to work. I'm glad I have a hard semester of school. I'm not going to shy away from hard work, is what I'm saying, I guess."
Andy Dalton, Jr. | TCU (MWC)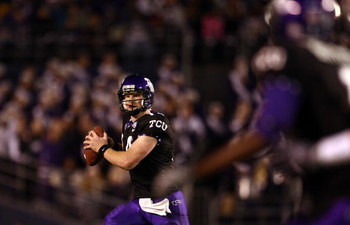 o Last season: 182-307 COMP-ATT, 59.3% PCT, 2242 YDS, 11 TD, 5 INT, 432 NET RU YDS, 8 RU TD
o Synopsis: (6'3" 215) Dalton first saw playing time as a redshirt freshman in 2007, throwing for 2,459 YDS and 10 TDS with 11 INT. He was named The Texas Bowl MVP in a 20-13 victory over Houston. Dalton also was the Poinsettia Bowl MVP last season in a 17-16 upset victory over then #9 Boise State. Dalton has 17 career victories in 2 years. Dalton (4,701 YDS) currently ranks third on TCU's career passing list behind Max Knake (7,370 YDS) and Steve Stamp (5,123 YDS).
o What to expect: TCU must replace three of last year's starting linemen. Dalton has been criticized (including myself) as a Kerry Collins or Ben Roethlisberger type player—one who rides his defense to victory. Dalton rarely makes mistakes though, and keeps his team in games (led the Horned Frogs to an 11-2 record and a Poinsettia Bowl victory, and a year ending rank of #7). If Dalton can find just a little more offensive production through the air, TCU might really shock some people this season. If the Horned Frogs can upset Clemson at Clemson Memorial Stadium and win at BYU, then TCU might reach a BCS Bowl. Dare I say the National Championship?
Terrance Cain, Jr. | Utah (MWC)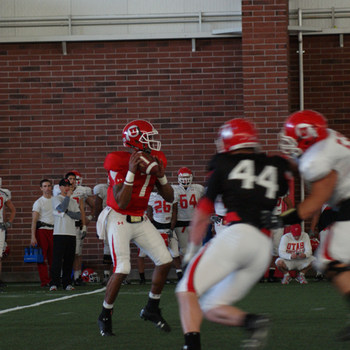 o Last season: NJCAA Blinn College, 223-326 COMP-ATT, 68.4% PCT, 3138 YDS, 29 TD, 11 INT, 168 NET RU YDS, 4 RU TD
o Synopsis: (6'2" 192) A freshman in 2007 at Blinn College, Cain broke an NJCAA record while posting a 71.1% completion percentage. He was named All-American Honorable Mention that season. In 2008, Cain led all of NJCAA in passing yards, completions and touchdowns, while placing second in completion percentage. He was awarded All-American First Team status for the 2008 season. Cain was also awarded the NJCAA Offensive Player of the Year award last season.
o What to expect: There are a lot of expectations riding on Cain to fill Brian Johnson's cleats. Cain comes into the season having been ranked the #9 junior college recruit. Cain can pose as a dual-threat, but might have some trouble posing behind three new offensive linemen, and throwing to only one returning receiver. Regardless, Whittingham will most definitely conjure up a game plan to put the Utes into serious contention for the MWC title, and with Cain at the helm.
Ryan Lindley, So. | SDSU (MWC)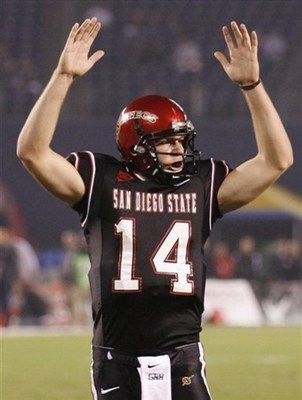 o Last season: 242-427 COMP-ATT, 56.7% PCT, 2653 YDS, 16 TD, 9 INT, -62 NET RU YDS, 1 RU TD
o Synopsis: (6'3" 205) Chuck Long said Lindley could read defenses unlike any other quarterback he had coached (that includes Kevin O'Connell, currently with the Patriots). In 2008, as a redshirt freshman, Lindley broke several SDSU freshman passing records (attempts, completions, passing yards and passing touchdowns), and did that with two first year starting receivers.
o What to expect: If Lindley is as good as Chuck Long said he is, Lindley will have no problem establishing himself a solid career. He could even potentially impress NFL scouts. SDSU returns their top two rushers and five of six leading receivers. With three returning lineman, Lindley should mold into that of O'Connell and be one of the better quarterbacks in the MWC.
Case Keenum, Jr. | Houston (CUSA)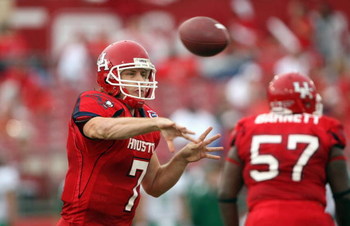 o Last season: 397-589 COMP-ATT, 67.4% PCT, 5020 YDS, 44 TD, 11 INT, 221 NET RU YDS, 7 RU TD
o Synopsis: (6'2" 210) Keenum produced well in his first year starting, throwing for 2,259 YDS with 14 TD and 10 INT, starting only 7 games. For his efforts, Keenum earned 2007 CUSA All-Freshman First Team status, as well as the 2007 CUSA Freshman of the Year award. 2008 featured Keenum posting ridiculous numbers with limited talent in a first year system under then-new coach Kevin Sumlin. Keenum was named the CUSA Offensive Player of the Year for his 2008 performance (8-5, with an Armed Forces Bowl victory over Air Force).
o What to expect: With another full offseason of preparation under their belts, the Houston Cougars offense should feel good about Sumlin's system. They faired pretty well last year averaging over 380 passing yards per game. The Cougars return eight of their top nine receivers, three starting offensive linemen and their entire ground game. Keenum will lead this unit to high numbers and a potential spot in the CUSA title game.
Trevor Vittatoe, Jr. | UTEP (CUSA)
o Last season: 246-418 COMP-ATT, 58.9% PCT, 3274 YDS, 33 TD, 9 INT, -31 NET RU YDS, 1 RU TD
o Synopsis: (6'2" 220) In 2006, Trevor Vittatoe was deemed the scout team MVP. Vittatoe then earned All-CUSA Honorable Mention honors as a redshirt freshman in 2007 and again last year as a sophomore. Vittatoe (6,375 YDS) currently sits at third place on UTEP's career passing list, behind Jordan Palmer (11,084 YDS) and Billy Stevens (6,485 YDS).
o What to expect: Vittatoe has posted incredible figures while starting for the Miners. With outstanding athlete Kris Adams (WR, posted 14 receiving TD in 2008) returning, as well as Jeff Moturi (9 TD), and four starting linemen, UTEP is primed to win the CUSA West (toughest conference games include both Houston and Tulsa in El Paso).
Bo Levi Mitchell, So. | SMU (CUSA)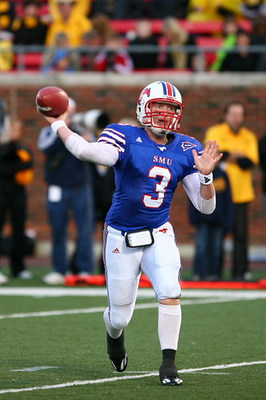 o Last season: 236-410 COMP-ATT, 57.6% PCT, 2865 YDS, 24 TD, 23 INT, -140 NET RU YDS, 1 RU TD
o Synopsis: (6'1" 201) 2008 was June Jones' first at the helm of the SMU Mustangs. Mitchell was going to sign with Hawaii, until Jones moved to SMU, where Mitchell followed. Although Mitchell threw 24 TD as a true freshman, he also led the nation in interceptions.
o What to expect: SMU returns their top six receivers and three starting offensive lineman. It's hard not to imagine Mitchell improving significantly as the team molds under Jones after a full season (it took two years in the books before signs showed success at Hawaii for Jones). Mitchell definitely has a cannon, which is why Jones showed interest in him initially.
Austin Davis, So. | Southern Mississippi (CUSA)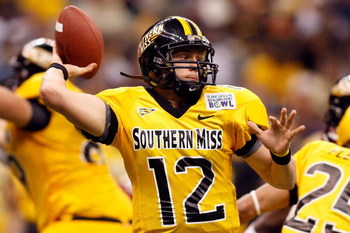 o Last season: 261-454 COMP-ATT, 57.5% PCT, 3128 YDS, 23 TD, 8 INT, 508 NET RU YDS, 9 RU TD
o Synopsis: (6'2" 206) As a redshirt freshman, big things were expected from Davis. He took the reins and broke several records, including passing yards in a season (3,128 YDS), and yes, Brett Favre went to Southern Mississippi. He also broke the record for most touchdowns thrown by a freshman (16 TD), previously held by Favre, by throwing 23. Davis was named the New Orleans Bowl MVP in a 30-27 victory over Troy.
o What to expect: Southern Mississippi is regarded as one of the few mid-major teams that could bust the BCS Bowl party. With outstanding sophomore receiver DeAndre Brown (2008 All-CUSA First Team) recovering from a nasty broken leg injury, and Damion Fletcher (2006, 2008 All-CUSA First Team) entering his final year, Davis will have many weapons surrounding him, at his disposal. Expect big numbers and even bigger results from Davis and the Golden Eagles this upcoming season.
Kellen Moore, So. | Boise State (WAC)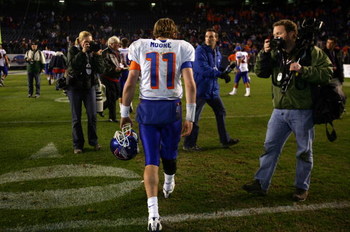 o Last season: 281-405 COMP-ATT, 69.4% PCT, 3486 YDS, 25 TD, 10 INT, -30 NET RU YDS, 1 RU TD
o Synopsis: (6'0" 184) Moore impressed me with incredible poise and maturity, at such a young age. He had stellar numbers as a redshirt freshman (first freshman to start the season opener for Boise State at QB). Moore earned All-WAC Second Team status for his work at the helm of the Broncos, leading them to a perfect regular season and #9 ranking (eventually lost to #11 TCU 16-17 in the Poinsettia Bowl).
o What to expect: Entering 2009, College Football News ranks Moore as the 37th best returning player in the nation. It will be very difficult for Moore to duplicate his production from a year ago; Ian Johnson has since departed, as well as two starting offensive lineman and four of the Broncos leading six receivers. But the Broncos are regarded as the premier mid-major program in the nation. Chris Peterson has gone 35-4 while with Boise State, and always seems to fill his voids. Look for Moore to be atop the WAC come mid-December.
Colin Kaepernick, Jr. | Nevada (WAC)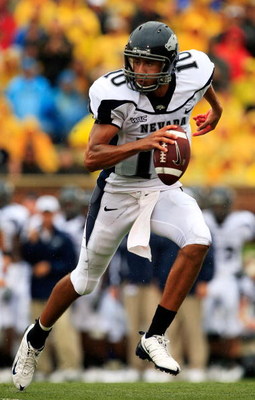 o Last season: 208-383 COMP-ATT, 54.3% PCT, 2849 YDS, 22 TD, 7 INT, 1130 NET RU YDS, 17 RU TD
o Synopsis: (6'6" 215) If there is a more athletic, or more fun quarterback to watch in the nation than Colin Kaepernick, I do not know of him. As a sophomore, Kaepernick passed for 2,175 YDS and 19 TD, with just 3 INT (rushed for 593 YDS). His efforts earned him 2007 WAC Freshman of the Year honors. Kaepernick's work in 2008 proved him to be only the 5th player in NCAA history to have 2,000+ passing and 1,000+ rushing yards in a season; he earned 2008 WAC Offensive Player of the Year honors, as well as All-WAC First Team status. He pushed Nevada to a 7-6 record and a berth in the Humanitarian Bowl against scrappy Maryland, which the Wolf Pack lost 35-42 (Kaepernick took home co-MVP honors).
o What to expect: The Wolf Pack lose two of their top three receivers in Marko Mitchell and Mike McCoy, but return three starting offensive lineman and their entire backfield. Kaepernick's athleticism alone should keep the Wolf Pack in nearly every game on the schedule. With Vai Taua (1,521 net rushing yards, 18 total TD) running the ball, Kaepernick will have an established run game to open up their Pistol offense.
Dan LeFevour, Sr. | CMU (MAC)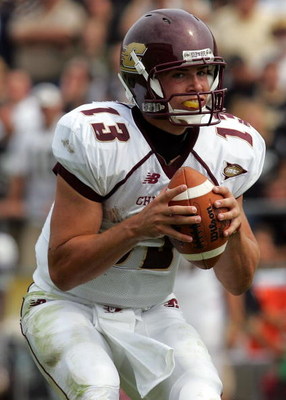 o Last season: 251-376 COMP-ATT, 66.8% PCT, 2784 YDS, 21 TD, 6 INT, 592 NET RU YDS, 6 RU TD
o Synopsis: (6'3" 229) LeFevour might be the most decorated player on this list. His accolades include the following: 2006 MAC Freshman of the Year, 2006 All-MAC First Team, 2006 All-American Freshman Honorable Mention Team (Sporting News), 2006 All-MAC Academic Honoree, 2006 Motor City Bowl MVP (31-14 victory over MTSU), 2007 MAC Offensive Player of the Year, 2007 MAC Championship Game MVP, 2007 All-MAC First Team. In addition to these achievements, LeFevour broke the NCAA freshman pass attempt record with 388. In 2007, LeFevour became the second player in NCAA history to rush for 1,000+ and pass for 3,000+ yards in a single season (the first was Vince Young at Texas). LeFevour enters the year in fourteenth place on the NCAA FBS career total offense list, only 5,208 yards behind Tim Chang (Hawaii 2000-2004). LeFevour already owns the career passing mark for CMU with 9,467 passing yards (nearly 3,000 more than anyone else).
o What to expect: Not much needs to be said here. LeFevour has his top three receivers back, with as much experience as possibly needed (played in 3 Motor City Bowls, played through an injury last season), but is behind three new offensive lineman. The Chippewas lose their top running back in Ontario Sneed, but that shouldn't be too much weight on LeFevour's shoulders. Butch Jones has had good success with CMU (16-11) and especially with Dan LeFevour holding the reins.
Tim Hiller, Sr. | WMU (MAC)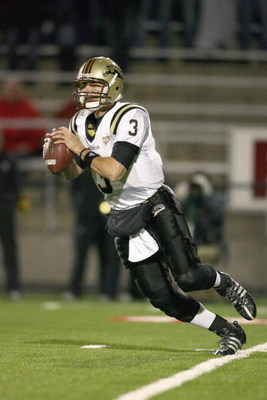 o Last season: 339-522 COMP-ATT, 64.9% PCT, 3725 YDS, 36 TD, 10 INT, 2 NET RU YDS, 1 RU TD
o Synopsis: (6'5" 228) Hiller played a supporting role in 2005 behind then-starter Ryan Cubit. Hiller went on to throw for 1,334 YDS and 20 TD, with just 3 INT, and an amazing passing efficiency, that would have been ranked #1 in the nation had he played the entire season, of 178.85. He was treated to the 2005 MAC Freshman of the Year award. He suffered a knee injury in the final game of 2005 and redshirted the 2006 season. 2007 was a down year for Hiller; he threw for 3,021 yards and 20 TD, with 15 INT. Hiller's 2008 statistics were very impressive, and earned him a spot on the 2008 All-MAC Third Team (his 3,725 YDS set a WMU single season record), all while on a torn ACL suffered in the 10th game of the season against Illinois. Hiller has missed the spring season due to his ACL injury. Hiller currently sits in at third on the Broncos career passing list (8,080 YDS) behind Tim Lester and Brad Tayles (11,299 and 8,717 YDS, respectively).
o What to expect: Expect a slight drop in Hiller's production. Three of the top four receivers depart. With four offensive lineman returning, if Hiller can overcome his ACL injury, he could finish his career as the best passer in WMU history, and on the All-MAC team once again.
Tyler Sheehan, Sr. | BGSU (MAC)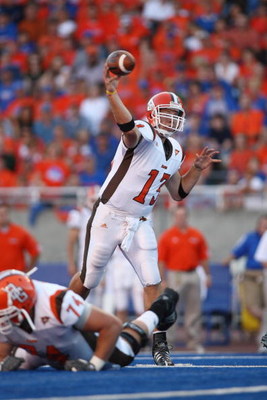 o Last season: 267-400 COMP-ATT, 66.8% PCT, 20 TD, 9 INT, 237 NET RU YDS, 7 RU TD
o Synopsis: (6'4" 227) Sheehan was named the MAC Offensive Player of the Week three times in 2007, as he went on to pass for 3,264 YDS with 23 TD and 11 INT. His 2007 efforts were good enough to place him on the 2007 All-MAC Third Team. Sheehan ran his offense from the shotgun every offensive snap in 2008.
o What to expect: With new coach Dave Clawson coming in, Sheehan will operate under center in 2009. BGSU returns two of their top six receivers (combined 1 TD in 2008) and their top TE in Jimmy Scheidler (7 TD in 2008). With the loss of their starting running back, and two offensive lineman, Sheehan might struggle. He has shown much confidence, comparing himself to both Dan LeFevour and Nate Davis: "Dan [LeFevour] can do more things with his feet than I can, but I think I can make some different throws that he can't make. Nate Davis has a great arm. I think, ability-wise, there's not much difference between us, but we each bring something different to the table to help our team win. And I think our different abilities showed when you look at the stats from last year". Sheehan can definitely produce if given enough snaps.
Rusty Smith, Sr. | FAU (SBC)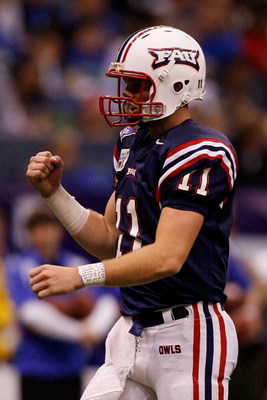 o Last season: 234-435 COMP-ATT, 53.8% PCT, 3224 YDS, 24 TD, 14 INT, -82 NET RU YDS, 2 RU TD
o Synopsis: (6'5" 230) Rusty Smith is considered the offensive face of the Florida Atlantic Owls, a team that started playing Division 1A football in 2004. In 2006, Smith as a redshirt freshman, tossed 6 TD and 8 INT on 1,285 YDS. Smith's 2007 season was much an improvement—he set the Sun Belt Conference passing record for a single season with 3,688 YDS. He also had 32 TD and 9 INT that year, and paced himself to be the 2007 SBC Player of the Year. 2008 saw Smith injured for the first half of the year, but he still finished with strong numbers, good enough for 2008 All-SBC Second Team. Smith is already FAU's career passing leader with 8,197 YDS. Also, the two bowl games FAU has been to, Smith has been named the MVP, winning both (the 2007 New Orleans Bowl, 44-27 over Memphis, and the 2008 Motor City Bowl, 24-21 over CMU).
o What to expect: Smith has to put up huge numbers this season. The Owls entire wide receiver corps returns, as well as three starting offensive linemen. Head coach Howard Schnellenberger is looking to for his best season at FAU while Rusty Smith is still around.
Keep Reading