Update: Pakistan beat Bangladesh by three wickets
Pakistan completed an epic comeback over Bangladesh to record its third win of the Cup and qualify for Saturday's final.
Bangladesh came out on fire and would build a 326 lead (their highest in ODI), but it wasn't enough to defeat the Pakistani team. An incredible performance from Shahid Afriidi (59 in 29 balls) and a century from Ahmed Shehzad set up Umar Akmal for the game-winning runs.
OptaJim shows just how close it was:
329 - Pakistan have completed their highest successful ODI run chase, 329-7 against Bangladesh. Escape. #AsiaCup pic.twitter.com/xnxdQpNYEz

— OptaJim (@OptaJim) March 4, 2014
Pakistan will face undefeated Sri Lanka in Saturday's final in a rematch of the tournaments' opening match and this miraculous victory will no doubt give the team wings going into the bout.
This fan is confident:
Asia Cup belongs to Pakistan now.. They don't even have to play the final. Sri Lanka never going to win a final #BanVsPak #AsiaCup

— Pandith (@RudePandith) March 4, 2014
---Original Text---
The conclusion of the 2014 Asia Cup is drawing near, and this year's edition of the biannual tournament has been a cracker.
With Sri Lanka already having secured their ticket to the final and three matches yet to be played, almost every team still has a fighting chance to face the Sri Lankan team this Saturday.
Let's take a look ahead.
All statistics are courtesy of ESPN Cricinfo.
Venue: Shere Bangla National Stadium, Mirpur
Date: Saturday, March 8
Start time: 2 p.m. local time, 8 a.m. GMT
Weather: The Weather Channel predicts temperatures in the mid- to high twenties and clear skies with light winds.
TV Info: Star Life Ok (Sky Channel 783, UK)
Pakistan will face last-placed Bangladesh, and with two wins out of three matches already, they have the clearest path to the final. But India, Afghanistan and even Bangladesh could still overtake the Pakistani team in the final matches.
Former Sri Lankan cricketer Russel Arnold explains the procedures used to determine the remaining finalist:
If 2 teams are tied its Head-to head but if 3 then NRR will kick in...#AsiaCup #yes... Even Afghanistan can reach 9 points instead of India

— Russel Arnold (@RusselArnold69) March 4, 2014
There is still a possibility for 3 teams to end on 9 points... Bangladesh , India , Pak.. Then NRR kicks in... #AsiaCup

— Russel Arnold (@RusselArnold69) March 4, 2014
OptaJim points out that history is on the side of Pakistan, who would qualify with a win over Bangladesh:
30 - Pakistan have won 30 of their 31 ODIs against Bangladesh, their one defeat coming in the 1999 @icc World Cup. Favourites. #AsiaCup

— OptaJim (@OptaJim) March 4, 2014
Pakistan opened the tournament with a loss to Sri Lanka (by 12 runs) but have bounced back nicely with wins against Afghanistan (by 72 runs) and India, beating their longtime rivals by a single wicket.
Mohammed Hafeez has been the man in form for his country, and in the event of the team making the final, Pakistan will need his consistent bat if they are too have any chance of beating an in-form Sri Lankan team:
Special mention to Mr. Consistent, Mohammed Hafeez. Sensational all round performance. Couldn't have done it without him! #MotM

— Abbas (@AbbasMoosvi) March 2, 2014
India's defeat to Pakistan means they are on the outside looking in, needed the help of bottom-dwellers Bangladesh to make the final. Losing by a single wicket is never easy; losing to Pakistan makes it that much worse:
Still in shock at India's loss to Pakistan despite that BRILLIANT 49th over by Bhuvaneshwar n the MAGIC 1st ball of the 50th over!

— Milap Zaveri (@zmilap) March 2, 2014
The loss came on the heels of another heartbreaker, losing by two wickets against Sri Lanka. India's only win came in their first match, beating Bangladesh by six wickets.
Every cricket fanatic in India (and there's a lot of those) will be begging for Bangladesh to pull off a miracle against Pakistan, opening the door for the Indian team to make the final.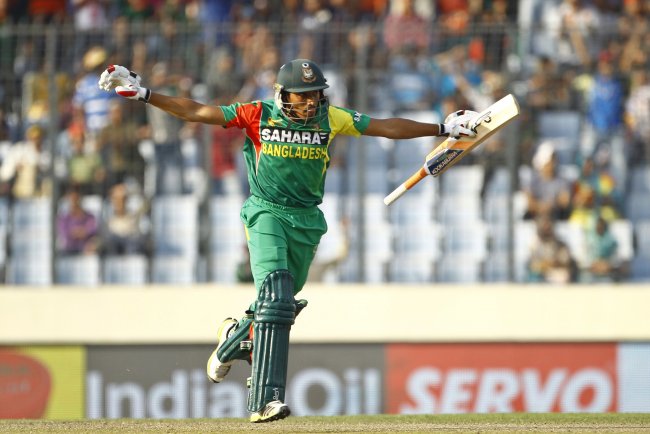 A.M. Ahad/Associated Press
Winless Bangladesh will need two wins and at least one bonus point to make the final, and they will face the two top seeds in Sri Lanka and Pakistan. Their chances are slim, but mathematically they're still in it. We can't see them pulling off three major upsets in a row though. Making the final would be a miracle in itself—beating the Sri Lankans there would require something even bigger.
Who will win the 2014 Asia Cup?
Afghanistan are the last team still fighting for their place in the final, but they too have looked overmatched in their bouts with Sri Lanka and Pakistan, losing by a combined 201 runs. A win over Bangladesh makes their path to the final a little more likely, But it does little more for their chances.
Pakistan and India are the most likely teams to face Sri Lanka in the final, but it might not even matter. The Sri Lankans are playing some magnificent cricket and will be going into the final as heavy favourites, no matter who they face.
Broken Cricket said it best:
Trying to work out which is the best team in Asia Cup except Sri Lanka #ToughBuzzle

— Broken Cricket (@BrokenCricket) March 4, 2014
Sri Lankan's batsmen have been impressive, but the real stars have been their bowlers, particularly Thesara Perera and Ajantha Mendis. Both dominated in their team's last win over Afghanistan and seem to be hitting their best form at the right moment.
This fan was impressed:
Remarkable win. Srilanka win by 2 wickets, and well Mendis you have a habit of hitting the winning runs, sangakkara an innings to remember

— Ahmed Usaamah (@ahmed_usaamah) February 28, 2014
Being thrust into the role of favourites and coming through is never easy, but the Sri Lankans have done everything right so far and will be looking to finish the job in the final this Saturday.
Final prediction: Pakistan sneak into the final but lose to Sri Lanka.