The transition tag hasn't been used with any regularity by NFL teams in nearly a decade, in large part because it opened the door for all sorts of contract shenanigans.
With the elimination of the so-called "poison pill" in the new collective bargaining agreement, those shady dealings are a thing of a past. But that doesn't mean the Cleveland Browns and Pittsburgh Steelers are completely in the clear after bringing the transition tag out of mothballs on Monday.
Ian Rapoport of NFL.com was among the first to tweet that the Browns were considering the transition tag for center Alex Mack:
This is a surprise. The #Browns are planning to tag C Alex Mack, per source. May be the transition tag, not franchise tag.

— Ian Rapoport (@RapSheet) March 3, 2014
While ESPN's Adam Schefter relayed that the Steelers were going the same route with young linebacker Jason Worilds:
And Steelers used transition tag on LB Jason Worilds.

— Adam Schefter (@AdamSchefter) March 3, 2014
The transition tag is a slightly less expensive than the franchise tag, as it will pay Worilds and Mack the average of the top 10 (and not the top five) players at their position on a one-year, fully guaranteed deal.
However, unlike with the franchise tag, should another team sign Worilds or Mack to an offer sheet that their respective teams choose not to match, then the Steelers and Browns would receive nothing in way of compensation.
That was why the transition tag fell from favor, because the offer sheets got pretty ridiculous pretty quickly.
It didn't take long for teams to figure out an easy way around the transition tag. Just slap some terms in the contract that the other team has no chance of realistically matching.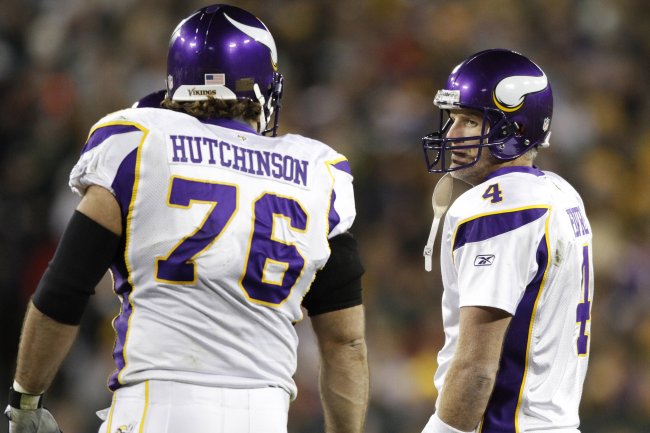 Jim Prisching/Associated Press
The most famous instance came back in 2006, when John Clayton and Len Pasquarelli of ESPN reported on the lulu of a clause the Minnesota Vikings put in the seven-year, $49 million offer sheet they signed guard Steve Hutchinson to:
Under the original deal, Hutchinson had a clause in the contract that would have guaranteed the entire deal if he wasn't the team's highest paid offensive lineman. At the time of the signing, Seahawks left tackle Walter Jones was making $7.5 million a year, $500,000 more than Hutchinson, and was the highest-paid offensive lineman on Seattle's roster.
Seattle fought the deal and lost, so they responded by signing Vikings wide receiver Nate Burleson to a similar seven-year, $49 million offer sheet. This one guaranteed the entire deal if Burleson played five games a year in the state of Minnesota.
Seriously. This was legal and everything.
What it was not, however, is looked on favorably by the powers that be in the NFL. Mike Florio of Pro Football Talk reports that both squads were read the riot act at the next year's league meetings, and the transition tag went the way of the dodo.
When the new CBA was signed in 2011, the owners and players put the kibosh on the craziness, with a clause that expressly prohibits "poison pills."
From the Collective Bargaining Agreement:
Notwithstanding Subsections (i) and (ii) above, no Offer Sheet may contain a Principal Term that would create rights or obligations for the Old Club that differ in any way (including but not limited to the amount of compensation that would be paid, the circumstances in which compensation would be guaranteed, or the circumstances in which other contractual rights would or would not vest) from the rights or obligations that such Principal Term would create for the Club extending the Offer Sheet (i.e., no 'poison pills').
In other words, any clause in the deal must apply to both teams equally, so no funny business.
OK, so almost no funny business.
There's nothing in the CBA that precludes a team from signing a player to a deal that's going to be difficult to match, especially for a team that's running low on cap space.
And the Steelers wish they were just running low on cap space.
Least Salary Cap Space 2014

| | |
| --- | --- |
| Team | Cap Space |
| Dallas Cowboys | $-16.5 million |
| Pittsburgh Steelers | $-5.9 million |
| New Orleans Saints | $1.6 million |
| San Diego Chargers | $3.9 million |
| St. Louis Rams | $7.3 million |
per Spotrac
According to spotrac, the Steelers are one of two teams in the NFL that presently sit over the salary cap of $133 million. The team has until March 11 to create about $6 million in cap space, and that doesn't include room to sign free agents or draft picks.
With Worilds now assigned a $9.75 million tag (which saved the Steelers about $2 million opposed to the franchise tag), the fate of veteran LaMarr Woodley (and his staggering $13.6 million cap figure) appears all but sealed.
Of course, that makes this a doubly risky play should the team lose both.
And that's a real possibility. After tallying eight sacks and finishing last year 12th among all 3-4 outside linebackers, according to Pro Football Focus (subscription required), there's going to be interest in the 26-year-old.
Had he been franchised, the team that signed Worilds would also have to sacrifice draft picks, but there's no such penalty for transition players. It's not hard to imagine a team looking for pass-rushers with cap space to burn making Worilds an offer that Pittsburgh will be hard-pressed to match, especially if it's front-loaded.
Say, a team like Cleveland, and it's their boatload of cap room that makes Mack's transition tag seem a curious choice.
It's certainly understandable that the Browns want to keep Mack around. Quality offensive linemen are worth their weight in gold. At 28, Mack is in the prime of his career, and the sixth-year pro graded out fourth among centers, per PFF (subscription required). And he made the Pro Bowl in 2013.
What's curious is that the Browns didn't just franchise Mack.
It certainly isn't a matter of cap space.
Most Salary Cap Space 2014

| | |
| --- | --- |
| Team | Cap Space |
| Oakland Raiders | $66.4 million |
| Cleveland Browns | $56.9 million |
| Jacksonville Jaguars | $56.1 million |
| Indianapolis Colts | $40.9 million |
| Miami Dolphins | $39.2 million |
Per Spotrac
Whereas only one team in the NFL is in a worse position relative to the cap than Pittsburgh, only the Oakland Raiders have more room to work with than the Browns.
Of course, even at the lower transition tag amount, Mack would still be the highest-paid center in the NFL by nearly $2 million, and this may just be a matter of Cleveland buying time to get a long-term deal in place.
Will either transition tagged player have a new home in 2014?
Or it could be that the Browns are effectively letting the market determine Mack's new contract, intent on matching any offer that comes down the pipe.
With that said, though, if the Browns are worried about the relatively small difference between the franchise and transition tags, then isn't it possible that Mack could receive an offer the Browns choose to balk at?
Given the last 12 months, not much from Cleveland should surprise anyone.
Odds are, Mack isn't going anywhere. The same can't necessarily be said for Worilds, but the Steelers have only just begun to wheel and deal in advance of next Tuesday's deadline and the beginning of free agency.
Once March 11 hits, it will be very interesting to see what sort of market develops for the first players hit with the "new" transition tag.
And if either Worilds or Mack ends up on a new team thanks to a "creatively" structured contract (albeit one perfectly legal under the new CBA), you can bet that some unhappy NFL team will call shenanigans again.
Even if they put themselves in that position to begin with.