Your 2009 Baltimore Orioles Draft Class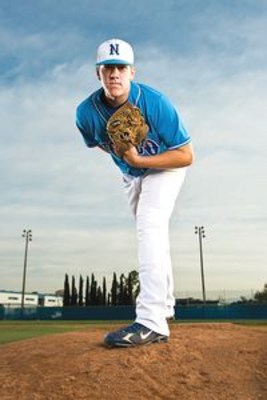 It took more rounds than two decades worth of the NBA draft, but the 2009 MLB First-Year Player Draft is finally over. So now, let's take a look at the class of prospects, many of whom will play a serious role in the organization's future.
Beyond the first few round, there doesn't appear to be much to sneeze at, but after some searching, some seeeerious searching, there's a little bit more here than the common fan would think.
So let's take a look, and see who we'll be hearing about soon, and who we'll most likely forget before next spring training.
Matt Hobgood, RHP, Norco High School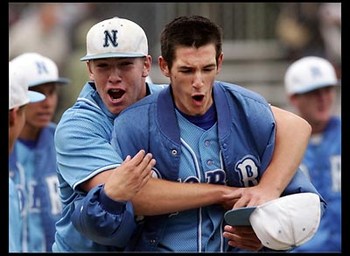 Try finding a picture of the O's first round pick where he isn't yelling, screaming or fist pumping. It's harder than you think.
I know many fans are questioning the O's selection of flamethrower Matt Hobgood, a high schooler from California, but they need to take a few things into account. First, this year's draft class is weak, and aside from Strasburg and Ackley, the talent from the first to the fifth or even sixth round isn't much different.
Second, despite the weak class, Hobgood should by no means be discounted. Coming out of high school he was considered one of the most minor league ready prospects, due to his clean mechanics and his two plus pitches.
His two plus pitches are a 95 mph fastball, which regularly sits at 90-93, and a plus curveball, which many were calling the best in this draft class, regardless of class (college or high school). He also features a slider, which is kind of slurvy, but reportedly has no feel for a changeup. The development of that changeup is what should determine whether or not Hobgood ends up in the bullpen or standing next to Matusz, Tillman and Arrieta in the rotation.
What really separates Hobgood from the rest of the pack, and what helped make him the first HS pitcher taken, is his attitude. He has excellent poise, and isn't afraid to challenge hitters, and he often carries a mean streak to the mound. In this respect he has been compared to Josh Beckett.
The best evidence of his nasty streak came in a high school game last year, when Hobgood faced off against 2008 first round pick Gerrit Cole. Cole came in as the big name, the scouts favorite, but the first round pick of the Yankees was out-dueled by Hobgood, who impressed scouts with his ability to not let the attention bother him.
O's Director of Player Development Joe Jordan also feels that Hobgood's size will help with his development. Considered "large" at 6-4 and 245 pounds, Jordan feels his frame will help him avoid injury.
In conclusion, take your premature speculation about Hobgood and throw it out the window. Hobgood is going to make a splash someday in Baltimore, be it in the pen or rotation, and let's face it, they could use help in both. And with the big three on their way, Hobgood should have plenty of time to develop. Don't forget about him.
Mychal Givens, SS/RHP, H.B. Plant High School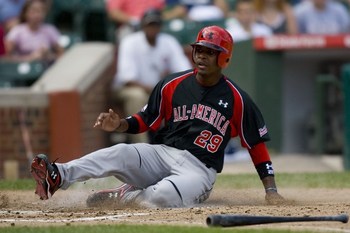 Aside from that Strasburg fellow, few other prospects have garnered as much attention as Givens, a two-way player from H.B. Plant High School in Florida. His elite package of tools had the Orioles drooling when they picked in the second round, and should have all Orioles fans happy they missed the boat on Grant Green.
Many teams were considering drafting Givens as a pitcher, where he features one of the best arms in the draft, including a 97 mph fastball. He would feature best as a reliever, since he's so raw as a pitcher, but with some seasoning could develop into a very intriguing pitching prospect.
While the O's may let Givens take the mound every once in a while, they feel he can provide their organization with the most talent at the shortstop position. The O's haven't had a legitimate shortstop since Cal Ripken and while Cesar Izturis is a fine defensive player, the O's have long been looking for an offensive player to man the position.
Enter Givens, who has good hitting ability, with few flaws in his swing. He isn't an excellent hitter, but with time he could develop into a .260-.280 hitter. He also features decent power and has potential to develop into a 15-25 home run guy. He also has plus speed on the base paths.
The real kicker with Givens is that while he is pretty good with the bat, he is even better in the field. A natural athlete, he is very rangy and athletic, and has the tools to stay at shortstop long term. With his excellent arm strength he should have no problem making the long throws, and he is a fluid athlete, which means he should occasionally make some spectacular plays too.
I'll be very interested to see where the O's put Givens to start his pro career. Keep an eye on this kid.
Tyler Townsend, 1B, Florida International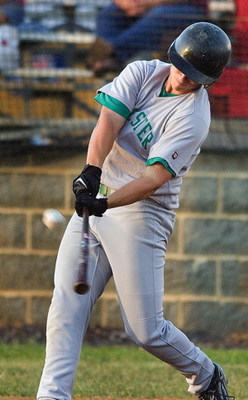 For those of you who think reaching for Townsend with the team's third round pick, hear this story. As a 17-year old, Townsend visited Camden Yards on a high school scouting weekend. Given the chance to take BP, the youngster jacked nine bombs out of the park, and his legend was born.
After high school, Townsend took his power game to Florida International, where he hit 43 career home runs, driving in a school record 164 RBI in three years. This past season he hit .426 with 24 home runs and 77 RBI, and was named first-team All-American by Louisville Slugger.
Clearly, Townsend fits the recent trend of trying to add more power to the minor league system. His game is pretty comparable to current Frederick Key Brandon Waring, but Townsend is more of an athlete. Sturdy at 6-3 and 215, the O's are planning on trying him out at first base and in both outfield corners.
Townsend has shown quite a propensity to taking some walks too, keeping his walk to strikeout ratio about even during his career at FIU.
It appears Townsend has already been in some sort of talks with Jordan, and it's been reported that he will start his career soon at Aberdeen before joining the Shorebirds to end the season. If this is the case, it would appear that he is on the fast track.
With Billy Rowell's career seemingly tanking, it appears now is as good a time as ever for the O's to take a power hitter who could play 1B and the outfield.
Randy Henry, RHP, South Mountain CC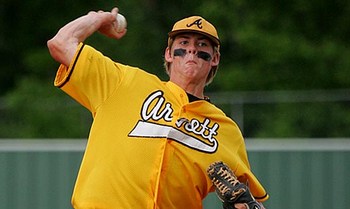 The Orioles did an excellent job of finding depth on the second day of the draft, and it all began with Henry, a right-handed pitcher from South Mountain Community College in Arizona.
Henry was tabbed as the 75th best RHP in the draft by Baseball America, which is pretty impressive considering he played mostly shortstop in high school, at Texas Tech and at SMCC. When he's on the mound, Henry features a fastball that sits in the 90-93 mph range.
Despite the fact that he's coming off elbow ligament reconstruction surgery, Henry is not considered an injury risk due to his fluid, clean mechanics. Watch video of him and you'll see he throws the ball very hard, very easily, and works very quickly.
You'll also see the bulldog mentality and enthusiasm that should make him a immediate favorite with the coaches.
Ashur Tolliver, LHP, Oklahoma City University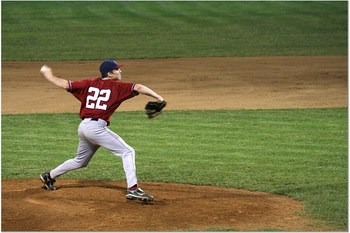 Don't confuse Oklahoma City U. with Oklahoma State U. And furthermore, don't confuse Ashur Tolliver with just some guy with a funny name. Tolliver could end up being a steal for the Orioles, a Jake Arrieta of sorts.
While he is a tiny fellow (6-0 170 lbs), Tolliver brings comparisons to Tim Lincecum in his game: tiny guy, big thrower. Tolliver features a fastball that tops out at 96, but sits more regularly around 88-92. In addition to the fastball, he also features an above average changeup. He also throws a slider, which has been described as "slurvy," but still grades out as a plus pitch.
The knock on Tolliver has been his delivery, which is kind of violent and could lead to the possibility of injury. More scouts than not see him ending up in the bullpen and question his durability. Sounds like a power arm out of the pen to me. Throw in the fact that he's a lefty, ranked the 10th best by Baseball America, and he could be quite a prized prospect in the system.
This year he went 10-1 with a 3.74 ERA and was named the top prospect in all of NAIA by Baseball America. He showed what he could do if used out of the pen in the Cape Cod League, where he shined, going 3-0 with a 2.17 ERA.
Whether the O's decide to give Tolliver a turn in the rotation or stash him away in the pen, he is an interesting prospect to keep an eye on.
Justin Dalles, C, South Carolina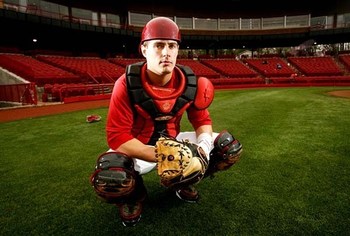 Dalles was the sixth pick for the O's, and this marks the fourth time the 2nd team All-SEC catcher has been drafted. He went in the 15th round in 2006 to the Mets, in the 40th to the Cardinals in 2007, and in the 26th to the Blue Jays last year. 15th to 40th to 26th to 6th. I'd call that modest progress.
Dalles was listed as the 41st best prospect from the state of Florida last year, and did nothing to hurt his chances of going higher than ever this past year. Coming into the season he was fighting for the catcher's spot, but as soon as he won the job he put together a fantastic season, hitting .324 with 15 home runs and 47 RBI.
He was even better in the Gamecocks NCAA super-regional, where he hit .589 with three home runs and ten RBI in four games.
In addition to his hitting ability and power, the other pluses on Dalles are mostly relating to his attitude. He has an insane passion for the game (think Matt Wieters), an excellent work ethic and displays great leadership abilities.
The O's desperately need catching depth in the minors, as most of their receivers are in their late 20's or early 30's. Dalles provides the Orioles with a quality backstop who may develop into a decent backup catcher.
Ryan Berry, RHP, Rice University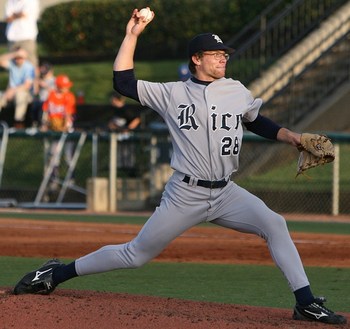 Joe Jordan wasn't the only one shocked when Berry fell to the ninth round, where the O's were happy to scoop him up. Not only did they get a promising pitcher who was highly touted as a college freshman, but thanks to other team's doubts about him, they will most likely get him at a discounted price.
Berry was rated the 41st best RHP in the draft, but has much more ability than that. He has a lean, slender build, reminiscent of Rich Harden. He throws three solid pitches, starting with a quality fastball that ranges from 88-93 mph. His curve is his best pitch and he throws two different kinds. He also features a changeup, which is serviceable but he didn't throw it that often this year.
He has solid command of all of his pitches and is considered to have excellent mound presence, which makes you wonder...why did he last until the ninth round.
The major reason he wasn't snatched up sooner is that teams weren't sold on his consistency. After a stellar freshman season at Rice, he was all over the place as a sophomore. He was lights out one night, and completely hittable the next. That pattern continued all season, and led to doubts about his makeup.
His junior season went much better, as he battled back from numerous injuries to help Rice take the Conference USA tournament with his stellar pitching, and earn a berth in the NCAA baseball tournament.
Berry isn't the most intimidating pitcher at 6-1 195, but he has excellent poise and has been the ace of the Rice staff since Joe Savery left, something that builds confidence. The only thing that worries me about him is his propensity to hit batters. He hit 16 his freshman year and finished with over 25 for his career as an Owl.
Everyone else...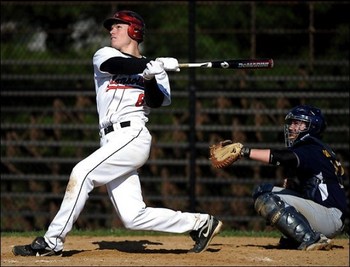 It would take forever to list everyone else the O's took, as well as to find info on each of them, so I'll condense them all into one slide, profiling the most intriguing.
At the top of that list, I would put Steven Bumbry, son of Orioles outfielder Al Bumbry. This Bumbry plays outfield too, and centered his game on power while at Virginia Tech, where he led the team in HR and RBI this past season. He also shows good instincts on the basepaths (how could he not?) and a decent arm which should play in the outfield.
Next is Mike Flacco, brother of Ravens QB Joe Flacco. Flacco raked at local Catonsville CC, and will get the opportunity to play both first and third base with the O's, as well as getting some time in the outfield.
Devin Harris, from East Carolina was the first outfielder taken by the O's with the 236th pick. He hit 14 home runs and drove in 48 runs for the Pirates, and made national headlines with a dramatic game-tying, bottom of the ninth home run against South Carolina that kept the Pirates' chances alive in the championship game of the Greenville regional. Harris later won the game with an RBI single in the 10th.
Jacob Cowan, a right-hander from San Jacinto College, should also be intriguing, as he was rated as the 47th best RHP available. Cowan has signed to play at the University of Texas, but being taken in the 10th round probably means he'll go pro. Cowan won the most valuable pitcher award at the junior college World Series.
Also keep an eye on Michael Ohlman, a catcher from Lakewood Ranch HS in Florida, taken a round after Cowan. Ohlman would have gone higher if not for concerns about his signability. He was rated the 18th best catcher available ahead of Justin Dalles.
The O's did shore up the shortstop position, taking two more besides Mychal Givens: Michael Mooney from UF and Brad Decater who just finished his sophomore season at Cuesta College in California, hitting . 330 with a team high seven home runs and 60 RBI.
They took nine outfielders in all, twenty right-handed pitchers, and ten southpaws.
Keep Reading

Baltimore Orioles: Like this team?