Updates from Tuesday, Mar. 11
John Tortorella updated Daniel Sedin's status, via Ben Kuzma of the Vancouver Province:
Torts: "I can't even call Daniel day-to-day (hamstring). He's weeks. He's not on the trip with us."

— Ben Kuzma (@benkuzma) March 11, 2014
Updates from Tuesday, Mar. 4
John Tortorella updated Daniel Sedin's status on Tuesday (via Dan Murphy of Sportsnet):
#canucks Daniel Sedin is "out for awhile" according to Tortorella.

— Dan Murphy (@sportsnetmurph) March 4, 2014
Original Text
The Heritage Classic, alongside the Winter Classic, is generally a treat for both fans and players. But the Vancouver Canucks and Daniel Sedin won't be looking at Sunday's 4-2 loss to the Ottawa Senators with any particular fondness, as Sedin left the game with a left leg injury and will miss a chunk of time.
Renaud Lavoie of TVA Sports provided the news Monday:
Daniel Sedin (left leg) could be out for a minimum of 3 weeks. #canucks #tvasports

— Renaud Lavoie (@LavoieRenaud) March 3, 2014
Sedin will get an MRI on the injury as well (via Darren Dreger of TSN):
Daniel Sedin scheduled for an MRI today to determine extent of leg injury. Not believed to be knee related. No clear time frame for return.

— Darren Dreger (@DarrenDreger) March 3, 2014
Any missed time is a huge loss for the Canucks. Sedin has scored 13 goals and has 40 total points this year, tied with his twin brother, Henrik, for the most on the team. It's been a bit of a down season for him, however—he tallied 40 points a season ago in just 47 games.
The Canucks are scrapping and clawing at the moment, hoping to earn a playoff berth but currently tied with the Dallas Stars and Winnipeg Jets for the eighth seed in the Western Conference with 66 points.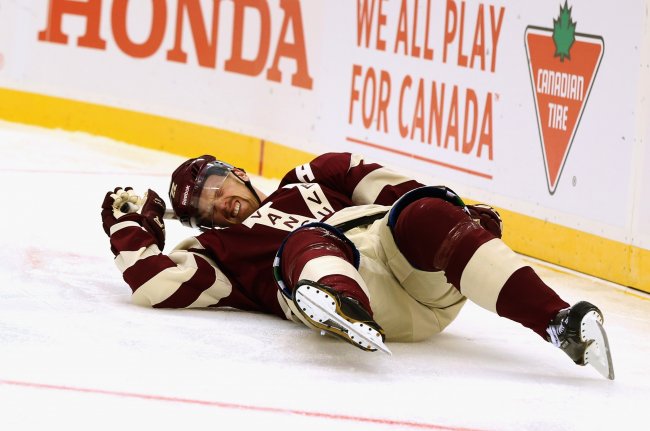 Andre Ringuette/Getty Images
For a team that has battled through its fair share of injuries this season, losing Sedin really hurts. Henrik summed it up nicely, saying via Kevin Woodley of NHL.com, "It's been one of those years."
If Sedin does indeed miss up to three weeks, he could potentially be out for as many as 11 of the Canucks' 19 remaining games. It's pretty hard to imagine Vancouver earning that final spot if he misses more than half their remaining regular-season schedule.