The Last Great Race on Earth is underway in Alaska as more than 60 sleds work their way toward the finish line over a treacherous course that can take upwards of two weeks to complete.
Over the course of 975 miles, mushers and dogs will experience harsh temperatures, a random course predicated on the weather and an extreme test of endurance that pushes all involved to their limits.
As an annual tradition that dates back to 1973, the festivities in Anchorage are now a global spectacle that garners attention as a novelty sport. The start of the race provided some sense of the epic scope of the event, as captured by the Anchorage Daily News:
Photos from today's Iditarod start in Willow http://t.co/5OkIdIkRXB pic.twitter.com/XJc7A4s044

— Anchorage Daily News (@adndotcom) March 3, 2014
Things got underway on March 2, but things are far from over. A few storylines are worth a serious look in the infancy of the epic race.
Former Champs and the Threat of Norwegian Domination
The field this year is littered with former champs. Despite about a fourth of the entrants being rookies, experienced veterans are a threat to steal the show in Alaska.
Take Mitch Seavey, for example. He won it all last year and is back for another go after perfectly figuring out the run-rest ratio.
Seavey is not alone. Other former champs such as Lance Mackey, John Baker, Martin Buser and Jeff King—not to mention Dallas Seavey (Mitch's son), who won it all in 2012—make for a competitive field.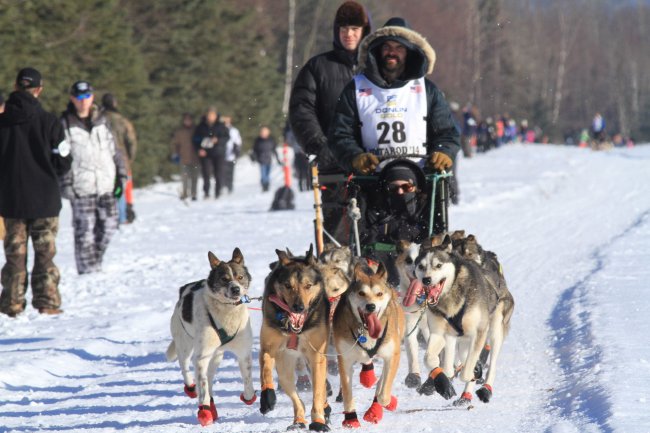 Dan Joling/Associated Press
But keep an eye on the Norwegians. Robert Sorlie is the biggest name to watch as he helped to revolutionize the sport in 2003 with a new take on rest periods. Most competitors in the race no longer view Sorlie as a wild card, but as the man to surpass, via Suzanna Caldwell of the Alaska Dispatch:
"He's not a wild card anymore," said Jake Berkowitz, 27, of Big Lake, who placed eighth in 2013. "He's a proven champion. He's not in my head any more than Dallas (Seavey, 2012 champion) or Mitch (Seavey, 2013 champion) or any of the others."
Not many sports see so many legends partake in the biggest event of the year, so even casual observers must appreciate what they are about to see from the biggest mushers as the race unfolds.
The Route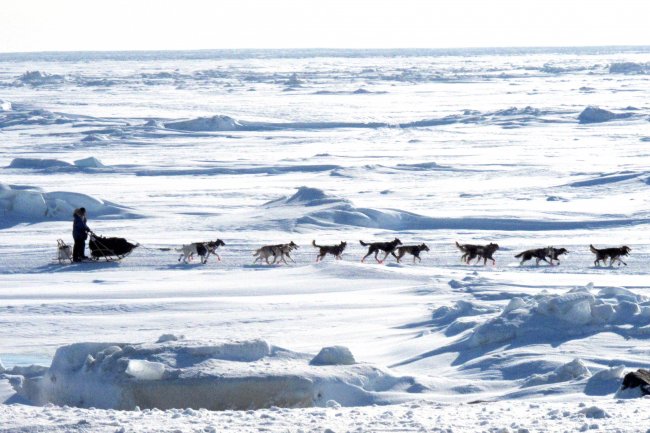 Mark Thiessen/Associated Press
Weather has created a controversy around the event this year, as uncanny temperatures threw the status of the race into question.
As Beth Bragg of the Anchorage Daily News pointed out before the official start, the race was almost moved to a different location because there was not enough snow:
Ice, open water, soft snow and no snow await dog teams as they begin the race to Nome this weekend. High temperatures -- which in early February threatened to move the start of the race north to Fairbanks -- returned with a vengeance Thursday and could compromise several weeks' worth of volunteer labor on the trail.
The news should come as no shock considering Alaska has been subject to abnormal temperatures dating back to January, as the National Weather Service detailed on Twitter:
More Alaskan records broken? Yup! #akwx pic.twitter.com/diOIUQioZW

— NWS Alaska Region (@NWSAlaska) January 30, 2014
Things have started as normal so far, but the course has not been perfect. As a report by Joe Runyan of the race's official website details, mushers and their dogs have not been able to lock down as planned since hooks have not held properly:
Our guys reported mushers could not stop on the river going into Skwetna as ice hooks would not hold. T'herefore it appeared mushers moved to Skwetna, but even here locking down the team was difficult, with some teams creating havoc pulling out hooks in the parking lot.
The health of mushers and dogs alike is critical in a taxing physical event such as this, so keep an eye on the course as things progress. It is a shame the weather has not been ideal with the event difficult enough without cooperation from Mother Nature.
This continued development will likely most hurt the chances of the rookies in participation, as the past champions at least have years of experience to fall back on when things get rough. Regardless of who emerges victorious, this may prove to be the most difficult Iditarod to date.