Another day, another dominant performance from Lionel Messi.
The Argentinian maestro was at it again for FC Barcelona in their 4-1 victory over Almeria, scoring on a stunning free kick and hitting the woordwork with one of his pattented headers.
Wait, what?
Yes, you read that right. On Barcelona's third goal of the night, the 5'6" Messi, as per WhoScored.com, found a way to head the ball goalwards, only for Carles Puyol to slot home the follow-up.
The Internet didn't know what had happened:
Was that Messi who struck the bar with a header from a corner? Impressive work from the midget.

— La Masia (@Youngcules) March 2, 2014
how Messi reached the first header thought !!! levitating !!!

— Barça Snacks (@BarcaSnacks) March 2, 2014
GeniusFootball has proof:
VIDEO: GOAL ! Messi's header hits the woodwork but Puyol is there to put it in on the rebound. Vital goal for Barca - http://t.co/jCSxiEYgSG

— GeniusFootball (@GeniusFootball) March 2, 2014
In all seriousness, this was just another vintage performance from Messi, drifting all over the pitch and probably giving Almeria defenders nightmares the coming weeks.
Per WhoScored.com, Messi had 109 touches of the ball and completed 86 percent of his passes. His 11 shots on goal were the most by any player, and while one goal out of 11 shots might not be a great conversion rate, it speaks volumes to the constant threat he presented.
And of course, he did this:
Take a bow Messi..... https://t.co/8Z5kTHjWYl

— Lee Roberts (@LEEROBERTS76) March 2, 2014
Bend it like Beckham? Twitter-user Gazza shared this snapshot:
Messi's freekick had a bit of bend on it. pic.twitter.com/coPUWpSrZU

— Gazza (@WorldWideFooty_) March 2, 2014
Not everyone was equally impressed by Messi's performance, however, with critics taking aim at the Argentinian's work rate and movement on the pitch. Zizouology didn't hold back:
@GiroudAFC_ 4-1 score-line doesn't tell the full story. It was a pretty dull performance from Barça. Messi looked unfocused. Neymar average.

— A San (@Zizouology) March 3, 2014
La Liga analyst Javier Hernandez also didn't mince his words:
#Messi took 11 shots but only two on target and his goal was a free-kick, rather poor performance for #Leo.

— Javier J. Hernández (@javierjotah) March 2, 2014
That didn't stop the people at Whoscored from giving him the Man of the Match-award and a place in their Team of the Week:
Lionel Messi: MotM vs Almeria, Rating 9.5, Goals 1, Shots 11, Key Passes 4, Dribbles 5 http://t.co/TmKl1ca77t pic.twitter.com/fNMlKTwVUB

— WhoScored.com (@WhoScored) March 2, 2014
GRAPHIC: La Liga Team of the Week - Gameweek 26 pic.twitter.com/SbA6upaIkw

— WhoScored.com (@WhoScored) March 3, 2014
Perhaps voter fatigue is setting in, or fans and analysts have come to expect the impossible from the four time Ballon d'Or-winner every single week. With one goal (Messi won the free kick himself), an assist for Puyol and solid numbers across the board, it's hard to argue with Messi's performance.
Messi wasn't the only top performer in Barcelona's win, with Xavi's performance particularly worthy of praise. The Catalan legend continues to defy Father Time and ended with a ridiculous pass-completion percentage of 96 percent, touching the ball 146 times and scoring a goal of his own.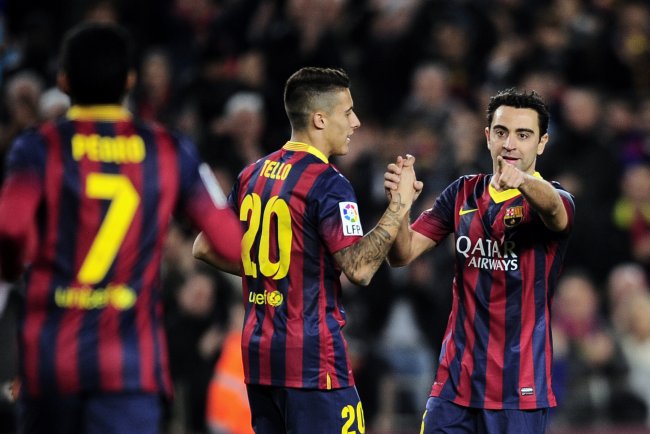 Manu Fernandez/Associated Press
With the win, Barcelona keep track of Real Madrid who couldn't get past city rivals Atletico earlier in the day. The two heavyweights of Spanish football are now separated by no more than a point at the top of the La Liga standings, in what is shaping up to be a title race for the ages.
Barcelona and Real will face each other in Madrid in three weeks time in a tie that will likely decide the outcome of this year's championship, and fans of the Blaugrana will be hoping to see another vintage Messi performance like this one.