The 2014 NHL trade deadline is scheduled for Wednesday, March 5, and the anticipation that more top stars could be dealt has the entire league focused on what will happen before the deadline finally arrives.
The first trade piece has fallen into place as former Buffalo Sabres netminder Ryan Miller was dealt to the St. Louis Blues on Saturday, according to John Wawrow of the Associated Press (via ABC News), and fans should expect the moves to come fast and furious now.
Here are all the latest rumors surrounding the biggest names reportedly on the market.
Thomas Vanek Not Helping the New York Islanders?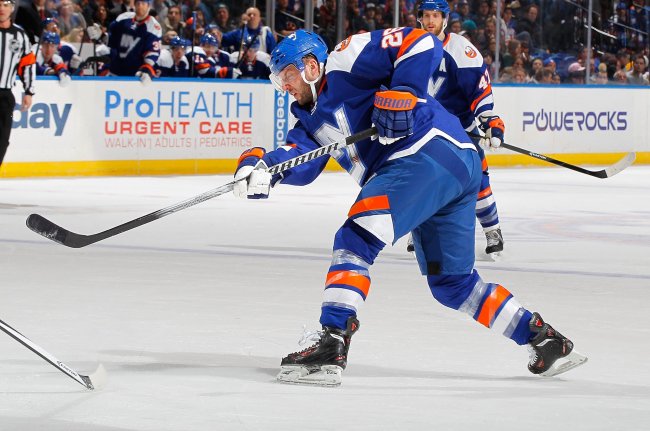 Jim McIsaac/Getty Images
The New York Islanders went all-in on former Buffalo Sabres scoring winger Thomas Vanek earlier this season when the franchise traded forward Matt Moulson, a 2014 first-round pick and a 2015 second-round pick to acquire him.
New York offered Vanek a contract extension worth $50 million over seven years, but the newly acquired forward turned it down and wants to test the market via free agency this offseason. That information is not helping the Islanders hammer out the details of a potential trade.
According to Chris Botta of the New York Times, the Islanders have not been offered a favorable deal, partially due to the poor play of Vanek:
They will eventually, but Isles yet to get a strong offer for Thomas Vanek. Might help if he played better, and like he cared.

— Chris Botta (@ChrisBottaNHL) February 28, 2014
There are few players in the NHL with as much offensive prowess as Vanek, but he has been a shell of the player he was over the last several seasons. Despite telling Mark Masters of TSN about keeping his focus while dealing with rumors, he has struggled on the ice:
Vanek: "I know what's ahead and what could happen, but once you come to the rink you block it out."

— Mark Masters (@markhmasters) February 27, 2014
Over the 10-game stretch heading into Sunday's matchup against the Florida Panthers, Vanek only amassed five points and was not a factor in the offensive and defensive ends for many of these matchups.
Dealing with trade rumors can't be easy—especially with yet another deal inevitable—but Vanek is not making this situation any easier by not putting forth his best effort on the ice every night, regardless of which sweater he's wearing.
Carolina Hurricanes Would Consider Trading Cam Ward?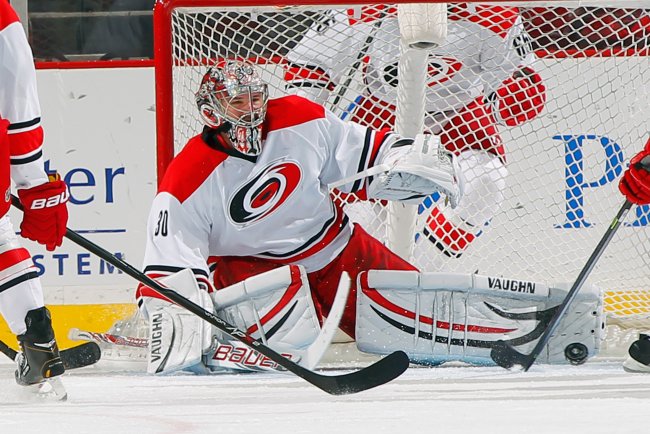 Andy Marlin/Getty Images
The Carolina Hurricanes have tried for years to achieve the level of success the franchise found when it won the Stanley Cup in 2006, but the end of that era may be approaching, as goaltending stalwart Cam Ward may be dealt before the deadline.
TSN's Darren Dreger confirms the availability of Ward:
Tough decisions ahead for Hurricanes. Teams saying Carolina is open to trading any one of its 3 goaltenders, including Cam Ward.

— Darren Dreger (@DarrenDreger) February 28, 2014
As the Hurricanes continue to fall out of postseason contention with every loss they suffer, it is clear that becoming a seller before the deadline may be Carolina's only chance to contend in the future.
There is no question that the franchise would get a hefty return for a proven goaltender like Ward, but this will be an incredibly difficult deal to pull off. Not only does the goalie have a no-trade clause, but he also has makes an average of $6.3 million per year for the next two full seasons.
Ward is not a rental player, and it will take a team with no salary-cap issues and a serious need for a netminder to make a possible trade come to fruition.
Ryan Kesler on Pittsburgh Penguins Radar?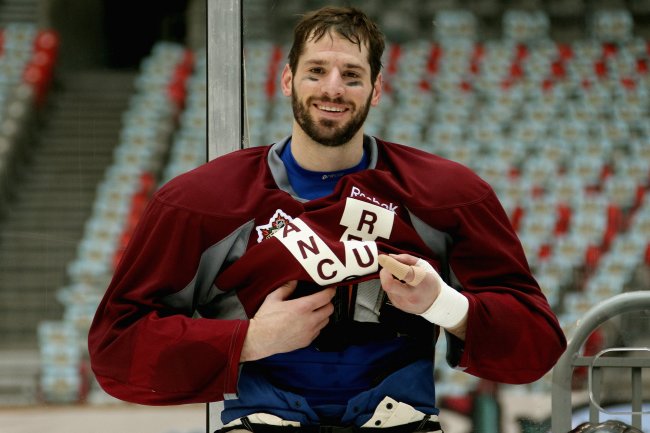 Dave Sandford/Getty Images
The Vancouver Canucks are in the midst of an intense battle to make the playoffs in the Western Conference, but the franchise is dealing with drama among the ranks of its top players once again.
Despite conflicting reports—Louis Jean of TVA Sports claims forward Ryan Kesler asked for a trade and Adrian Dater of Bleacher Report was told by Kesler's manager that his client is not forcing his way out of town—there are teams very interested in his services.
According to Rob Rossi of the Pittsburgh Tribune-Review, the Penguins are very intrigued by a possible trade for Kesler and the player reportedly has a mutual interest:
BTW, did some digging last 36 hrs. Yinz can officially consider it a #KeslerWatch. #pens very interested and sounds like they're on his list

— Rob Rossi (@RobRossi_Trib) March 1, 2014
The interest in Kesler will only continue to grow after he returned to the Canucks lineup for the first time since suffering an injury on Team USA in the Winter Olympics. His shorthanded goal showcased exactly what teams will be getting if they acquire him before the deadline.
Kesler's performance has been inconsistent this season, but with the raw talent to put the puck in the net and make big plays regardless of the team or the players on his line, it will be enough to have a team like Pittsburgh pull the trigger on a blockbuster trade.
*Stats via NHL.com.