We've come a long way as a human race. We've wiped out diseases, flown to the moon and, as of the time of this story, Dennis Miller is nowhere to be found on television.
Despite these advances, a machine that controls the weather has yet to be invented. For that reason, the NHL cannot be punished for the conditions during Saturday night's game between the Chicago Blackhawks and Pittsburgh Penguins at Soldier Field, which were easily the worst for any outdoor game in league history.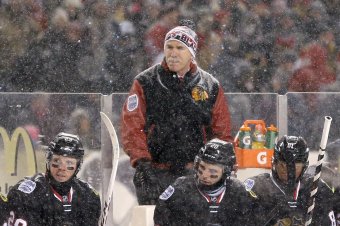 Charles Rex Arbogast/Associated Press
The Blackhawks emerged victorious, beating the Penguins 5-1 in a contest that lacked the aesthetic beauty you would expect in a matchup between two of the more skilled teams in the NHL.
Despite the six goals, the heavy snow wreaked havoc on what should have been one of the more entertaining games on the NHL's yearly schedule.
Passes from one side of the ice to the other were nearly impossible to complete, as the snow-soaked ice slowed the puck enough to give defenses enough time to recover. There was one instance in which Blackhawks defenseman Duncan Keith was skating with the puck on his stick, yet despite him circling back into his own zone, the puck was buried in snow, which limited him from making a play.
There was another moment in which Blackhawks center Michal Handzus was carrying the puck across the blue line unfettered, yet the buildup of snow on his stick caused the puck to slide away.
Yes, the offensively handicapped Handzus is not the greatest example to use for a blizzard limiting a player's skill, but even he wouldn't have a problem entering the zone with no one around him in regular conditions.
Yet as is the case in all of these games in which the weather does not cooperate, everyone involved loves the experience.
"There is lots of this game that I'll remember," Penguins coach Dan Bylsma said in a press conference after the game. "You like the scene. You like the outdoors. I said yesterday it was a great day getting out in the elements and skating outdoors and playing outdoors.
"So there are some pictures and moments in this game that certainly were excellent. You know, the outcome and how we played, going to have to erase that as part of that snapshot that I'll have."
It's one thing when there's light rainfall like there was at the 2011 Winter Classic between the Washington Capitals and Penguins, or when the snow was intermittent like it was this year in the game between the Detroit Red Wings and Toronto Maple Leafs.
It's another when pucks are getting lost in the snow like Han Solo and Luke Skywalker on Hoth.
If your outdoor rink looked like Soldier Field, you'd say eff it then go home and have supper #Penguins #Blackhawks

— Dave Stubbs (@Dave_Stubbs) March 2, 2014
The product on the ice Saturday night was substandard at best, but it does not matter; the outdoor games are money-making monsters that fans love. They're impervious to criticism and generate enough money to hire only the finest search parties to find Han and Luke.
The game was a sellout—a crowd of 62,291 fans braved temperatures in the teens—and while the television ratings won't be released until Sunday or Monday, more people likely will have tuned in for this game than a run-of-the-mill indoor game between these teams.
If fans love these games and the NHL is printing money because of them, who cares if extended breaks to shovel mass quantities of snow and players skating through sand and molasses is about as fun to watch as a Big Bang Theory marathon in a foreign language on a nine-hour flight?
If the spectacle of an open-air game and marginally popular musical acts playing during intermissions is enough to negate the torturous play these conditions cause, then who cares?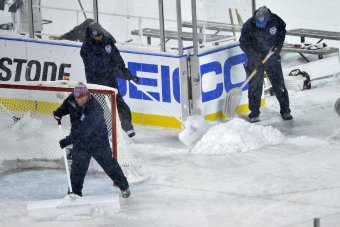 Brian Kersey/Getty Images
A game like this may drive away the so-called casual fan from watching future outdoor games involving teams from outside their local markets. While this may have been a special night for Blackhawks fans at home and in attendance, a guy in Tallahassee flipping between this game and the Orlando Magic-Miami Heat contest might not be compelled to check out a future Red Wings-Capitals game if he knows it's snowing.
But that's of no concern to the NHL. The Winter Classic is the national draw; the other Stadium Series games are the local draws. Unless the skies start leaking hot lava, eyeballs will always be on these games, both in person and on television in local markets.
When the weather is as bad as it was Saturday, you have to lower expectations as a regular fan. It's like meeting your daughter's fiance who works in advertising: if you hold him to the standard of a regular human being, you'll never allow yourself to appreciate him. If she really loves him, you have to accept that; otherwise, it will drive you insane.
The daughter is NHL fans, the fiance is a horrible snowstorm ruining the game and I am the judgmental father who wouldn't care if someone better comes along to make my little girl happy.
No matter the metaphor for this game, my opinion on its quality doesn't matter. I may not like it, but if it's making everyone happy, it can't be wrong.
Dave Lozo covers the NHL for Bleacher Report. You can follow him on Twitter @DaveLozo.