On Friday, Orlando "Siri" Salido (41-12-2) lost the WBO featherweight title on the scales. On Saturday, he defeated an overmatched Vasyl Lomachenko (1-1) at the Alamodome in San Antonio, Texas, by split decision to take some of the sting away.
Though he was very celebrated as an amateur, it's clear Lomachenko isn't ready to be considered an elite professional. He didn't have the goods to defeat the wily Mexican veteran.
The official scorecards were as followed, per HBO.
Official judges' scorecards: 115-113 for Lomachenko, 116-112 for Salido and 115-113 to the winner by split decision, @Siri_salido

— HBOboxing (@HBOboxing) March 2, 2014
Salido didn't make weight for the fight, so he surrendered $15,000, and the title is now vacant. But he did prove that Lomachenko at least needs more seasoning before he's fit to challenge for another world title.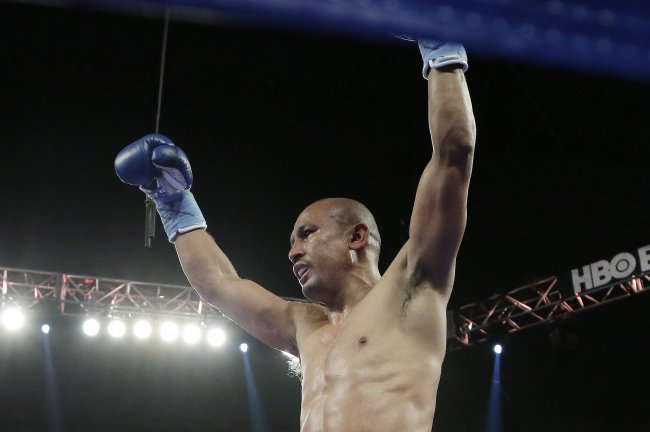 Eric Gay/Associated Press
The fight was ugly and messy the whole way through, and that's just the way Salido wanted it. ESPN's Dan Rafael and HBO's Max Kellerman talked about Siri's tactics:
Salido is dirty as hell but I have him up 96-94. #boxing

— Dan Rafael (@danrafaelespn) March 2, 2014
"Salido using every veteran tactic in the book on Lomachenko tonight" - @Max_Kellerman

— HBOboxing (@HBOboxing) March 2, 2014
Many of Salido's shots ventured low during the fight, but the body shots that landed north of the border bothered Lomachenko. Referee Laurence Cole did not make his presence felt at all, though.
Salido was not warned enough for his low blows, and both fighters were allowed to hold excessively. Steve Kim of MaxBoxing.com had an excellent point that talks about both ignored infractions.
If you want to say Cole should've penalized Salido for low blows, no argument. But the, he probably should've docked Loma for holding, too

— Steve Kim (@stevemaxboxing) March 2, 2014
If you mix in all of those factors, it made for a pretty difficult fight to score and watch.
I had it 115-113 for Salido. After the fight, Lomachenko told Kellerman he thought he won the bout during the post-fight interview.
"I did my best. I thought I won. I'm gonna go home and review the fight and then make a decision if I won or not." -- @Vasyllomachenko

— Top Rank Boxing (@trboxing) March 2, 2014
Sports Illustrated's Chris Mannix didn't hold back his criticism of Cole's refereeing. He tweeted this just before the end of the bout:
If this were any other sport, Laurence Cole would be done refereeing big fights. In Texas, he'll probably be back this month.

— Chris Mannix (@ChrisMannixSI) March 2, 2014
It's hard to say whether things would have been different with another referee, but if you were grading Cole for his performance, it would be hard to go any higher than a "D."
Many fight fans and analyst seemed to like the fact that Lomachenko fell short in his pursuit of a title. By looking for gold in just his second bout, he and his camp have received the label of arrogant and privileged.
Mannix says the loss served him right.
Lomachenko got what he deserved. He and his team are so arrogant about his talent. There's a reason fighters--even top amateurs--are groomed

— Chris Mannix (@ChrisMannixSI) March 2, 2014
From here Salido will almost certainly move up to 130 pounds after failing to make weight. Even though he lost the title, the win over Lomachenko will get him a nice bout to begin his career in a new weight class.
As for Lomachenko, he's still just 26 years old. He has time to improve, but in the biggest showcase of his very young career, he fell flat. It'll take a string of great performances for him to regain the buzz he had.
Follow me. I'm addicted to The Sweet Science.