A furious comeback by Kentucky following a John Calipari ejection was not enough for the Wildcats to avoid a 70-67 upset against South Carolina.
This is an impressive win for a school that has not had much success against top teams lately, as noted by ESPN Stats & Info:
South Carolina upsets No. 17 Kentucky. Entering today, Gamecocks had lost 15 straight games vs ranked opponents.

— ESPN Stats & Info (@ESPNStatsInfo) March 2, 2014
Brenton Williams led the way for the Gamecocks with 24 points, including an impressive 15-of-16 mark from the free-throw line.
Aaron Harrison had 21 points and James Young added 19 in a losing effort for Kentucky. National Player of the Year candidate Julius Randle was held to just 10 points on 1-of-7 shooting, although he did have 15 rebounds.
Aaron Smith of Rivals.com provided Harrison's thoughts after the game:
Aaron Harrison: "We know what we can do. We know. We talk about it. ... We know we're going to make a run."

— Aaron Smith (@ASmithRivals) March 2, 2014
Still, the story of the game is the ejection of Calipari with his team down double digits. Kyle Tucker of the Courier-Journal provided the details:
There it is. Calipari tossed at the 10:25 mark after a foul not called as Randle stripped of a rebound.

— Kyle Tucker (@KyleTucker_CJ) March 2, 2014
Calipari tweeted about it after the game:
I wish I didn't get thrown out of the game so that I could fight with our team.

— John Calipari (@UKCoachCalipari) March 2, 2014
ESPN's Andy Katz notes that officials have not been afraid to be aggressive with coaches this year:
Kentucky's John Calipari just got ejected at South Carolina. Big names getting ejected this season. Officials not holding back.

— Andy Katz (@ESPNAndyKatz) March 2, 2014
Jim Boeheim is another big-name coach who was ejected in the past couple of weeks. The Syracuse coach argued a call late in his team's loss to Duke on Feb. 22 and was immediately sent to the locker room.
However, Seth Davis of CBS Sports notes that the Kentucky coach likely wanted to leave:
Calipari getting tossed has nothing to do with the refs. He's either pushing buttons or doesn't want to watch this anymore. Can't blame him.

— Seth Davis (@SethDavisHoops) March 2, 2014
His apparent strategy seemed to work as the Wildcats were quickly able to get back into the game with a 14-2 run. They kept at it and eventually cut the deficit to one with just 22 seconds remaining.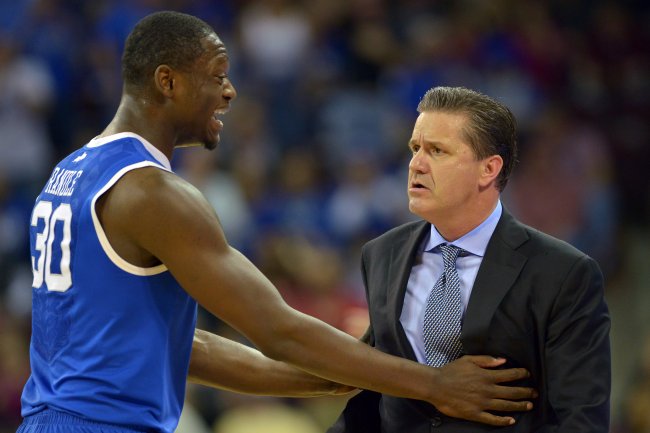 Lance King/Getty Images
However, the Gamecocks hit their free throws down the stretch and came away with a huge win as their students stormed the court.
South Carolina was later fined for the storming of the court (via Pat Forde of Yahoo! Sports):
South Carolina fined $25,000 by the SEC for the court storm Saturday.

— Pat Forde (@YahooForde) March 3, 2014
This win will not do much for South Carolina, which is still just 4-12 in conference and 11-18 on the year. On the other hand, it is incredibly damaging for the Wildcats as it will certainly affect their seed in the upcoming NCAA tournament. The squad lost in overtime at home to Arkansas in its previous game, and this defeat will drop them to 21-8 on the year.
At this point, it appears as though the squad will get just a middling seed in March and will be lucky to make a run to the Sweet 16.
That is a far cry from the expectations placed upon the preseason No. 1 team featuring one of the best recruiting classes of all time. Jon Rothstein of CBS Sports made an obvious pronouncement after the latest loss:
We all learned a big lesson with this Kentucky team. Recruiting rankings should have no bearing on where a team is ranked in the preseason.

— Jon Rothstein (@JonRothstein) March 2, 2014
Still, Calipari is expecting a turnaround, telling Matt Jones of Fox Sports:
Why am I getting excited right now is I feel like we have a chance. The No. 1 thing is that you have to have the talent to win it. We have the talent. Then you have to work on energy, chemistry and being a player-driven team. A coach-driven team can be good, but a player-driven team can be special, and every day we are getting closer on that. But ultimately you have to have talent. And we have the talent.
Then again, people like Tucker are not as supportive:
Time of death: 7:51 p.m., March 1. Kentucky's season has flatlined.

— Kyle Tucker (@KyleTucker_CJ) March 2, 2014
Based on this poor performance, Kentucky will have its hands full for the rest of the year. The talent is clearly there to succeed as Randle, Young, the Harrison twins and others are among the best individual players in the country.
The question is whether the stars can find a way to work together to create an elite team that can make a run to a championship.
Follow Rob Goldberg on Twitter for the latest breaking news and analysis.