The 2014 NCAA men's basketball tournament is right around the corner as the regular season winds down. Some teams are looking to make a March Madness run, entering the tournament on a hot streak. Others may have a rougher road, as recent lackluster performances could lead to early departures.
Each year we witness certain Cinderella teams light it up in the tournament. Some of the success found by teams in these instances is due to playing teams that ended the regular season on a down note.
This year will be no different. As the tournament approaches and March Madness brackets begin to take shape, let's highlight a few teams that could find themselves on upset alert in the early rounds of the tournament.
Arizona Wildcats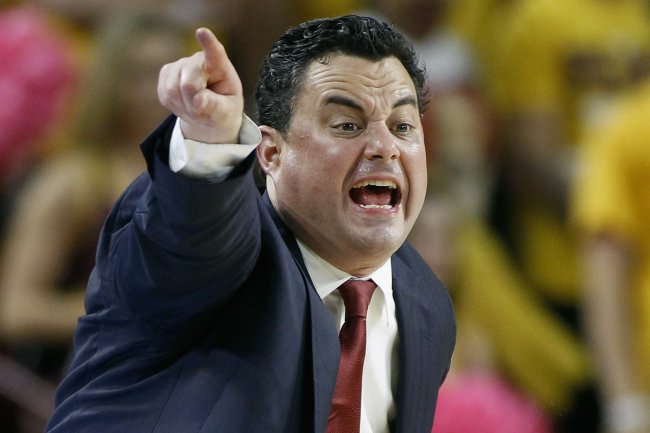 Ralph Freso/Getty Images
This could come as a surprise since Arizona is currently 26-2 and in first place in the Pac-12 Conference. However, a mix of a weak schedule and late-season struggles could doom this team early.
Arizona got off to one of the nation's hottest starts this season, winning its first 21 games. Since then, things have not gone quite as well for the Wildcats.
On Feb. 1, Arizona was handed its first loss of the season to unranked California. The Wildcats offense struggled during the contest, as Arizona completed just 32.3 percent of its field-goal attempts in the 60-58 defeat. The biggest blow from that game was when Brandon Ashley, one of the school's best players, broke his foot and was lost for the season.
Cal stuns No. 1 Arizona on last-second jumper; Saturday roundup http://t.co/cn6zU1NRIK

— Sports Illustrated (@SInow) February 2, 2014
The same story played out again on Feb. 14, with Arizona losing to Arizona State, 69-66, after two overtimes. Once again, the team struggled from the floor, connecting on just 35.9 percent of its field goals.
VIDEO: The wild, double court-storming ending of ASU-Arizona http://t.co/zHajnBLW16

— Bleacher Report (@BleacherReport) February 15, 2014
Over that span, Arizona was tested by more unranked teams, as the team was only able to beat Oregon by two points and was taken into overtime by Utah.
The Wildcats began to right the ship over their last two contests, beating Colorado, 88-61, and California, 87-59. However, they must keep up that trend over their final three games to avoid entering the tournament on a cold streak.
If they can't continue creating decisive victories over their final three games, the Wildcats could see an early exit from the tournament.
Ohio State Buckeyes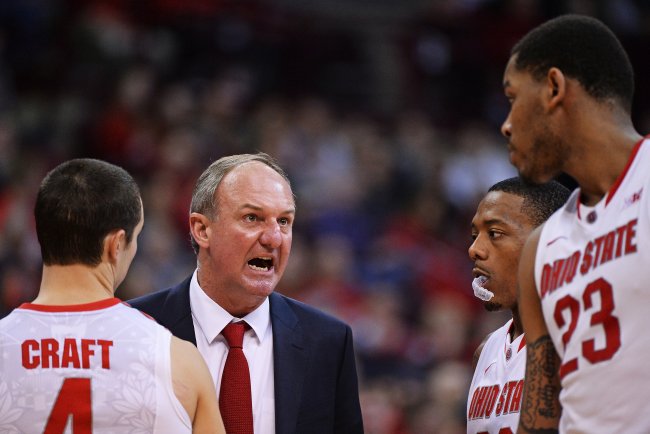 Jamie Sabau/Getty Images
The Buckeyes currently sit fourth in the Big Ten Conference with a 22-7 record; however, 15 of those wins were accumulated over the team's first 15 games. Since then, they have accrued a dismal 7-7 record.
Possibly the most disappointing trend over the team's second-half stretch is two losses to unranked Penn State. On Jan. 29, the Nittany Lions emerged victorious over the Buckeyes after a 71-70 overtime bout. This past Thursday, Penn State was at it again, beating Ohio State, 65-63.
With Penn State completed their first sweep of Ohio State since the 1997-98 season: http://t.co/BIb7bS6oR7

— ESPN College BBall (@ESPNCBB) February 28, 2014
These are not the kinds of losses that a tournament contender should be suffering so late in the season.
After losing to Penn State on Thursday, Ohio State head coach Thad Matta spoke of the team's struggles during a press conference with ESPN.com:
It was one of those games where two guys pound the ball off the backboard and it bounces out and they make a 3 on us. Little things like that is kind of the way the game went. When we executed what we were supposed to do, it was amazing what happened. We didn't have the flow that we normally do. That was the difference. We talked about it and talked about it. We couldn't get it to where we needed it.
Ohio State is certainly struggling at the moment. If it cannot fix these issues, the team has a great chance of being bounced in the early rounds of the tournament.
Iowa Hawkeyes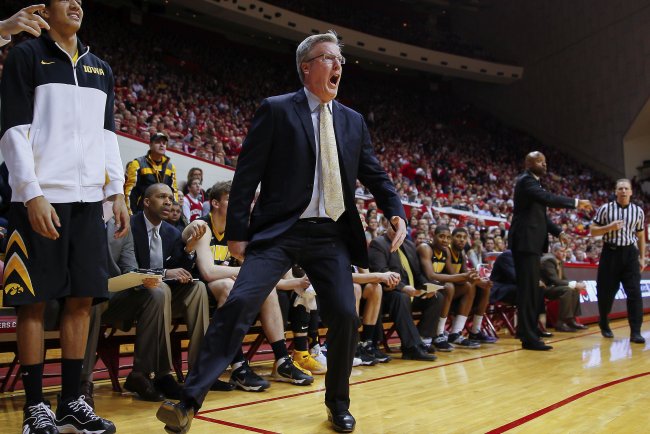 Michael Hickey/Getty Images
Despite having one of the most prolific offenses in the nation—the Hawkeyes are ranked fifth in points per game, fourth in rebounds per game and 12th in assists per game—the team's recent defensive struggles have put them on upset alert.
Iowa is currently boasting a 19-9 record and is fifth in the Big Ten Conference, but the team is not where it wants to be this late in the season.
No. 17 Iowa still plagued by doubts after home loss against resurgent Ohio State: http://t.co/wgx4Nxudyf

— Sports Illustrated (@SInow) February 5, 2014
Over the Hawkeyes' last 10 games, they have accrued a record of just 4-6, including dropping their last three. The team has had bright moments, beating then-No. 3 Ohio State and No. 10 Michigan earlier this year. However, it has struggled as well, losing to three unranked teams in February.
Inconsistency is what plagues Iowa. The team's most recent defeat came on Thursday against Indiana, as Iowa lost, 93-86, after only managing 34 points in the second half.
HOOSIER DADDY! Indiana knocks off No. 20 Iowa, 93-86. Will Sheehey leads the way with 30 Pts, 4 Ast.

— SportsCenter (@SportsCenter) February 28, 2014
The Hawkeyes' upcoming games aren't very favorable. They host Purdue on Sunday and then travel to No. 18 Michigan State on Thursday before finishing up the season at home against Illinois.
There is very little room for error over these games, as the potential to enter the tournament on a losing streak is certainly a possibility.
If that's the case, the Hawkeyes may not be able to gain the momentum necessary to advance in the highly contested tournament.