Updates from Sunday, March 2
K.C. Johnson of the Chicago Tribune provides a synopsis of Knicks head coach Mike Woodson discussing Carmelo Anthony's injury status:
Knicks coach Mike Woodson says Carmelo Anthony will play vs. Bulls.

— K.C. Johnson (@KCJHoop) March 2, 2014
Updates From Saturday, March 1
Marc Berman of The New York Post has the latest on Carmelo:
Told Carmelo has nothing more than a bruised hand. Good to go in Chitown against Thibs.

— Marc Berman (@NYPost_Berman) March 1, 2014
Original Text
New York Knicks forward Carmelo Anthony, 29, suffered an apparent injury to his right hand during the team's 126-103 loss to the Golden State Warriors Friday night.
Frank Isola of the New York Daily News reports Anthony is likely to undergo further testing to determine the extent of the damage. It's believed to be a sprain:
I heard last night the early diagnosis on Carmelo is right hand sprain. Status for Sunday vs. Bulls is unknown. He'll likely have more tests

— Frank Isola (@FisolaNYDN) March 1, 2014
ESPN New York's Ian Begley passed along comments from the seven-time All-Star, who said he took a couple of shots on the hand and was very sore following Friday night's contest:
Carmelo says his shooting hand is "very sore" after taking "multiple hits" on Friday vs. Golden State. He may get tests on the injury.

— Ian Begley (@IanBegley) March 1, 2014
The Knicks have been one of the NBA's most disappointing teams this season. After finishing second in the Eastern Conference in 2012-13 with a 54-28 record, they are currently 17 games below .500 and six behind the Atlanta Hawks for the final playoff spot in the East.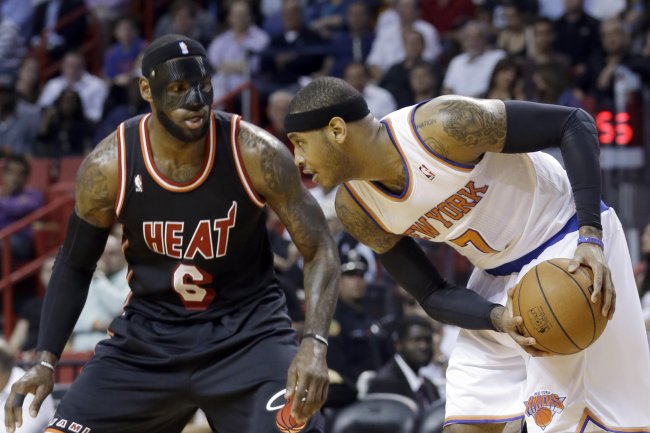 Alan Diaz/Associated Press
Obviously, if Anthony is forced to miss any time due to the injury, the chances of making a late charge into the postseason become even slimmer. He's averaging 28.2 points, 8.7 rebounds and 3.0 assists per game for the struggling franchise.
If New York is to make a move, it will need to do so quickly after dropping five in a row and 11 of 13 overall. There are only 23 games left in the regular season.
Further information about his status will be passed along as it becomes available. It's currently unclear whether he will be ready for Sunday's 1 p.m. ET game against the Chicago Bulls.