Stan Van Gundy knows what he's talking about. In eight seasons as a head coach, his teams posted a 371-208 record, including one conference title and zero losing seasons. Now that he's no longer on the sidelines, Van Gundy thinks the NBA should eliminate the draft altogether because it's ruining the integrity of the game, per Steve Kyler of Basketball Insiders.
Stan Van Gundy says what Philadelphia is doing, that roster on the floor is embarrassing. Said he'd like to do away the draft altogether.

— Steve Kyler (@stevekylerNBA) February 28, 2014
He's using empathy to imagine how Philadelphia 76ers coach Brett Brown is feeling: embarrassed.
Stan Van Gundy on what Philadelphia has done with its roster: "Its embarrassing."

— Jeff Goodman (@GoodmanESPN) February 28, 2014
The Sixers are 15-43, and their defense has become a fantasy basketball godsend yielding a league-worst 110.9 points per game.
They traded away starting center Spencer Hawes and the second overall pick from 2010 in Evan Turner. They got some second-round picks in return and wasted no time in buying out Danny Granger, who led the Indiana Pacers in scoring for five seasons in a row.
Stan Van Gundy on the 76ers: "If you're putting that roster on the floor, you're doing everything you can to lose." #SSAC14

— NBA on ESPN (@ESPNNBA) February 28, 2014
In the Feb. 26 loss to the Orlando Magic, Philly started D-Leaguer Henry Sims, Hollis Thompson, James Anderson, possible Rookie of the Year Michael Carter-Williams and legitimate starter Thaddeus Young.
The Sixers appear to have a bright future ahead of them with Carter-Williams and injured big man Nerlens Noel as the foundations (plus plenty of second-round picks).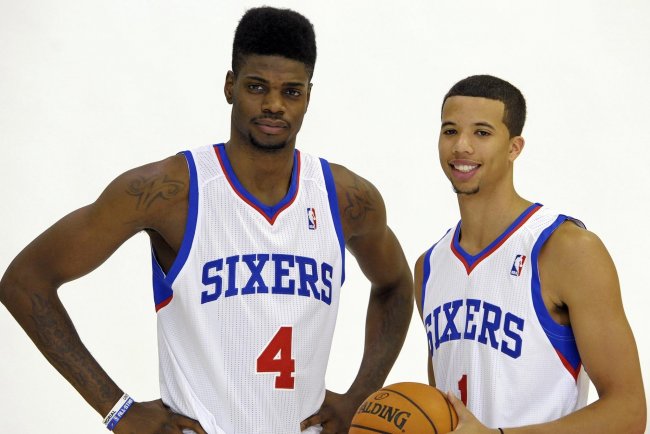 Eric Hartline-USA TODAY Sports
Moreover, according to Real GM, the Sixers have a lottery-protected first-round pick owned by the Boston Celtics (by way of the Miami Heat), so squeaking into the playoffs does not make much sense for them.
Losing is in their best interest. That's why Van Gundy believes the draft is bad.
I'm not a lawyer, and I don't think Stan Van Gundy is either. However, new NBA commissioner Adam Silver is a lawyer, and I don't think they can just do away with the draft altogether. Then again, the wheel isn't a much better idea.
Anyway, the joke is on the Sixers, because NBA legend and logo silhouette Jerry West doesn't think this will be a good draft anyway.