The current international break provides Liverpool manager Brendan Rodgers with an ideal opportunity to prepare for a potentially pivotal month in an unexpected title challenge. His key player amongst a tough, congested fixture list is his captain: Steven Gerrard.
Following the club's assured 3-0 win away to Southampton at the beginning of March, many have tipped Liverpool for title success as they come within four points of current league-leaders Chelsea.
With tricky fixtures away to Manchester United and Cardiff City, and home ties against a resurgent Sunderland and top-four rivals Spurs, yet to come this month, Liverpool surely have their work cut out.
If the Anfield club were to come through a difficult March with a modest points haul, their title ambitions may be reinforced.
Rodgers will need to rely on his captain, and defensive-midfield lynchpin, Gerrard, to provide the influence, experience and quality to see his squad through.
The Title-Tilt
Regarding Liverpool's title chances, full-back Jon Flanagan was reported by Sky Sports in February as being quietly confident:
For a local lad, not having a Premiership title for 18-20 years, it's in my mind every day. … No-one's expecting us to go and win that title, so the pressure is less on us than the other big teams around us.
Winning the Premier League title would prove to be Gerrard's zenith.
The Liverpool captain, publicly at least, has attempted to play down any chance of a title surge, as reported by ITV:
[I]t's important that we stay calm, keep taking it game by game and try to win as many as we can. Man City and Chelsea are still the favourites if you like because they've got that experience of going to win it.
However, in reality, as a devoted Liverpool fan and their current longest-serving player, Gerrard will be desperate to succeed in his autumn years at the club.
Direct rivals Arsenal, Manchester City and Chelsea all have similarly tasking March fixtures, many against each other, but also have to negotiate European and domestic cup competition.
Gerrard acknowledged that Liverpool have heightened prospects due to a lack of European competition, again as per ITV: "[W]e are a big threat because we've got no Europe and we can be fresh every game."
Liverpool's captain will use this knowledge to influence the club to a successful March.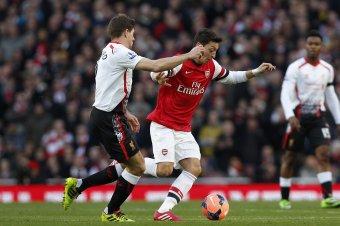 Sang Tan/Associated Press
A New Role
In recent months, Gerrard has been shifted further back towards the defence into a central defensive midfield role: a move which will prove pivotal to Liverpool for the foreseeable future.
Dominic King, of the Daily Mail, reported Rodgers' analysis of Gerrard's positional change: "Physically in that role, where you need to move from side to side to block spaces, he has shown he has got that as well. And he's got the range to open up a game short and long."
Following a tricky start in a new role, underperforming against Stoke City and Aston Villa in particular, Gerrard has clearly grown into the role.
Whilst the imminent return of Lucas Leiva, according to the club's official website, may offer Rodgers with more options in terms of competition, Gerrard now has the defensive-midfield role tied down.
Adept at shifting positions between the centre-halves, the Liverpool-born midfielder has not lost any of the creativity natural to his game, as evidenced by a majestic assist in the 3-2 comeback win away to Fulham.
Away Fixtures
With difficult away fixtures at Manchester United and Cardiff City this month, Liverpool will need to depend on Gerrard as a central defensive midfielder within a different tactical landscape.
With the Anfield club in imperious home form this season, their away form has been hit-and-miss so far.
As a defensive midfielder, Gerrard operates in a crucial area particularly in away games, where it is necessary to soak up pressure from counter-attacks.
Gerrard's ability to pass the ball accurately from distance will be vital in combatting heavily numbered counter-attacks.
Statistics, courtesy of Squawka, show how Gerrard used this to his advantage in the recent 3-0 away win at Southampton.
Gerrard's average pass length was 23 metres, a distance only bettered by goalkeeper Simon Mignolet and clearance-happy centre-back Martin Skrtel.
This was effective in a game where Liverpool were consistently pressed by an energetic Southampton side, and can be employed to similar effect in away games to come.
Experience
After the Southampton game, Gerrard reserved praise for strikers Luis Suarez and Daniel Sturridge, telling Sky Sports, "Our idea was to play a bit longer, try and beat their press and leave two up top. If teams want to play two v two against Sturridge and Suarez - all the best."
Add the ever-improving Raheem Sterling to the mix and this serves as Liverpool's main attacking threat.
However, as the title charge mounts up, the trio are still guilty of a naivety.
This could be seen as Sterling physically remonstrated against Howard Webb following his decision to not award the club with a penalty in the 2-1 FA Cup loss against Arsenal in February.
Stepping in to mediate the situation, Gerrard displayed the immeasurable value of his calming influence and experience as captain of the club; this is something that will surely continue to be of value through a difficult March.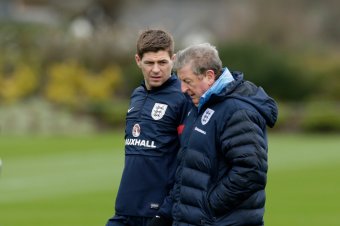 Matt Dunham/Associated Press
International Break and Beyond
As the Daily Mail reports, England captain is Gerrard set to start against Denmark in Wednesday's international friendly at Wembley.
The midfielder will likely play in a similar defensive position as he now does for his club.
So long as international duty harbours no injury for the 33-year-old, Gerrard's passion, determination, experience and influence in a new role for Liverpool will be key as the club step up their chase for the Premier League top four—or, depending how you see it, the title—within a tough March fixture list.