Mets Spring Training 2014: Daily Updates, Scores, News and Analysis
Use your ← → (arrow) keys to browse more stories
Chris Trotman/Getty Images

The New York Mets have finished below .500 in each of the past five seasons and haven't made the playoffs since 2006, but hope springs eternal as a new crop of stars prepares to make an impact in 2014.
New York managed to finish third in the NL East last season with a record of 74-88, but the expectation seems to be that the Mets are destined for a fourth-placed showing this year ahead of only the lowly Miami Marlins.
One person who doesn't agree with that assessment is general manager Sandy Alderson. According to John Harper of the New York Daily News, he has reportedly set a goal of 90 wins for his team this season.
All I'll say is we have higher expectations than we've had in the past ... Because I think it has to be a mind-set. Part of creating a winning environment is setting ambitious goals and working toward them. But it has to be systematic and it can't be totally unrealistic. I don't think it is in this case.
Some might view that as overly ambitious considering the Mets' recent struggles, but with the addition of outfielder Curtis Granderson and veteran starting pitcher Bartolo Colon, along with the continued development of an elite prospect pool, perhaps the Amazins have a chance to shock the world.
Better-than-expected performances have been a hallmark of Mets baseball over the years, and simply finishing .500 or better in 2014 would be considered a massive leap forward with new potential stars on the horizon.
New York's drive for 90 starts in Port St. Lucie, Fla., where it hopes to get off on the right foot during spring training.
Along with a look at the Mets' spring training schedule and predictions on how they will fare during the regular season, check back here after every Mets spring training game for score updates, breaking news and much more.
New York Mets 2014 Spring Training Schedule

| | | | |
| --- | --- | --- | --- |
| Date | Opponent | Time (ET) | Score |
| Friday, Feb. 28 | Washington Nationals | 1:10 p.m. | Nationals 5, Mets 4 |
| Saturday, March 1 | Miami Marlins | 1:10 p.m. | Marlins 9, Mets 1 |
| Sunday, March 2 | St. Louis Cardinals | 1:05 p.m. | Cardinals 7, Mets 1 |
| Monday, March 3 | Atlanta Braves | 1:05 p.m. | Mets 6, Braves 2 |
| Tuesday, March 4 | Houston Astros | 1:10 p.m. | Mets 6, Astros 2 |
| Wednesday, March 5 | Washington Nationals | 1:05 p.m. | Nationals 11, Mets 5 |
| Wednesday, March 5 | Miami Marlins | 1:10 p.m. | Marlins 5, Mets 2 (10) |
| Thursday, March 6 | Houston Astros | 1:05 p.m. | Cancelled |
| Friday, March 7 | St. Louis Cardinals | 1:10 p.m. | |
| Saturday, March 8 | Detroit Tigers | 1:05 p.m. | |
| Sunday, March 9 | Atlanta Braves | 1:10 p.m. | |
| Monday, March 10 | Miami Marlins | 1:10 p.m. | |
| Tuesday, March 11 | St. Louis Cardinals | 1:05 p.m. | |
| Wednesday, March 12 | St. Louis Cardinals | 1:10 p.m. | |
| Thursday, March 13 | Washington Nationals | 1:05 p.m. | |
| Friday, March 14 | Miami Marlins | 7:05 p.m. | |
| Saturday, March 15 | Chicago Cubs | 4:05 p.m. | |
| Saturday, March 15 | Minnesota Twins | 1:10 p.m. | |
| Sunday, March 16 | Chicago Cubs | 4:05 p.m. | |
| Sunday, March 16 | St. Louis Cardinals | 1:05 p.m. | |
| Monday, March 17 | Miami Marlins | 1:05 p.m. | |
| Tuesday, March 18 | Detroit Tigers | 1:10 p.m. | |
| Thursday, March 20 | Atlanta Braves | 1:10 p.m. | |
| Friday, March 21 | Minnesota Twins | 1:05 p.m. | |
| Saturday, March 22 | Miami Marlins | 1:05 p.m. | |
| Sunday, March 23 | Atlanta Braves | 1:05 p.m. | |
| Sunday, March 23 | Washington Nationals | 1:10 p.m. | |
| Monday, March 24 | St. Louis Cardinals | 1:10 p.m. | |
| Tuesday, March 25 | Washington Nationals | 1:05 p.m. | |
| Wednesday, March 26 | Houston Astros | 6:05 p.m. | |
| Thursday, March 27 | Washington Nationals | 12:10 p.m. | |
| Friday, March 28 | Toronto Blue Jays | 7:05 p.m. | |
| Saturday, March 29 | Toronto Blue Jays | 1:05 p.m. | |
NewYorkMets.com
March 6: Mets vs. Astros Cancelled Due to Rain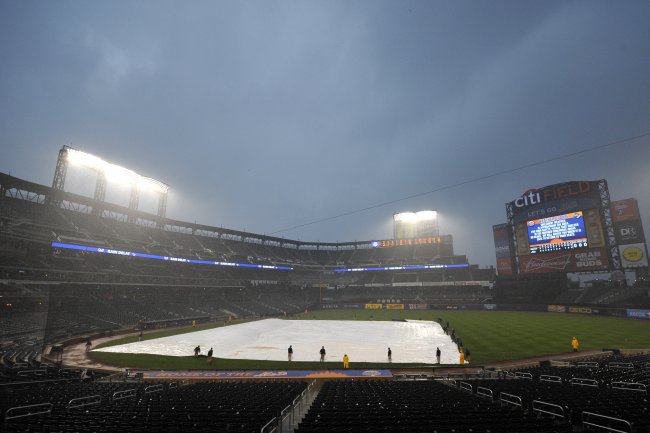 Kathy Kmonicek/Associated Press
As the old saying from Bull Durham goes, "Sometimes you win, sometimes you lose, sometimes it rains."

The Mets received a welcomed day off to rest after several straight days of baseball down in Florida. New York's official Twitter account gave a pretty comical confirmation of the news:
No game today. Today's game in Kissimmee has been cancelled due to rain. #NYMvsHOU pic.twitter.com/RxuM68anvl

— New York Mets (@Mets) March 6, 2014
While the main stars didn't take the field, the "B" team did get some action in before the rain started falling.
Scott Feldman, Brad Peacock and Raul Valdes all toed the rubber in the few innings played between the Astros and Mets' B teams. As for any actual game action, Houston's official account captured this image of their top prospect Carlos Correa teeing off on a pitch:
Carlos Correa hits a double to score DeShields in the first inning of today's "B" game against the Mets #astros pic.twitter.com/IlE4AjcspY

— Houston Astros (@astros) March 6, 2014
Play will resume in the Grapefruit league when the Mets take on the Cardinals at 1:10 p.m. ET in Port St. Lucie.
March 5: Nationals 11, Mets 5; Marlins 5, Mets 2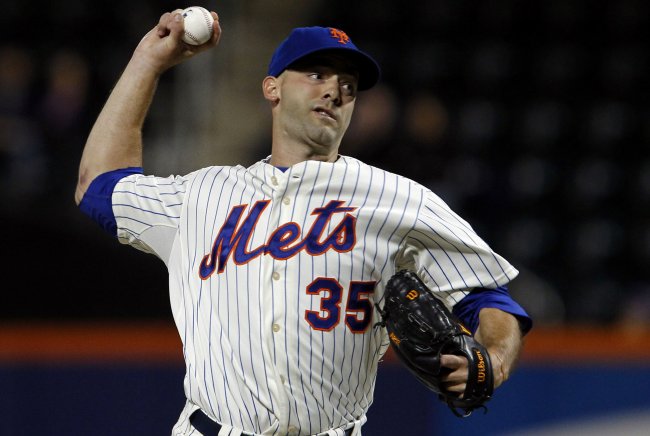 Noah K. Murray-USA TODAY Sports
In the first split squad day of the spring for the Mets, the team came away with just that—a split.
The Mets got things started against the Nationals with Jennry Mejia toeing the rubber. The 24-year-old threw two innings during the start, giving up just one run on one hit, two walks and three strikeouts.
While the potential fifth starter got into some trouble in both innings, he got out of a jam in the first inning by retiring Bryce Harper, as Adam Rubin of ESPN notes:
Jenrry Mejia allows a single and walk, but retires Bryce Harper on a flyout to left field for a scoreless frame. #Mets 0, #Nats 0, end 1

— Adam Rubin (@AdamRubinESPN) March 5, 2014
The 6'0", 205-pounder was dealing on the mound while first baseman Eric Campbell and third baseman Zach Lutz provided a spark at the plate. The two combined to go 3-for-7 with three runs and an RBI on the game as the Mets got things going offensively.
Unfortunately, the bullpen wilted down the stretch to allow the Nats to come back and pull out an 11-5 victory. Cory Mazzoni came on in relief during the eighth inning and was unable to get out after giving up five runs on four hits, including a three-run jack from Sandy Leon.
Meanwhile, in the other game the Mets used some late-game heroics from Matt den Dekker on a sac fly that scored Matt Clark to tie it up, 2-2, and head to extra innings.
That run was wasted, however, as the bullpen once again allowed a win to get away. Gonzalez Germen allowed three runs on two hits and two walks to take the loss.

Curtis Granderson didn't exactly put up the offensive fireworks that he did the previous day finishing 0-for-2 at the plate. But manager Terry Collins said the rest of the spring will be used to see the younger prospects while Granderson and David Wright will take time off, per Kristie Ackert of the New York Daily News:
We've got to get started, just get some guys going. I want to start seeing the arms, some of the position players that we are going to take a look at get some at-bats. David (Wright) and (Curtis Granderson) are not gonna play.

None of those guys are going to play—I want to see some of those young guys.
Dillon Gee went out in 2.1 innings and gave up just one run on four hits. The projected No. 3 starter had a good day and appears to be on track for another good season after finishing last season with a 12-11 record and a 3.62 ERA.
March 4: Mets 6, Astros 2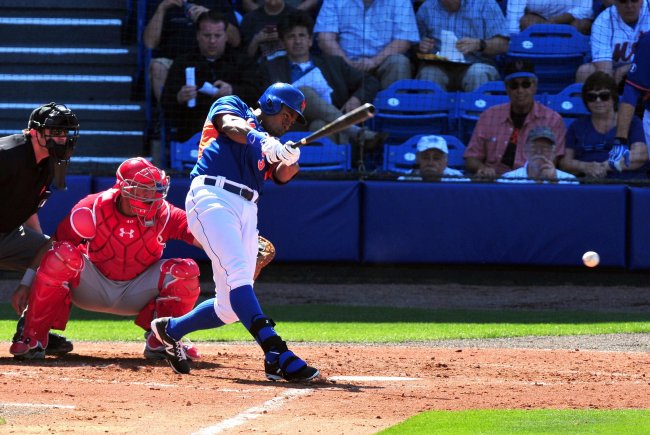 Brad Barr-USA TODAY Sports
Tuesday's game was a perfect storm of goodness for the New York Mets. In fact, if you are a fan of the team, this was the kind of game you hope to see a lot of in 2014. Of course, they won't be playing the Astros every day.
Zack Wheeler started the game, throwing three scoreless innings and giving up just two hits with no walks and three strikeouts. The only pitcher who struggled was Erik Goeddel, who gave up two runs on a homer to Jonathan Villar in the fifth inning.
As far as the offense goes, with David Wright sitting out today, it was on newly-acquired Curtis Granderson and star catching prospect Travis d'Arnaud to provide the fireworks.
HOMERUN! @CGrand3 hits his first HR of the Spring. It's a 2-run jack making the score 3-0 #Mets! #NYMvsHOU

— New York Mets (@Mets) March 4, 2014
Granderson connected for two homers today and drove in three runs. Another positive sign is his first homer came off a left-handed pitcher. The slugger has struggled to hit southpaws in recent years (.704 career OPS), so this was a sight for sore eyes.
In addition to Granderson's power, d'Arnaud continues to hit well by adding a couple more singles to his total and raising his spring average to a robust .429. Health has always been the biggest question for him, because when he's playing, there's nothing he can't do.
Another Mets prospect, Brandon Nimmo, got game action against the Astros and went 1-for-2 with a single while playing center field. He turned into an on-base machine last year with a .397 OBP at High-A but still needs to find more power to project as a regular.
All in all, this was probably the most complete game for the Mets so far. They got contributions from key players on the major league roster and got a small glimpse of what the minors have to offer.
March 3: Mets 6, Braves 2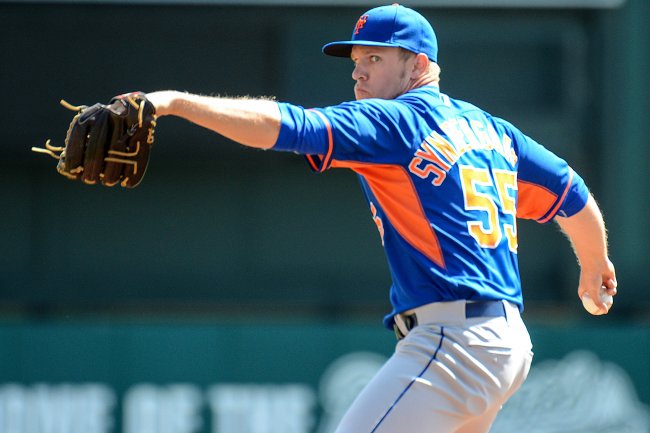 Jonathan Dyer-USA TODAY Sports
It looked like they had found a way to blow it. Again. After losing each of their first three spring training contests, New York carried a 1-0 lead into the eighth inning, looked to be on the precipice of closing it out and then watched on as the Braves came storming back to take the lead.
First a wild pitch by Ryan Reid brought in a run, then an RBI single from Matt Kennelly pushed Atlanta ahead in the eighth frame. Kennelly's game-winning run batted in came on an infield single that shortstop Wilmer Flores valiantly tried turning into an out but couldn't. Everything that could have gone wrong did, and New York's disappointing start to the spring would only continue.
Then the floodgates opened. Down 2-1 heading into the ninth, Cory Vaughn hit a two-RBI double as the Mets' bats came alive in a five-run inning to come away with a 6-2 victory on Monday.
The ninth frame started with Andrew Brown beating out a throw for a triple. Dustin Lawley then sent Brown home with an RBI single and Taylor Teagarden reached base to make it first and second with no outs, both of whom were knocked through on Vaughn's double. Matt den Dekker and Eric Campbell also hit RBI singles in the frame to help cap off the first win of the Mets' spring training session.
More important than the win, though, was the performance of prized pitching prospect Noah Syndergaard. The 21-year-old righty looked sterling in his first start of the spring, striking out two and allowing just one hit in two innings of work. Syndergaard, the Mets' top prospect according to Baseball America, stayed consistently in the mid-high 90s with his fastball and showed command beyond his years.
Per CBS Sports' Joey Wahler, even the Braves' hitters came away impressed:
Atl's Ryan Doumit on facing Noah Syndergaard: "I didn't know anything about the kid coming into today, but I sure won't forget his name now"

— Joey Wahler (@JoeyWahler) March 3, 2014
With spring results ultimately being as meaningless as they come, the Mets' focus will and should be Syndergaard. Having barely spent any time beyond Single-A ball, it's unlikely they'll keep him in Flushing at the beginning of the season. But if he looks good the remainder of the spring and does well in the minors, you'll be hard-pressed to find many in the Big Apple who won't pressure the organization to call him up in June.
Either way, it was a promising first outing.
March 2: Cardinals 7, Mets 1
It was another tough day for the Mets, who fell to 0-3 thus far in spring training with a loss to the St. Louis Cardinals.
The Cards jumped on Daisuke Matsuzaka early with a pair of doubles in the first inning to take a 1-0 lead, followed by a Matt Holliday double in the third off Jose Valverde.
The 33-year-old Matusuzaka is trying to right his career after a few tough seasons. Matsuzaka, who gave up one run on two hits and no walks in his lone inning of work Sunday, is a candidate for the Mets' last rotation spot, despite being on a minor league deal, as ESPNNewYork.com's Adam Rubin points out:
Terry Collins very blunt: Daisuke Matsuzaka and John Lannan "would probably be the two leading guys right now" for fifth starter's spot.

— Adam Rubin (@AdamRubinESPN) March 2, 2014
On the hitting side, Curtis Granderson notched his first hit of the spring with a double in the first inning. Granderson finished 1-for-2 with the double and a walk.
In fact, for much of the day, he was New York's sole source of offense:
#Mets have 1 hit so far against #STLCards pitching. Loud double by Curtis Granderson back in 1st inning. Granderson will help the offense.

— Bernie Pleskoff (@BerniePleskoff) March 2, 2014
Danny Muno did deliver an RBI in the eighth inning to cut the St. Louis lead to 7-1. The Mets had just four hits on the day, though, continuing their early struggles with the bat this spring.
After Dice-K departed, the Mets did receive a few quality pitching performances. Steven Matz struck out two in a scoreless inning in his Grapefruit League debut, and Jose Carreno gave up one hit and struck out a pair in 1.1 scoreless innings. Carlos Torres also tossed a scoreless frame.
The Mets will seek their first win of the spring Monday against the Braves, where their quiet bats will hopefully begin to wake up.
March 1: Marlins 9, Mets 1

The Miami Marlins and New York Mets could very well find themselves battling to avoid the NL East basement this season, and while the result of their spring training game Saturday may not have any bearing on that, the Marlins struck the first blow.
Miami received production throughout its lineup to come out on top 9-1, but designated hitter Austin Barnes was the big star with two hits and two RBI, including a first-inning home run.
On a positive note for the Mets, Lucas Duda matched Ike Davis' home run Friday with one of his own. Duda and Davis are battling to win the starting job at first base along with Josh Satin, and Duda was able to keep pace.
According to Marc Carig of Newsday, Duda's homer was a gargantuan shot that surely got Mets fans excited.
Holy moly, Lucas Duda just hit one to the top of the berm in right center. That's a bomb.

— Marc Carig (@MarcCarig) March 1, 2014
Also, one day after both Rafael Montero and Jacob deGrom did their best to stake claim to the Mets' fifth spot in the starting rotation, John Lannan made his case as well.
The veteran pitched two scoreless innings and struck out three, although he was the recipient of luck with some hard-hit balls finding his fielders, per Adam Rubin of ESPNNewYork.com:
Few hard-hit balls, but John Lannan tossed 2nd scoreless inning. Lone damage Derek Dietrich double. #Mets 0, #Marlins 0, mid-2

— Adam Rubin (@AdamRubinESPN) March 1, 2014
New York struggled to generate anything offensively for much of the day, but the big issue related to the performance of the bullpen. Kyle Farnsworth allowed three baserunners and a run, which didn't help his chances of making the team as a non-roster invitee.
Also, Josh Edgin was battered in one inning of work, giving up five hits, one walk and five runs, three of which were earned.
The Mets' pen is very much unsettled, and Saturday's showing made life even more difficult for manager Terry Collins.
Feb. 28: Nationals 5, Mets 4

The Washington Nationals and New York Mets have developed quite a rivalry over the years, and that was on full display in the Nats' exciting 5-4 win Friday. The two squads were evenly matched throughout, and an RBI triple by Nationals outfielder Michael Taylor in the top of the ninth inning ultimately proved to be the difference.
For the Mets, the big story in this game related to the battle for the No. 5 spot in the starting rotation. No less than six pitchers will vie for that coveted position, and two of them were absolutely fantastic against the Nats.
Rafael Montero got the start and pitched the first two innings. Not only was he perfect, but he showed impressive velocity as well, according to Adam Rubin of ESPNNewYork.com:
Rafael Montero with two perfect innings. Topped out at 92 mph. #Mets 0, #Nats 0, mid-2

— Adam Rubin (@AdamRubinESPN) February 28, 2014
Montero was relieved by Jacob deGrom, who looked even better in his two innings of work. Per MLB.com's Anthony DiComo, deGrom punched out four of the six batters that he faced:
DeGrom strikes out four in his two IP. He and Montero whiffed a combined six batters in four perfect innings today. #Mets

— Anthony DiComo (@AnthonyDiComo) February 28, 2014
New York's lineup featured plenty of prospective starters, including first baseman Ike Davis. His struggles over the past couple seasons are well documented, but he got his spring off to an ideal start.
Davis cranked a two-run home run in the fifth inning, and the fans let their appreciation be known, according to Andy Martino of the New York Daily News:
Ike Davis hits an enormous bomb, gets standing O, which I feel like you never see in spring training.

— Andy Martino (@MartinoNYDN) February 28, 2014
Ultimately, it was a fantastic spring opener for the Mets. Montero and deGrom made their case for a spot on the team, and a handful of potential lineup stalwarts did some damage as well.
Pre-Spring Training Prediction for 2014 Season
Although the Mets certainly took their lumps during the 2013 season, the fanbase was seemingly energized by the emergence of starting pitcher Matt Harvey. At 24 years of age, Harvey started the MLB All-Star Game for the National League and seemed well on his way to a Cy Young Award.
But disaster ultimately struck.
An elbow injury forced the Mets to shut Harvey down for the remainder of the season before he underwent Tommy John surgery in October. That will keep Harvey out of action for the entirety of the 2014 campaign, although he is already able to play catch, as seen in this photo courtesy of SportsNet New York's (SNY) Matt Dunn:
Matt Harvey with his first toss of a baseball since surgery. Pictured. pic.twitter.com/f6F8519nAA

— Matt Dunn (@MattDunnSNY) February 22, 2014
Harvey was someone the Mets faithful could latch onto and root for during an otherwise painful season, but that crutch won't be available to them in 2014. Even so, there are plenty of reasons for fans to be excited about the 162-game slate that lies before them.
For starters, the Mets have already avoided disaster. There were concerns regarding projected No. 2 starter Jon Niese's shoulder, but it turns out that there is no structural damage to speak of, according to the New York Post:
#Mets can exhale: Jon Niese's shoulder deemed 'perfect' after MRI exam http://t.co/IpDXoMOsA6

— New York Post Sports (@nypostsports) February 27, 2014
With Niese now expected to be ready for the regular season, the Mets boast a formidable rotation that also includes the ageless Bartolo Colon, Dillon Gee and a player Mets fans hope is the next Harvey in the form of Zack Wheeler.
The fifth spot in the rotation is seemingly up for grabs, with Jenrry Mejia perhaps in the driver's seat, although a pair of hot prospects could assume that role at some point during the season.
Rafael Montero and Noah Syndergaard may not make the team out of camp, but they have a chance to impress manager Terry Collins and perhaps receive a call-up later in the year.
At the same time, Collins didn't rule out the possibility of one of the phenoms beginning the season with the big club, per Robert Brender of SNY:
Sandy said its possible to have one of the young prospects in the rotation starting the season. He was referring to Montero/Syndergaard

— Robert Brender (@robertbrender) December 8, 2013
How many wins will the Mets finish with in 2014?
There is a great deal of intrigue surrounding the lineup as well since this could be a make-or-break year for players like Ike Davis, Daniel Murphy, Lucas Duda and Ruben Tejada. All of them fell flat last season with the exception of Murphy, and another poor campaign might force Alderson's hand next offseason.
Third baseman David Wright is obviously the anchor as always, but he needs some support in order for New York to take a significant step forward this year. Maybe that will come in the form of catcher Travis d'Arnaud. Although he hit just .202 in his 2013 debut, d'Arnaud has the potential to be a great run producer.
With that said, d'Arnaud's performance behind the dish may be even more important. In order for New York's young arms to develop, they must have confidence in who is receiving the ball. According to Kristie Ackert of the New York Daily News, d'Arnaud is already thriving in that capacity:
Interesting watching d'Arnaud work with young pitchers today. Very confident . He looks so much more comfortable. #Mets

— Kristie Ackert (@AckertNYDN) February 11, 2014
For many teams, spring training is just about going through the motions. But it is legitimately important for the Mets as the next generation of players prepares to make the leap to the majors.
There is no question that there will be some good things for Mets fans to hang their hats on in 2014, but with no surefire anchor in the rotation and a muddled lineup that will struggle to score consistently, a 70-92 mark seems realistic.
Follow @MikeChiari on Twitter