Last year, fresh off a win in Super Bowl XLVII, the Baltimore Ravens watched as a number of prominent free agents leave the team.
"Don't worry," the Ravens said. "We have a plan," they said.
That plan ended with the Ravens finishing the 2013 season 8-8 and missing the playoffs altogether, and with the Ravens in a similar personnel bind, the last thing the team can afford if it wants to get back to the postseason is another veteran exodus.
Last year, it was inside linebacker Ray Lewis (retired), outside linebacker Paul Kruger (Cleveland Browns) and free safety Ed Reed (Houston Texans) who left in free agency. Wide receiver Anquan Boldin was traded to the San Francisco 49ers.
The impact of those losses (most especially Boldin) was felt by the team all season long.
This year, the band has different members, but the song remains the same.
Baltimore Ravens 2014 Unrestricted Free Agents

| | |
| --- | --- |
| Player | Position |
| Dallas Clark | TE |
| Terrence Cody | NT |
| Ed Dickson | TE |
| Corey Graham | CB |
| James Ihedigbo | S |
| Art Jones | DT |
| Jacoby Jones | WR |
| Jeromy Miles | S |
| Eugene Monroe | OT |
| Michael Oher | OT |
| Dennis Pitta | TE |
| Bernard Scott | RB |
| Daryl Smith | LB |
Per Ravens' Web Site
Both the team's starting offensive tackles in 2013 are free agents, as is the Ravens' leading tackler from last year. No fewer than half a dozen starters from a season ago are set to hit the open market. General manger Ozzie Newsome and the Ravens need to do everything in their power to bring the most important of those players back.
is Eugene Monroe worth $10 million a season?
If there's one name on the list that's a no-brainer, it would appear to be left tackle Eugene Monroe.
The Ravens traded their fourth- and fifth-round picks in the upcoming draft to the Jacksonville Jaguars for Monroe last October. The five-year veteran acquitted himself well in his new home, finishing 2013 as Pro Football Focus' (subscription required) 10th-ranked left tackle.
Now, with Monroe set to hit free agency, the Ravens face a decision that isn't a decision.
You don't trade two draft picks for a 26-year-old left tackle to protect your $100 million quarterback and then let said tackle walk after less than a year. Not only do the Ravens need to get a deal done, but it needs to get done ASAP—like before free agency starts on March 11, because other teams are already sniffing around:
cc: Ozzie Newsome. I love this time of year. RT @NFL_ATL Dolphins reportedly 'very much like' Eugene Monroe

— Aaron Nagler (@Aaron_Nagler) February 26, 2014
The Ravens have been in contact with Monroe's camp for some time, and Aaron Wilson of The Baltimore Sun recently tweeted that talks have amped up:
Ravens in active talks with Eugene Monroe and Dennis Pitta. No deals imminent. Have work to do on both to get something done, per sources

— Aaron Wilson (@RavensInsider) February 27, 2014
Tight end Dennis Pitta's another case where the Ravens are backed into something of a corner.
Yes, the 28-year-old missed 12 games with a dislocated hip last year, but in his (and Boldin's) absence, the Ravens' intermediate passing game completely fell apart.
Upon his return in Week 14, Pitta was targeted 31 times over the season's last month. Over the course of the entire season, that pace, according to PFF, would have made Pitta the NFL's second-most targeted tight end (behind Jimmy Graham of the New Orleans Saints).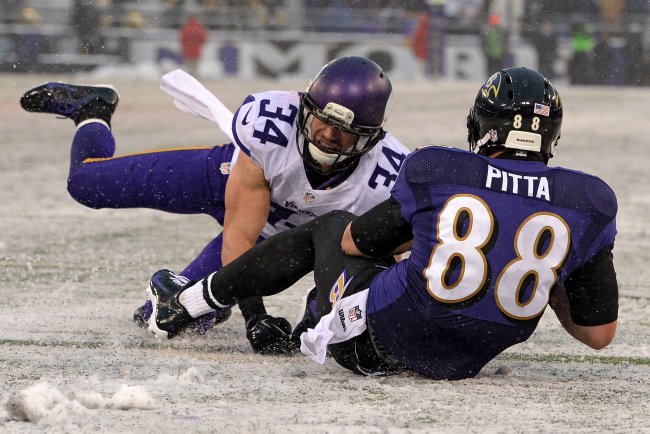 Patrick Smith/Getty Images
Mike Preston of The Baltimore Sun recently opined that if the Ravens aren't able to reach agreement on a long-term contract with Pitta there could be a showdown over whether the franchise should tag him as a tight end or wide receiver.
In any event, just as it's absolutely critical to keep Joe Flacco's blindside protector, it's just as crucial the Ravens keep Flacco's security blanket in the fold.
Linebacker Daryl Smith is another player the Ravens badly need to retain. The 31-year-old was brought in late in free agency, mainly as a stopgap until second-round pick Arthur Brown was ready to take the reins at Ray Lewis' old spot at WILB.
Daryl Smith 2013

| | | | | |
| --- | --- | --- | --- | --- |
| Tackles | Assists | Sacks | INT | FF |
| 57 | 66 | 5.0 | 3 | 2 |
Per NFL.com
Instead, Brown struggled adjusting to the NFL, while Smith started the entire season and paced the Ravens with 123 tackles.
According to Preston, the wheels are already turning where Smith is concerned as well:
Ravens working hard to re-sign their own free agents. LB Daryl Smith might be done in a day or two. No promises.

— Mike Preston (@MikePrestonSun) February 24, 2014
Of course, none of these deals are done yet, although the Ravens have been clearing cap space recently. The team recently reworked the contract of outside linebacker Terrell Suggs, and on Thursday The Sun's Jeff Zrebiec tweeted the Ravens were set to clear some more coin off the books:
The #Ravens will release fullback Vonta Leach and LB Jameel McClain, per sources. Not official but should be soon.

— Jeff Zrebiec (@jeffzrebiecsun) February 27, 2014
According to Spotrac, the Ravens presently have the 12th-most salary-cap space in the NFL, at around $25.4 million. That number could change a bit once the cap is set, but it affords the Ravens the room to bring these players back, even with the fat chunk Monroe will take up.
Yes, those aren't the team's only free agents, and in a perfect world the Ravens could also bring back the likes of safety James Ihedigbo, defensive lineman Arthur Jones, cornerback Corey Graham and right tackle Michael Oher.
However, the cruel reality is those players are either secondary contributors or coming off so-so seasons.
In Oher's case, so-so is kind. The 27-year-old was PFF's fifth-worst right tackle in 2013, and if some GM who's seen The Blind Side too many times wants to pay him anything resembling high-end tackle money, the Ravens should just wave good-bye and move on.
Should the Ravens re-sign Michael Oher
That's partly why it's so important the Ravens get these key contributors locked up. There will be other holes to fill regardless. The Ravens don't need to add to the problem when quality solutions are already on the roster.
Since taking over as the Ravens' general manager in 2002, Ozzie Newsome has developed a reputation as one of the NFL's savviest executives. Last year, though, the offseason didn't go so well, and the result was a disappointing campaign. However, if recent news is any indication, Newsome is set to show once again why he's considered one of the league's top GMs.
Because, as unfortunate as they are, mistakes happen. That's not the problem.
The problem is when those mistakes are repeated.