The 2014 NHL trade deadline is scheduled for March 5, and franchises across the league are contemplating possible moves, which have caused rumors to run rampant.
With top names like New York Islanders sniper Thomas Vanek, Tampa Bay Lightning playmaker Martin St. Louis and Vancouver Canucks forward Ryan Kesler all reportedly on the market, where each star lands as the deadline approaches is the focus of the NHL.
Here are the latest rumors surrounding the biggest stars on the trade block.
Thomas Vanek's Days in New York Are Numbered?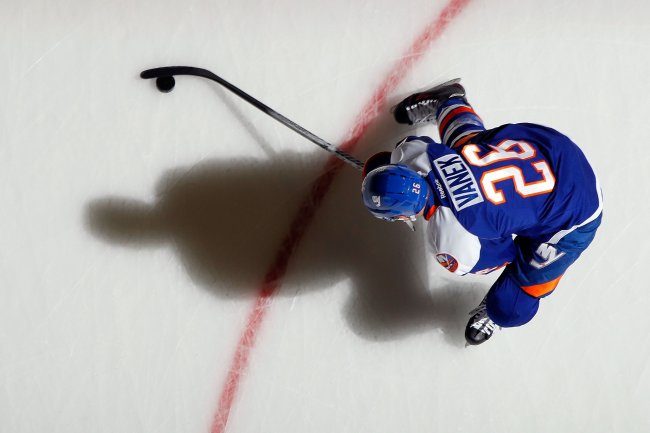 Jim McIsaac/Getty Images
The New York Islanders acquired Thomas Vanek from the Buffalo Sabres in October. With the forward looking to test free agency—he turned down a contract worth $50 million over seven years—the Islanders are likely going to make a deadline deal.
According to a report from Brett Cyrgalis of the New York Post, Vanek's short stay with the Islanders is almost guaranteed to end before the deadline:
It's inevitable that by the March 5 trade deadline, general manager Garth Snow will trade Vanek, now even more so in the wake of star center John Tavares' injury, sustained while playing for Team Canada en route to its gold medal.
Vanek is one of the top offensive players in the NHL, but his impending free agency has caused serious issues for each of the teams that have owned his contract this year.
New York acquired Vanek in a deal for forward Matt Moulson, a 2014 first-round pick and a 2015 second-round pick, and the original plan was to lock up the recent acquisition long-term before Vanek turned down the team's offer.
Vanek: "I know what's ahead and what could happen, but once you come to the rink you block it out."

— Mark Masters (@markhmasters) February 27, 2014
The Islanders overpaid for Vanek in the initial deal and must trade him before the deadline to ensure the franchise gets any return on its investment at all, instead of letting him walk via free agency on July 1.
Top contenders across the NHL will continue kicking the tires on a possible Vanek deal.
Martin St. Louis Wants to Be a New York Ranger?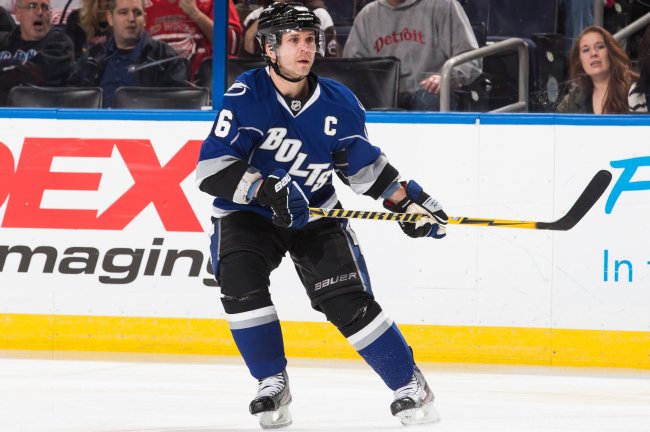 Scott Audette/Getty Images
The Tampa Bay Lightning are getting top star Steven Stamkos back from injury soon, according to NHL.com. But the good news may be short lived, as forward Martin St. Louis has reportedly requested a trade.
According to Sportsnet's Nick Kypreos, St. Louis asked for a trade before the Olympic break:
It's believed St.Louis did ask #Lightning 4 trade when left off Canada. I'm told some #NHL clubs not sure if he still feels the same way now

— Nick Kypreos (@RealKyper) February 24, 2014
St.Louis does have a full no move expiring 2014-15. As reported by @NYP_Brooksie Yzerman not interested in renting a top player without term

— Nick Kypreos (@RealKyper) February 24, 2014
TSN's Darren Dreger is reporting that St. Louis wants to be in New York:
Teams may continue to call TBay on St Louis, but, as of now, Lightning are telling teams St Louis is locked on the New York Rangers. #tsn

— Darren Dreger (@DarrenDreger) February 27, 2014
The reports that Rangers captain Ryan Callahan could be on the trade market, via Dreger, would open up a possible deal if Tampa Bay believes Callahan would adequately fill a role and would sign long-term with the franchise.
Which team would win a Martin St. Louis for Ryan Callahan trade?
If Callahan shows interest in staying with the Lightning after being dealt, then this is a trade that could realistically come to fruition.
While there is no comparing the offensive output of St. Louis and Callahan, the defensive prowess of New York's captain would help bring the goals against average down and bring a hard-nosed mentality to the game.
The report is clear that St. Louis would only be open to a trade to the Rangers, and if Tampa Bay can receive the captain of a major-market team in return, then this is the kind of move that could build long-term success for a franchise.
Ryan Kesler Wants out of Vancouver?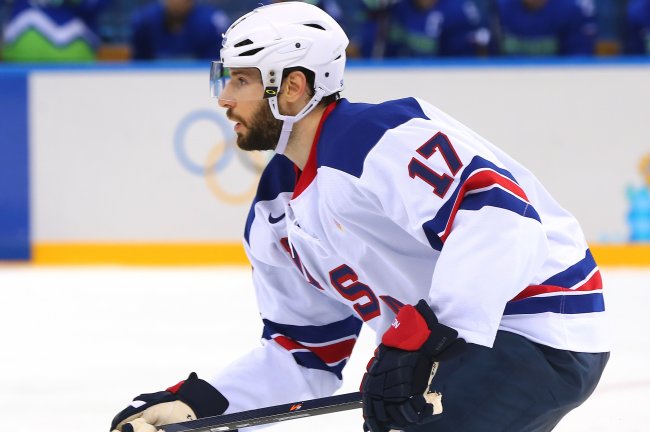 Martin Rose/Getty Images
The Vancouver Canucks are fighting for a spot in the Western Conference playoffs, and one of the biggest keys to their success will be the play of center Ryan Kesler when he returns from an injury he suffered during the Olympics.
Per a report from TVA Sports' Louis Jean, though, Kesler has requested a trade:
Sources say Ryan Kesler requested a trade some time ago & wants out of Vcr. Told #Canucks don't want to trade him but may not have a choice.

— Louis Jean (@LouisJean_TVA) February 27, 2014
While Jean has reported that Kesler has requested a trade, the forward's agent is denying the report, according to Adrian Dater of Bleacher Report:
Ryan Kesler has NOT requested a trade, his agent Kurt Overhardt tells me. Says reports saying so are "BS"

— Adrian Dater (@adater) February 27, 2014
Vancouver has not released any updates on Kesler's injury since missing Wednesday's game against the St. Louis Blues, and the injury will make a possible deal hard to pull off without a flawless physical.
Not only has the injury taken away much of the Canucks' leverage in possible negotiations, but the fact that he is making $5 million per season salary through 2015-16 will also make the conversations even more difficult.
Kesler won't be dealt before the deadline.
*All stats via NHL.com.