Before the 2014 NHL trade deadline hits on March 5, the rumors that boil to the surface at this time of year are running rampant, and it's unclear which stars and impending free agents will be dealt.
With top names like Buffalo Sabres goaltender Ryan Miller, Vancouver Canucks forward Ryan Kesler and New York Rangers captain Ryan Callahan reportedly on the market, the anticipation surrounding what could happen at the deadline is growing with each passing hour.
Here are the latest NHL rumors as the trade deadline approaches.
Ryan Miller Not Likely to Be Moved?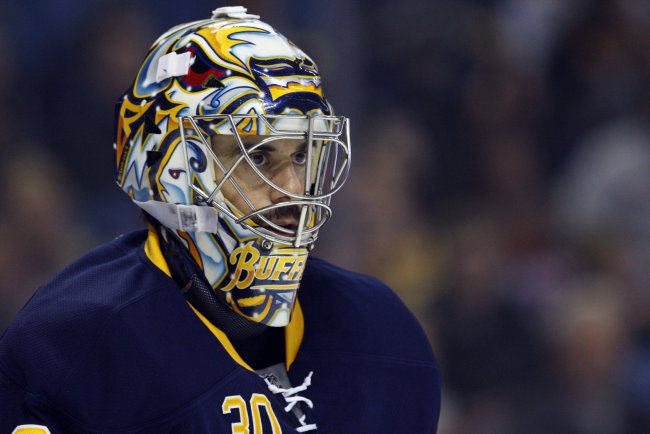 Timothy T. Ludwig-USA TODAY Spor
The biggest name involved in trade rumors this season has been Buffalo Sabres goaltender Ryan Miller. As an impending unrestricted free agent, Buffalo will be forced to get anything in return at the deadline or risk losing Miller to free agency with nothing in return.
If the Sabres front office doesn't feel confident that it can re-sign Miller, it must pull the trigger on a deadline deal.
According to Sportsnet's Brian Lawton, though, a trade involving Miller won't be easy to build and the veteran netminder may not be moved before March 5:
I am hearing that it is not likely that Ryan Miller will be traded by the Deadline and Sabres are turning attention towards re signing him.

— Brian Lawton (@brianlawton9) February 25, 2014
The school of thought on Miller @BuffaloSabres is that a deal in the Lundqvist range now would allow team to trade him in a better market.

— Brian Lawton (@brianlawton9) February 25, 2014
Despite Lawton's report, Sabres general manager Tim Murray spoke to reporters Tuesday about the situation, via Buffalo WKBW, "The route we are looking at is to get value for him. To put him in a position to succeed. Our goal right now is to pursue a proper trade."
Whatever you believe, it has become abundantly clear that Buffalo is at least listening to offers for Miller at the deadline. While the team's ultimate goal could be to lock the goalie up to a long-term deal, trying to re-sign him and failing could be too big of a risk.
There should be little doubt that Miller will be traded.
Ryan Kesler Forcing His Way Out of Vancouver?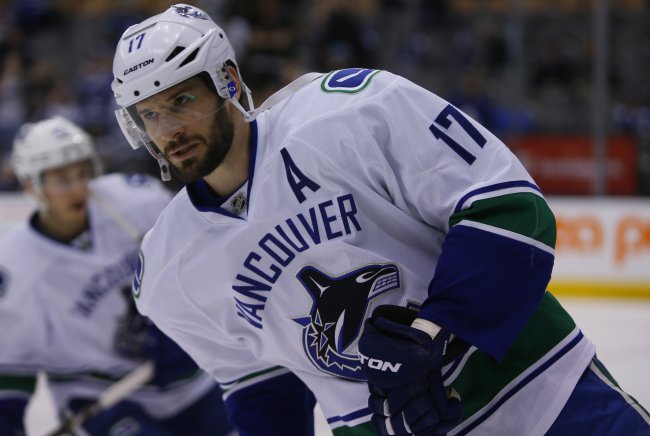 John E. Sokolowski-USA TODAY Spo
The Vancouver Canucks are in a precarious position, as one of the teams in the Western Conference flirting with missing the postseason, and the team may now be forced to deal with one if its top players.
According to TVA Sports' Louis Jean, center Ryan Kesler has requested a trade:
Sources say Ryan Kesler requested a trade some time ago & wants out of Vcr. Told #Canucks don't want to trade him but may not have a choice.

— Louis Jean (@LouisJean_TVA) February 27, 2014
While Jean is reporting that Kesler has requested a trade, the forward's agent is denying the claims, via Adrian Dater of Bleacher Report:
Ryan Kesler has NOT requested a trade, his agent Kurt Overhardt tells me. Says reports saying so are "BS"

— Adrian Dater (@adater) February 27, 2014
Kesler missed Wednesday's game against the St. Louis Blues with an injury he sustained during the Winter Olympics, and there is no word from the franchise about when he is expected to return to the lineup.
While the injury isn't ideal for the Canucks' leverage if Kesler really did ask for a trade, his $5 million per season salary through 2015-16 could be an even bigger holdup for a cash-strapped trade partner.
Ryan Callahan On His Way Out of New York City?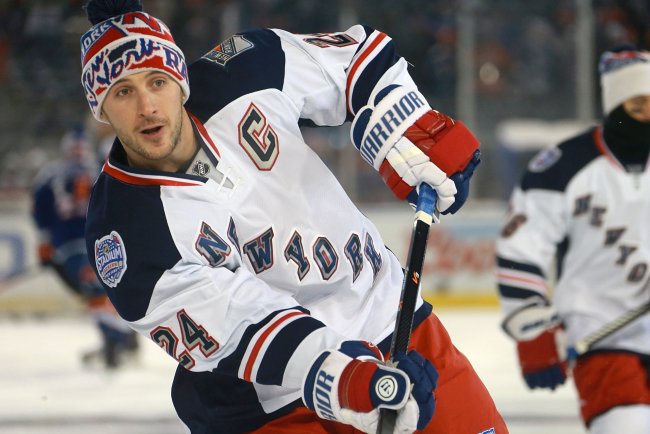 Dave Sandford/Getty Images
It was once sacrilege to even consider dealing a team captain in a trade, but it has become commonplace in the NHL over the years. The New York Rangers may be next to make that move, by moving Ryan Callahan before the deadline.
According to TSN's Darren Dreger, Callahan is almost guaranteed to be traded:
I'm told that it's 99 per cent guaranteed that Ryan Callahan will get traded by the New York Rangers. There are many teams involved in this process. We know that the St. Louis Blues have been the most consistent in showing interest, and there's some connection with the Tampa Bay Lightning and other teams as well.
Callahan is a force on the ice as one of the best forecheckers in the league, but his offensive inconsistencies have frustrated the organization. With the captain possibly heading to free agency if the team does not re-sign him, moving him before the deadline may be New York's only option.
The Rangers are still in the hunt for a postseason berth and losing the team's captain would be a devastating blow to their chances. If the franchise doesn't make the deal, though, there is a chance he will walk via free agency with no return.
New York is in an unenviable position.
*All stats via NHL.com.