Top 2014 Early Enrollees Who Could See First String Reps This Spring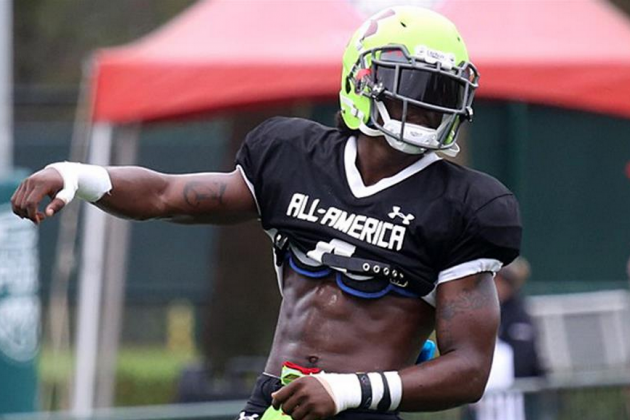 Credit: 247Sports

In most places, spring football is almost upon is. In others, it already is. Either way, it's beginning to feel a lot like football—and that is always a spectacular thing.
The start of spring camp is important for the older guys on each team, but not nearly as much as it is for the early enrollees who are experiencing the rigors of high-level college football and learning an FBS playbook for the first time in their lives.
This process is extra important for the blue-chip recruits: The guys who are being counted on to contribute and maybe even start as true freshman. For them, the month of practice in March or April is a chance to validate their high school tape, impress the coaches and hopefully get a chance to run with the first-team offense or defense.
Focusing only on the top 50 players in the class of 2014, per the 247Sports composite, which players stand the best chance of doing just that? Of stepping into camp a wide-eyed freshman but leaving with starting experience?
Please make note that this list only counts true freshmen. Talented JUCO recruits like D'haquille Williams and Derrick Moncrief at Auburn, for example, are expected to make a quick impact and run with the starters as well, but for the purposes of this list, that is not what we're looking for.
We're looking for straight-out-of-high-school talents who are ready to make an impact, right from the first day, at some of the best programs in the country.
Guys who will pay their dues quickly.
Begin Slideshow

»
RB Jalen Hurd, Tennessee
Jalen Hurd enrolled early and will practice with the Vols this spring, though Butch Jones would be wise to limit his physical contact as he rehabs the torn labrum that ended his senior season in August.
Marlin Lane's job may not be safe in the fall, but Hurd might only see sparing first-team reps as he works back into active form this spring.
WR Josh Malone, Tennessee
Josh Malone might already be the most talented receiver on the Tennessee roster, which is saying something after the freshman season Marquez North had in 2013.
He won't supplant North or Pig Howard right off the bat and might have to bide his time on a team that was led in receiving by five underclassmen last year, but it would not be a shock to see Malone earn a major role by Week 1.
(And against Utah State, the Vols are going to need it.)
LB Raekwon McMillan, Ohio State
According to Doug Lesmerises of the Cleveland Plain Dealer, Urban Meyer called Raekwon McMillan after losing to Clemson in the Orange Bowl and implored him to enroll early so he could compete for a job in spring camp.
With Curtis Grant ahead of him at inside linebacker, McMillan might find it hard to run with the first team by April, but if he plays well enough, a position switch to the weakside (for either of them) might be in the cards come July.
S Edward Paris, LSU
Edward Paris is a longshot to crack the starting lineup by spring ball, especially given the way LSU has recruited and developed defensive depth since Les Miles and John Chavis took over.
But just last season, a chink in the armor materialized for the first time in their collective tenure, so it might be time to start doing things differently.
There's an open spot at free safety, and Paris has the advanced coverage skills of a first-year contributor. He just needs to add some weight and learn the scheme.
OT Cam Robinson, Alabama
Bleacher Report's Marc Torrence took a good, in-depth look at Cam Robinson earlier in February and seems to think he could play as a true freshman. However, he also cites a point from Mike Farrell of Rivals.com (via the Tuscaloosa News) about Robinson's rawness, and how he needed to have his stance corrected by coaches in practice for the Under Armour All-America Game.
Mario Cristobal has a potential gem on his hands, but it will take longer than one month for Robinson to be polished. He'll run with the backups for most of the spring.
Composite Rank: 10
Even after failing to meet expectations and contend for an SEC title last season, Texas A&M football has a lot of momentum right now.
In a world where one bad season can derail such momentum, Kevin Sumlin would probably rather start Matt Joeckel or Kenny Hill—players who are not completely new to the system or level competition—over Kyle Allen at quarterback. It seems like a much safer choice.
But Allen will not go down without a fight.
He was the top-rated quarterback in the class of 2014 for a reason, and Sumlin will make sure he gets a fair chance to compete with a few first-team reps this spring.
Even if those reps are few and far between, as they should be, Allen will have a chance to earn even more reps come the fall.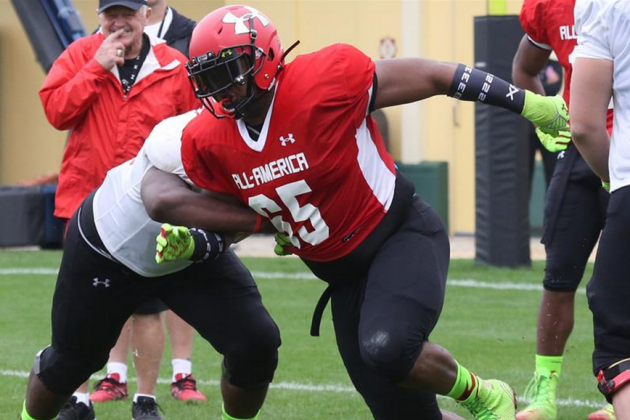 Credit: 247Sports

Composite Rank: 11
Virginia loses starting defensive tackle Brent Urban from last season, but even if it didn't, Andrew Brown would still see the field early.
The Cavs could make room for a player this talented.
Fellow blue-chipper Quin Blanding, the top-rated safety in the class of 2014, did not enroll early and will not be able to get a jump on starting as a true freshman this spring. Brown, however, will be able to get ahead of the curve both mentally and physically and also with regard to wooing the coaches.
Mike London might not plug him in with the first team on the opening day of spring camp—experienced players would resent a freshman running with the ones before earning it in practice—but Brown will almost certainly be there by the last.
He's too good not to be.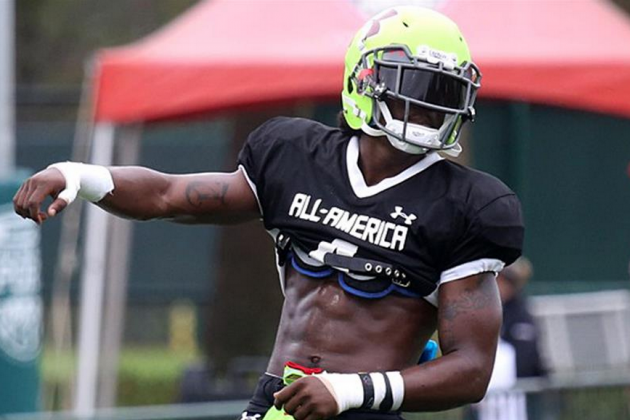 Credit: 247Sports

Composite Rank: 9
Nick Saban has not been shy about throwing freshman cornerbacks into the fire, and he's perhaps never had to fill a need at the position as desperately as he does in 2014.
With fellow 5-star recruit Marlon Humphrey yet to enroll, Tony Brown is the leading candidate to step onto campus and disrupt the status quo—of which there is very little—atop the Tide's current secondary depth chart.
Deion Belue, Alabama's only consistent cornerback last season, is gone to graduation, and the carnage beyond him has no order.
If Brown's learning curve proves less steep than that of Eddie Jackson and Maurice Smith, he could find himself in the starting lineup early and often—perhaps even as soon as the spring.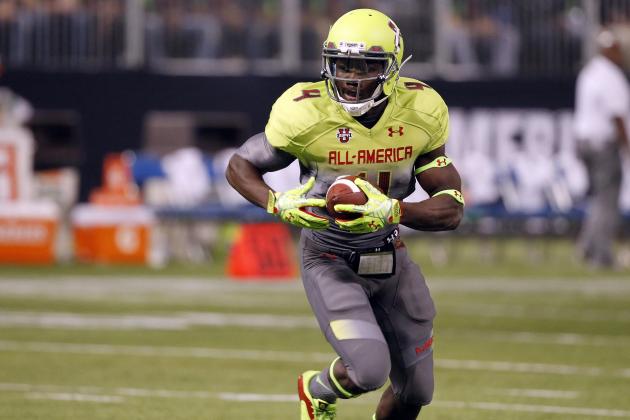 Kim Klement-USA TODAY Sports

Composite Rank: 13
Dalvin Cook will not "run with the starters" in a traditional sense—i.e., he will not supplant Karlos Williams and become the Seminoles lead back this spring. He likely won't at any point next season, either.
However, Cook will get his share of first-team reps in spring practice because head coach Jimbo Fisher knows how important a role he could play in this offense immediately. Even if he doesn't "start," he will be counted on to produce like a starter.
Florida State lost Devonta Freeman and James Wilder Jr. from its three-headed rushing attack last season, and Cook is better equipped to become a consistent contributor than Ryan Green or Mario Pender.
Fisher knows the value of depth, and FSU will not become a workhorse back-type offense. Cook's first-team reps this spring will be important.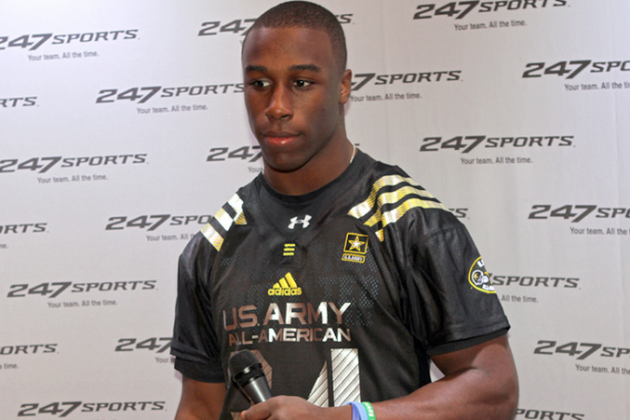 Credit: 247Sports

Composite Rank: 46
Elijah Hood is the forgotten man among top-50 skill position players.
Such is life when you decommit from Notre Dame to play for North Carolina—or at least such is life in football. Hood didn't choose the Tar Heels to be sexy, though.
He chose them to help them win football games.
North Carolina returns a trio of decent running back options in T.J. Logan, Romar Morris and Khris Francis, all of whom rushed for more than 250 yards last season. This team, however, was still led in rushing by quarterback Marquise Williams, who only saw significant action in seven or eight games.
UNC wants to compete for an ACC Championship next year and genuinely thinks it's good enough to do so. The way the Tar Heels played toward the end of last season, it's difficult to say they can't.
If they want to, though, it might take a hail mary like starting a true freshman at running back and seeing if he can stick; if he can have a Maurice Clarett-type impact.
They can't keep their most talented players on the sideline.
Composite Rank: 8
Three of Texas A&M's four leading receivers are gone from last season, most notably All-American Mike Evans but also Derel Walker and Travis Labhart.
But where there is upheaval, there is opportunity. In the words of Lord Petyr Baelish: Chaos is a ladder.
Malcome Kennedy will likely occupy one starting spot on the outside. Ricky Seals-Jones, an Evans-like physical anomaly, is back from a season-ending knee injury and is a good bet to occupy the other.
But that leaves an open spot in the slot—an important position in Kevin Sumlin's offense. Speedy Noil, the top-ranked receiver and No. 8 overall prospect in the class of 2014, is about as well-equipped as an incoming freshman could be to fill that void.
Even if Sumlin wants Noil to take it slow and start his career in a smaller role, he is almost guaranteed to see some reps with the first team this spring because Texas A&M likes to use so many receivers.
And once he gets on the field with the starters, Noil will be hard to take off.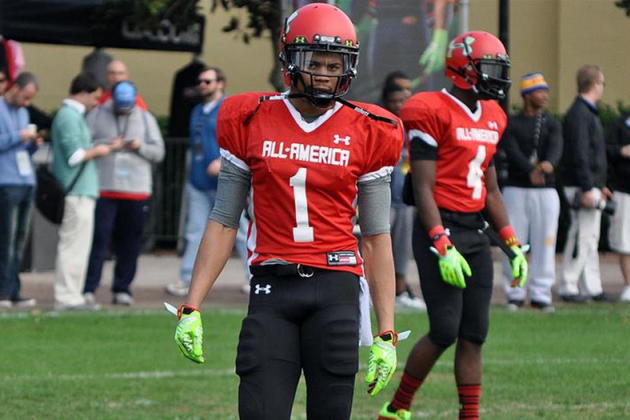 Credit: 247Sports

Composite Rank: 14
Despite the 4-8 record, Florida, when healthy, had by far the best secondary in college football last season.
But Loucheiz Purifoy, Marcus Roberson, Jaylen Watkins and Cody Riggs are all gone—three to the NFL, Riggs to Notre Dame—and the only thing known for certain on the outside is that Vernon Hargreaves III will start and be a leading Thorpe Award candidate in the preseason.
Like Hargreaves III, Jalen Tabor is a 5-star prospect with college-ready coverage skills and rare athletic ability. Unlike Hargreaves III, he does not have an established group of All-SEC-caliber cornerbacks in front of him, players behind which to bide his time.
Will Muschamp is in win-now-or-leave-town mode this season and cannot afford to bring such a talented player along slowly. If Tabor is good enough to help this team win in 2014, Muschamp needs him to play and play a lot.
There's only one way to find out if, indeed, Tabor is that kind of instant-impact freshman. Muschamp will throw him on the field this March and April and see what he can do.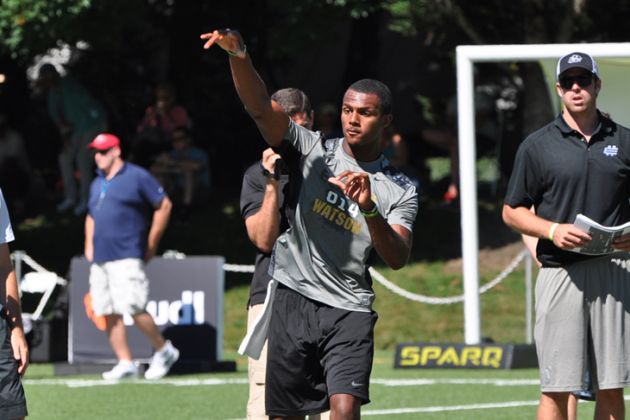 Credit: 247Sports

Composite Rank: 41
Senior Cole Stoudt and sophomore Chad Kelly both have experience in this offense that Deshaun Watson can't boast. They have learned Chad Morris' scheme behind Tajh Boyd for multiple seasons apiece; they are confident in their ability to manage the playbook.
That puts Watson at a distinct disadvantage, but his ability to run and make plays outside the pocket helps even the score. Stoudt and Kelly aren't stiffs, but neither is in Watson's realm using their legs.
Especially because Watson throws the ball just as well as he runs with it, that could make an important difference.
According to B/R's Greg Wallace, head coach Dabo Swinney called coming to spring camp "huge" for Watson and said it gives him a "realistic chance" at becoming the starter.
Does that sound like a guy who doesn't plan on giving his freshman quarterback some reps with the first team?