Florida Gators Set School Record with 15 Conference Wins in a Season
Use your ← → (arrow) keys to browse more stories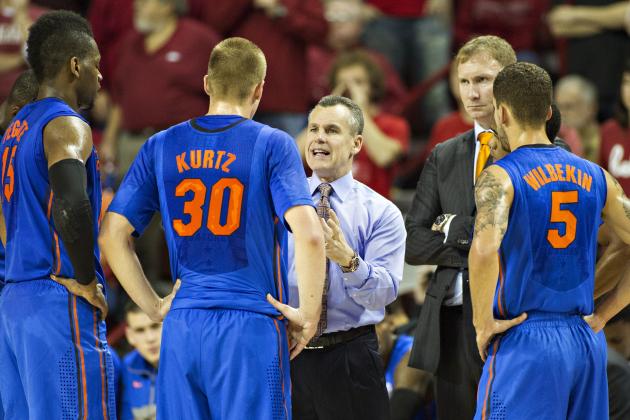 Wesley Hitt/Getty Images

With Tuesday's 57-54 road victory over Vanderbilt, the Florida Gators men's basketball team improved to 15-0 in the SEC, breaking a school record set by last year's team for most conference wins in a season. While the 2012-13 version needed all 18 conference games to reach 14 wins, this season's Gators have broken the record with a trio of games in hand.
It's been clear for a few weeks now that the school record would fall, but the Gators still did well to reach the milestone without an asterisk.
The SEC only played a 16-game schedule from 1991-92 to 2011-12, and the Gators went 13-3 in both 2006-07 and 2010-11. If this year's team had started 13-3 in conference play and finished 15-3, there would be a very reasonable argument that the squad broke the record because of the expanded SEC schedule.
As is, there's not much you can say to knock the Gators, who are hoping to become the fourth men's basketball team in SEC history to make it through the conference slate undefeated. Unsurprisingly, the other three teams all hailed from the University of Kentucky, with the 2011-12 national champion Wildcats (38-2, 16-0 SEC) most recently accomplishing the feat.
The Gators currently own the No. 1 ranking in both the Associated Press and Coaches polls, with remaining home games against LSU (16-10, 7-7 SEC) and Kentucky (21-6, 11-3 SEC) sandwiched around a road matchup against South Carolina (10-17, 3-11 SEC). South Carolina looks like a pushover, but LSU should at least offer a competitive game, and the No. 17 Kentucky Wildcats have enough talent to beat any team on any given day.
If the Gators win their next two games, the finale against Kentucky should be one of the most anticipated regular-season matchups in recent SEC history. When the two teams met in Lexington, Ky., on Feb. 15, Florida rode a big second half—as has become the team's custom—to a 69-59 victory.