Giants Spring Training 2014: Daily Updates, Scores, News and Analysis
Use your ← → (arrow) keys to browse more stories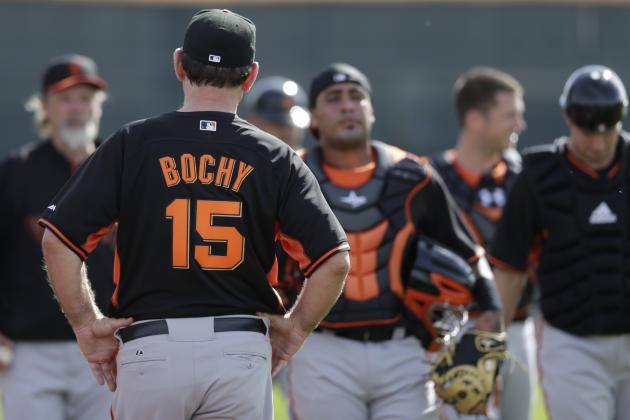 Gregory Bull/Associated Press

It's an even-numbered year, so if recent history is any indication, good things should be on the horizon for the San Francisco Giants in 2014.
The Giants won World Series titles in both 2010 and 2012, emerging with pennants for NL West Championships as well. While every major league team would be more than happy with two titles in four years, the seasons stuck in between those triumphs have many in the Bay Area wringing their hands.
San Francisco missed the playoffs in 2011 and then again last season, turning in its worst regular season in more than a half decade. The Giants finished 76-86, their campaign mired with underperforming stars and injuries nearly everywhere. Hunter Pence was the only everyday player who didn't miss at least 10 games for rest or injury, as the team finished 21st in runs scored and 22nd in slugging percentage.
Rick Scuteri-USA TODAY Sports
Buster Posey, who won the NL MVP in 2012, turned in a good, not great season as he fell apart in the second half. Posey hit just .244/.333/.310 after the All-Star break, belting only two home runs and driving in just 16 runs. It's unclear why Posey struggled down the stretch, but he'll have to regain his 2012 form (or even his first half of 2013 form) if San Francisco hopes to rebound.
The Giants didn't do much to stoke the offensive fires this winter. They added outfielder Mike Morse, now three years removed from his breakout 2011 campaign in Washington, on a low-risk, one-year deal. Pence was brought back—a bit of a surprise to most—but San Francisco is essentially hoping folks just do better this year.
Tim Hudson was also brought in to help bolster the rotation, which was quietly bad last season despite having talent. Madison Bumgarner was the only Giants starter with more than 15 starts who had an ERA below 4.00. Matt Cain should bounce back from a down year—every peripheral points to him being back near ace form—and Tim Lincecum is still a serviceable No. 3 or No. 4 starter. Hudson will be key, though, as he replaces former teammate Barry Zito—the obvious weak link at the end of the rotation.
Hudson is 38 and coming off an ankle fracture. Let's just say things aren't guaranteed to turn around.
With the Giants' spring training schedule getting underway, they should have an opportunity to see what they have going into the season. Check back here as we cover San Francisco throughout its spring training with recaps and analysis of every game.
San Francisco Giants Spring Training Schedule

| | | | |
| --- | --- | --- | --- |
| Date | Game | Time (ET) | Score |
| Wed., Feb. 26 | Oakland Athletics | 3:05 p.m. | L 10-5 |
| Fri., Feb. 28 | @ Oakland Athletics | 3:05 p.m. | L 7-6 |
| Fri., Feb. 28 | Milwaukee Brewers | 3:05 p.m. | W 4-3 |
| Sat., March 1 | @ Chicago | 3:05 p.m. | Canceled |
| Sun., March 2 | Arizona Diamondbacks | 3:05 p.m. | W 5-3 |
| Mon., March 3 | San Diego Padres | 3:05 p.m. | L 7-2 |
| Tue., March 4 | @ Colorado Rockies | 3:05 p.m. | W 3-2 |
| Wed., March 5 | Los Angeles Angels | 3:05 p.m. | W 3-2 |
| Thu., March 6 | Cincinnati Reds | 3:05 p.m. | W, 3-2 |
| Fri., March 7 | @ Kansas City Royals | 3:05 p.m. | W, 5-0 |
| Sat., March 8 | Seattle Mariners | 3:05 p.m. | L, 18-3 |
| Sun., March 9 | @ Los Angeles Dodgers | 4:05 p.m. | |
| Mon., March 10 | Chicago Cubs | 4:05 p.m. | |
| Tue., March 11 | @ Cincinnati Reds | 4:05 p.m. | |
| Wed., March 12 | Chicago White Sox | 4:05 p.m. | |
| Thu., March 13 | @ Texas Rangers | 9:05 p.m. | |
| Fri., March 14 | Colorado Rockies | 4:05 p.m. | |
| Sat., March 15 | @ Seattle Mariners | 4:05 p.m. | |
| Sat., March 15 | Oakland Athletics | 6:05 p.m. | |
| Sun., March 16 | Cleveland Indians | 4:05 p.m. | |
| Mon., March 17 | @ Los Angeles Angels | 4:05 p.m. | |
| Tue., March 18 | @ Cleveland Indians | 10:05 p.m. | |
| Thu., March 20 | @ San Diego Padres | 10:05 p.m. | |
| Fri., March 21 | Oakland Athletics | 9:35 p.m. | |
| Sat., March 22 | @ Chicago White Sox | 4:05 p.m. | |
| Sun., March 23 | Kansas City Royals | 4:05 p.m. | |
| Mon., March 24 | @ Los Angeles Angels | 4:05 p.m. | |
| Tue., March 25 | @ Milwaukee Brewers | 4:05 p.m. | |
| Wed., March 26 | Colorado Rockies | 4:05 p.m. | |
| Thu., March 27 | Oakland Athletics | 10:15 p.m. | |
| Fri., March 28 | Oakland Athletics | 10:15 p.m. | |
| Sat., March 29 | @ Oakland Athletics | 4:05 p.m. | |
ESPN.com
March 8: Mariners Slaughter Giants, 18-3
San Francisco's winning streak came to a sudden end, as Seattle manhandled the Giants to the tune of a 18-3 final score.
#SFGiants fall to the Mariners 18-3 at Scottsdale Stadium.

— San Francisco Giants (@SFGiants) March 8, 2014
Ryan Vogelsong pitched the losing effort for the Giants, allowing six hits and seven runs over just 2.1 innings pitched.
Poor pitching plagued San Francisco on Saturday, as Yusmeiro Petit gave up two runs over 2.2 innings, and Sergio Romo was torched for five runs without recording a single out.
Seattle got off to a hot start, scoring four runs in the first inning and another five in the third. The Giants were unable to get on the board until Andrew Susac laced a two-run double in the sixth inning.
Andrew Susac drives in two runs in the 6th inning...#SFGiants now trail the Mariners 9-2.

— San Francisco Giants (@SFGiants) March 8, 2014
The Giants brought another run home in the seventh; however, the Mariners just continued to pour it on. Scoring another nine runs over the final three innings, the game reached blowout status.
Luckily for San Francisco, pitching hasn't really been an issue until Saturday. Tim Lincecum continues to flourish, and Matt Cain, Tim Huston and Co. have been solid as well. Expect to see better showings from this rotation as spring training continues.
March 7: Giants Shutout Royals, 5-0
San Francisco's pitching staff shutdown Kansas City's bats en route to a 5-0 shutout win on Friday.
#SFGiants beat the #Royals 5-0 today to extend their spring win streak to 4 games

— San Francisco Giants (@SFGiants) March 7, 2014
Tim Lincecum picked up the win for the Giants, throwing 26 strikes and allowing just two hits in three innings pitched.
Lincecum day: 3.0ip, 2h, 0r, 0er, 0bb, 0so. Threw 35 pitches, 26 strikes #SFGiants

— San Francisco Giants (@SFGiants) March 7, 2014
The Giants wasted little time getting on the scoreboard, with Joaquin Arias bringing home Michael Morse on a sacrifice fly in the top of the second inning. A Tony Abreu single in the third inning would score Gregor Blanco to make it 2-0 in favor of the Giants early.
A homer from Hunter Pence in the sixth would make it 3-0 Giants, a lead they carried into the ninth inning. With the help of Mark Minicozzi and Andrew Susac, San Francisco would nearly double their lead in the top of the final inning, taking a 5-0 advantage to put the Royals under immense pressure in their final offensive series.
Mark Minicozzi with spring home run #2. Solo shot over the RF bullpen extends #SFGiants lead to 4-0 #Royals

— San Francisco Giants (@SFGiants) March 7, 2014
Unsurprisingly, Kansas City was unable to make up the difference, dropping just their third game of spring training.
March 6: Giants beat Reds, 3-2
Tim Huston, Jeremy Affeldt and Santiago Casilla combined to pitch five scoreless innings, Pablo Sandoval belted a home run and the Giants knocked off the Reds on Thursday, 3-2.
The Giants accounted for all three of their runs in the bottom of the fifth. Sandoval got things started with a solo home run before a Juan Perez double knocked home Roger Kieschnick. An Angel Pagan single then knocked in Perez, and that was all the Giants would need.
Cincinnati's Chien-Ming Wang gave up all three runs for the Reds.
Hudson was solid in the start, giving up two hits and allowing another two walks but striking out three.
Of the seven Giants pitchers to take the mound, only Jean Machi allowed an earned run in this game, after giving up back-to-back doubles to Tucker Barnhart and Yorman Rodriguez in the top of the ninth. Rodriguez would reach third base, representing the tying run, but Machi would get Neftali Soto to line out to preserve the win.
March 5: Cain Out-Duels Weaver in 3-2 Victory Over Angels
More stellar starting pitching from the Giants' talented rotation saw Matt Cain toss three scoreless innings of one-hit ball Wednesday, striking out two to upstage Jered Weaver in spurring a 3-2 Giants win.
Andrew Baggarly of CSNBayArea.com highlighted just how lights-out San Francisco's rotation has been thus far in the spring:
Matt Cain should be done after three scoreless innings. #SFGiants rotation now at 17 IP, 1 run, and amazingly just 1 walk this spring.

— Andrew Baggarly (@CSNBaggs) March 5, 2014
Collin Cowgill socked his fourth double of spring training off the otherwise dominant Cain. That was the most damage the Angels were able to inflict on the right-handed ace. With outstanding command and his characteristic control, "The Horse" was firing on all cylinders.
Although the outing dropped Weaver to 1-1 this spring, he still felt good about how it went overall.
"It went all right," Weaver said, per MLB.com's Chris Haft. "I felt good coming out of it. Probably left a couple pitches up, a little excited, but other than that, I felt pretty good out there."
Giants reliever Jason Berken yielded two runs in the top of the seventh to allow the Angels to pull to 3-2, but the lineup absent many stars was kept off the board thereafter, and Heath Hembree pitched a perfect ninth for the save.
Two RBI singles by Pablo Sandoval lifted the Giants' offense, which was held in relative check by Weaver, and the Los Angeles bullpen kept the Angels in the game. An error in the third inning by left fielder Brennan Boesch proved costly in allowing Sandoval to drive the first run home.
The clutch hits by Sandoval are an encouraging sign at this early juncture of the season, as he came into camp significantly lighter. His dedication to getting in shape is something manager Bruce Bochy noticed to be sure, and he emphasized how important Sandoval is to the Giants' success in 2014, per MLB.com's Tracy Ringolsby:
He's an important part of our team. You saw how we struggled trying to score runs last year...We need him to be the player he can be, a switch-hitter with power and run production and a quality defensive third baseman. It's encouraging to see him come into camp like he has.
Scoring runs has been difficult as of late, as the Giants have plated just 13 runs in the past four games. However, they are 3-1 in that span thanks to brilliance on the mound, which can help overcome any shortcomings in the batter's box.
If San Francisco can get its offense on track and continue getting such strong performances from its top-flight pitchers, there's no telling what the Giants could do this season. It's still way too early, and the 162-game regular season has yet to begin, but there are reasons for Giants fans to be excited at the moment.
The Giants are back in action Thursday against the Cincinnati Reds, which should offer a stern test as they seek to keep the momentum of this two-game winning streak going.
March 4: Bumgarner Masterful in 3-2 Win Over Rockies
As he's done in his past few seasons and throughout this spring, Madison Bumgarner was once again sensational for the Giants. MadBum not only was the first pitcher to take a start into the third inning, but did so with ease.
Henry Schulman of the San Francisco Chronicle provides commentary on Bumgarner's second start this spring:
Three shutout innings for Bumgarner. Looked super-sharp. Two hits were a grounder and fly that should've been caught. 1 K, 0 BB, double play

— Henry Schulman (@hankschulman) March 4, 2014
On a team where Tim Lincecum and Matt Cain have been the perceived aces on the team in the past, before Lincecum's fall from grace of course, Bumgarner is proving that he's worthy of the title at this point.
The Hickory, N.C. native finished last season with a 13-9 record with a 2.77 ERA and 199 strikeouts in 2013. While it's just the spring, Alex Pavlovic of the Mercury News provides a look at Bumgarner's stat line through two games:
Madison Bumgarner's spring: 5 innings, 3 hits, 0 walks, 0 runs, 3 strikeouts.

— Alex Pavlovic (@AlexPavlovic) March 4, 2014
Those types of numbers prove that the consistency is still there for Bumgarner. It also inspired a quote from fellow starter Ryan Vogelsong that puts pretty lofty expectations on the 24-year-old pitcher, per Pavlovic:
Vogey on Bumgarner: "I don't think you can put a limit on him right now. It seems he can do whatever he wants to do."

— Alex Pavlovic (@AlexPavlovic) March 4, 2014
As for the offense, the Giants weren't able to put many runs on the board but did come away with an impressive 13 hits on the day.
Brandon Belt went 2-for-3 on the day with a single and a double to go along with one run. He improved his spring batting average to .571 with the performance.
In the lesser-known category for the team, Tyler Colvin appears to be making the most of the opportunity he was given earlier in the week by the Giants. After being signed to a minor-league contract by the team, Colvin went out and delivered with a double, a run and an RBI in just two plate appearances.
Colvin spent the last two seasons with the Rockies, so getting the chance to exact some revenge on them in spring training was sweet for the outfielder. It also came just a day after Colvin helped score the only runs of the game against the San Diego Padres, per the Giants official Twitter account:
Tyler Colvin puts the #SFGiants on the board here in the 8th with a 2-run single. SF trails 7-2.

— San Francisco Giants (@SFGiants) March 3, 2014
Buster Posey also improved on his spring thus far with a 1-for-3 performance with a single. His .375 batting average thus far has come on just eight at bats, but he's still showing the same consistency as the past few seasons for the team.
The Giants will resume play against the Los Angeles Angels on Wednesday at 3:05 p.m. ET.
March 3: Lincecum Sharp in 7-2 Loss to Padres
Tim Lincecum took the mound for the Giants for the first time since signing his two-year, $35 million contract with the club at the end of the 2013 season. Despite two scoreless innings to start the game from Lincecum, the Giants fell apart in the late stages to lose 7-2 to the San Diego Padres on Monday.
Lincecum looked sharp with a 1-2-3 frame to start the contest but wasn't happy with his performance in the second inning, when he gave up a double and a walk. Still, he told Henry Schulman of the San Francisco Chronicle about the positives he took away from his spring debut.
I think those are the kind of results everybody is kind of looking for, but each of us has our own goals in spring training, and it's not always necessarily throwing zeroes out there. It's getting the work in that we need. Today I felt that along with the zeroes, I got the work in that I needed.
As Andrew Baggarly of CSN Bay Area noted, San Francisco's starters have combined for 10 scoreless innings so far in spring training.
Add up Lincecum, Bumgarner, Hudson, Vogelsong and Escobar and this is what you get: 10 innings, 3 hits, 0 runs, 1 walk, 6 strikeouts.

— Andrew Baggarly (@CSNBaggs) March 3, 2014
This game was a scoreless deadlock until the sixth inning, when the Padres jumped all over Yusmeiro Petit and Santiago Casilla for a combined six runs. It wasn't a pretty result for Petit, who was charged with four runs and is contending with Ryan Vogelsong and others for the fifth spot in the rotation. Meanwhile, Casilla is expected to play a big role for the Giants as a right-handed setup man.
San Francisco finally got on the board in the bottom of the eighth inning with a two-run single from Tyler Colvin, but the Padres had the victory wrapped up by that point.
That wasn't the only Giants baseball activity going on Monday. After a rainout canceled a contest with the Chicago Cubs on Saturday, the two clubs took part in a lax 'B' level contest where top San Francisco prospect Kyle Crick had mixed results, per Baggarly.
Crick struggled with location in his first inning, allowing a run on two hits (one was a bunt single) and a stolen base while throwing plenty of heat at the letters. He settled down in his second inning while striking out the side, including a couple of fastballs he blew past top hitting prospects Kris Bryant and Jorge Soler.

"Even though it was a B game, it was still a major league game to me," Crick said. "I was disappointed I couldn't get a grip faster. I was worrying about hitting spots. … In the second inning, I just started throwing the ball and not worrying about where it ended up."
Crick, 21, is expected to spend 2014 in the minor leagues but fans should surely keep an eye on his development this year, as he could be a nice addition to the staff for a September callup.
March 2: Giants Defeat NL West Rival Diamondbacks, 5-3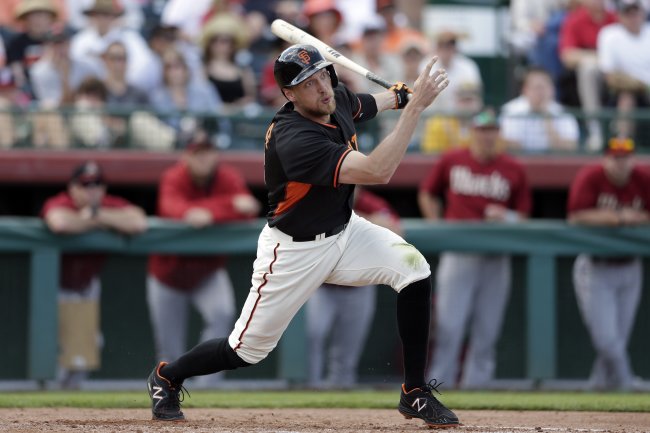 Gregory Bull/Associated Press
On the strength of a four-run fifth inning, the San Francisco Giants picked up their second win of spring training, beating the Arizona Diamondbacks 5-3.
Kameron Loe got the win, pitching two innings and giving up two runs on three hits. Jean Machi recorded the save after coming on in the ninth inning, though he gave up two hits and an earned run.
Pablo Sandoval singled in the bottom of the first to drive in Buster Posey.
After Arizona scored two in the top of the fifth, San Francisco responded swiftly.
Posey singled, driving in Angel Pagan. Tyler Colvin and Mark Minicozzi scored on a single from Hector Sanchez. The final run of the inning came via another single, this time from Joaquin Arias.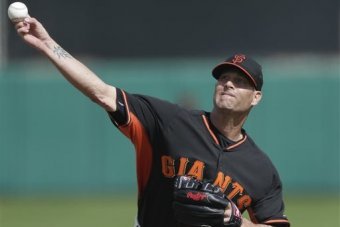 Gregory Bull/Associated Press
The Diamondbacks added another run in the top of the ninth and threatened to rally, but it was to no avail.
Perhaps the most noteworthy thing to come out of the game was Tim Hudson starting and pitching two scoreless innings. Sunday was his debut for San Francisco after signing a two-year, $23 million deal in the offseason.
Giants manager Bruce Bochy was impressed with what he saw, saying it was "a great job by him," per Alex Pavlovic of the San Jose Mercury News. Bochy added, "It's been a long time, but he looked sharp."
It was a smooth debut for Hudson, who figures to be a key part in a deep rotation in 2014.
March 1: Giants vs. Cubs Canceled
Fans in Arizona will have to wait to watch Matt Cain's 2014 spring training debut as Saturday's contest against the Chicago Cubs in Mesa has been canceled due to rain.
Today's #SFGiants and #Cubs spring training game has been canceled due to weather.

— San Francisco Giants (@SFGiants) March 1, 2014
Following the announcement, Giants manager Bruce Bochy said Cain would still throw a simulated game on Saturday and free-agent signee Tim Hudson will stay on schedule to make his Giants spring debut on Sunday against the Arizona Dimaondbacks.
Cain will throw 35 pitches off an indoor mound. Hudson will stay on schedule to pitch tomorrow, Bochy said.

— Andrew Baggarly (@CSNBaggs) March 1, 2014
Since it's just an exhibition game, this one won't be rescheduled for the future, but let's hope the fans get a rain check.
Feb. 28: Giants Beat Brewers, 4-3, for First Cactus League Win
The San Francisco Giants went split squad on Friday for the first time of 2014 spring training. Undoubtedly, the team was much happier with the result in the 4-3 win over the Milwuakee Brewers.
The contest featured the spring debuts of Madison Bumgarner and Ryan Vogelsong, who each turned in two scoreless innings. The same went for Brewers starter Yovani Gallardo, but the Giants were able to break through against young righty Tyler Thornburg with two runs in the third inning.
Longtime minor leaguer Mark Minicozzi, 31, has little to no shot of breaking camp with the big-league club, but he did deliver quite the highlight during the third inning with this solo home run.
"I didn't think I got it, but I'll take it," Mincozzi said via Chris Haft of MLB.com.
As Alex Pavlovic of the Bay Area News Group noted, it was remarkably similar to something Minicozzi accomplished last year.
Minicozzi just homered to right. Hit a homer in first swing at-bat last season, too. Unreal.

— Alex Pavlovic (@AlexPavlovic) February 28, 2014
While Bumgarner is expected to be a leading force in this rotation along with Matt Cain, Vogelsong is trying to prove he can revert back to his form of 2011-12 after a disappointing campaign in 2013. It's a small sample size, but Friday's outing was a good start for Vogelsong, who allowed a harmless single and also struck out a batter.
The Giants added on two more runs in the seventh and it was a good thing, because right-handed reliever George Kontos looked shaky in the ninth. He gave up two runs on four hits, including an RBI triple to Hector Gomez, but was able to let the Giants escape with a one-run victory.
Feb. 28: A's Rally For 7-6 Comeback Win vs. Giants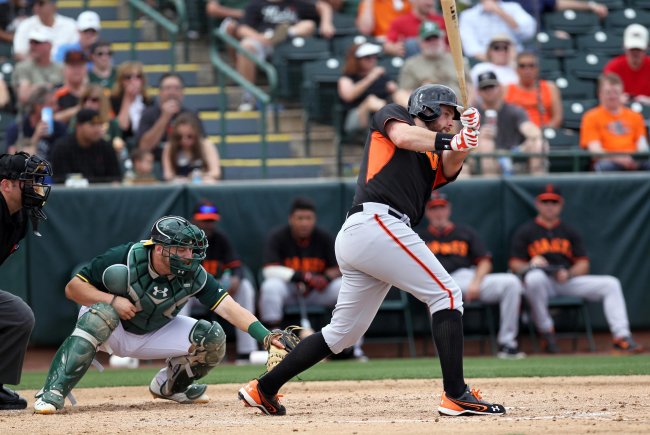 Lance Iversen-USA TODAY Sports
It's a good thing that spring training games don't matter because Friday's split-squad, 7-6 loss to the Oakland Athletics would have hurt bad.
Despite building a 6-0 lead through two innings against their rivals from the Bay Area, the Giants collapsed down the stretch against a full-squad A's team. Oakland only sent three men to the plate against young righty Heath Hembree in the ninth inning, but it was an ugly one for the Giants.
Andrew Baggarly of CSN Bay Area shared how outfielder Jake Goebbert made it around the basepaths to score the game's winning run.
The A's beat Heath Hembree on a leadoff walk, a balk, an error on the pitcher and a wild pitch. Yes, this qualifies as a day to forget.

— Andrew Baggarly (@CSNBaggs) February 28, 2014
Hembree, 25, is vying for a spot at the back end of the bullpen for San Francisco, but this early show of nerves isn't the best start to his spring training.
Meanwhile, 21-year-old starter Edwin Escobar looked impressive in his two shutout innings, as he needed just eight pitches to record six outs. Other than his three-pitch strikeout of Josh Donaldson, the five other A's batters he faced were retired on the first pitch.
Only halfway through split-squad day, but it's already a success: 6 scoreless innings for Bumgarner, Vogelsong, Escobar.

— Alex Pavlovic (@AlexPavlovic) February 28, 2014
In an encouraging offensive display, the Giants were able to rough up top A's righty Jarrod Parker for six earned runs on five hits and a walk while he recorded just four outs. Backup catcher Hector Sanchez started up the scoring with a two-run double in the first inning before the Giants received an RBI single from Gary Brown, RBI triple from Brandon Crawford and RBI double from Brandon Belt in the next frame.
But the A's slowly chipped away from there, pulling even to 6-6 on a pinch-hit, two-run homer from catcher Derek Norris off of minor-league righty Mason Tobin in the eighth inning. That all set the stage for Hembree's meltdown in the ninth, as the Giants are currently 1-2 following the first three games of 2014 spring training.
Feb. 26: Athletics Beat Giants, 10-5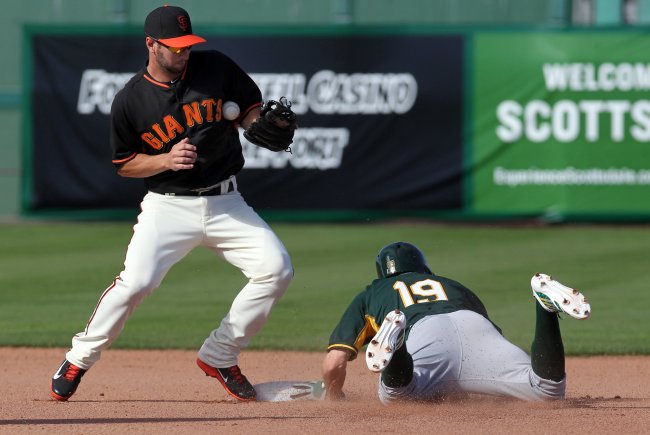 Lance Iversen-USA TODAY Sports
If you want to blame anyone for San Francisco's rocky start to spring training, Josh Reddick is your guy. The Athletics outfielder made two jaw-dropping catches to rob Morse of home runs, and Oakland's offense pummeled the Giants' pitching staff en route to a 10-5 victory on Wednesday.
Oakland wasted no time getting to starter Yusmeiro Petit, knocking him for four runs (three earned) and five hits in his only inning of work. Petit has made only eight big league appearances over the past two seasons, and his rust certainly showed. His pitch location was all over the place, as the A's peppered the field with a series of solid hits.
Reddick, Alberto Callaspo and John Jaso each knocked in a run in the first, and an error by second baseman Tony Abreu accounted for the fourth.
Although the game proved to be little more than a pummeling, Reddick's heroics prevented it from being closer than it could have been. With the Giants trying to mount a comeback, Reddick scaled the right-field wall and brought back what could have been a solo shot in the second. Two innings later, Reddick did it again—this time with two runners on base.
"We were getting challenged right away," Reddick told reporters after the game. "That first one got my heart pumping a little bit."
Of course, Reddick's second catch came after another offensive explosion by the Athletics. Oakland tagged Sergio Romo for six more runs in the fourth, with Brandon Moss and Stephen Vogt each knocking through two apiece. At that point, the rest of the game was essentially about getting through without incident and getting to tomorrow.
Pablo Sandoval drove in a run in the bottom of the fourth, and the Giants got a rally going in the bottom of the ninth to bring the game toward respectability. Adam Duvall and Ehire Adrianza went deep for their first home runs of the spring.
Pre-Spring Training Prediction for 2014 Season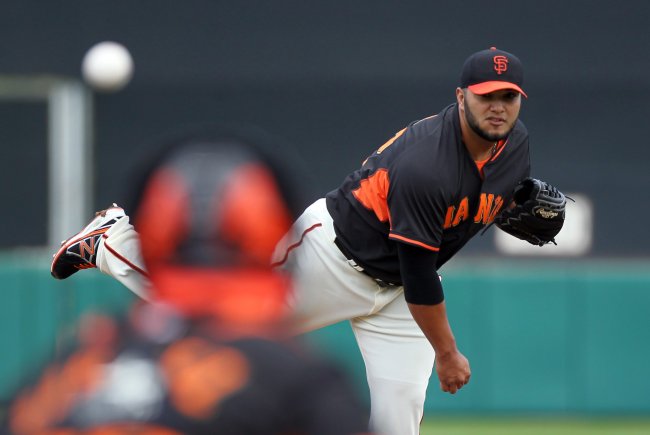 Lance Iversen-USA TODAY Sports
Totally, completely outlandish prediction: The Giants will have more than 76 wins this season. Really going out on a limb there, I know. But there are inherent problems with making predictions during spring training—especially right at the beginning.
Injuries are bound to crop up. There probably won't be a team in baseball without one or two key guys nicked up going into the season, and more serious injuries will obviously affect pennant races. Folks tend to tune out early-season struggles, but all 162 games count equally.
How will Giants fare in 2014?
Nevertheless, looking at the scope of the NL West, the Giants are going to be competing for a wild-card berth. Barring a catastrophic season in Los Angeles, the Dodgers have spent their way into the best collection of talent in the National League—and arguably in baseball. Everyone should get fired if the Dodgers won't take home their second straight division.
That makes San Francisco's chief competition mostly teams outside its division, and the Diamondbacks are lurking as a potential spoiler. Arizona general manager Kevin Towers spent his offseason tossing high-profile prospects out the window like the wrapper of an unwanted Fritos bag. In exchange, he got some veterans who could help the 81-win team from last season get over the hump.
Realistically, the Giants need to focus on the NL East and Central. One is hard-pressed finding a playoff predictions system that does not feature both the Braves and Nationals. The NL East foes are two of the half-dozen most well-rounded teams in baseball. Washington imploded amid injuries and disappointing performances last season, but there's an infectious energy in the nation's capital about this team.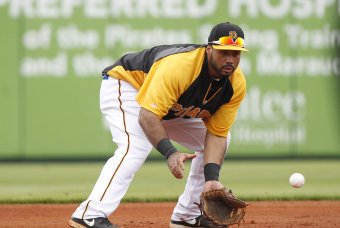 Kim Klement-USA TODAY Sports
And things don't get much more promising looking at the Central, either. The Pirates, Cardinals and Reds each made the playoffs last season and have the firepower to do it again. Pittsburgh is the obvious weak link, having lost A.J. Burnett and unlikely to get every break to go its way again in 2013. Cincinnati's offense will also struggle to replicate Shin-Soo Choo's production. St. Louis, even after losing Carlos Beltran, is just...St. Louis.
One of those three can and probably will fall off. Two of them? I'm just not seeing it. Look for the Giants to rebound in most every category from last season and compete down to the last couple of weeks for a playoff spot before falling short.
2014 Record Prediction: 87-75 (2nd in NL West, 3rd NL Wild Card)
Follow Tyler Conway on Twitter: