The poor Cleveland Browns fans didn't need any more signs of dysfunction from their favorite NFL team, but they got one. Let us savor a little lead in to the news before we get to the latest sign of incompetence.
The Browns are often mocked to be selecting a quarterback with the fourth pick in the upcoming NFL draft. In lots of cases, this has the Browns taking Texas A&M signal-caller Johnny Manziel.
This is for good reason. The first is that the Browns need a quarterback. The second is that there were ample reports that the Browns liked Manziel. Of course, those reports came back when the Browns were run by CEO Joe Banner and general manager Michael Lombardi. Those two were shown the door in a grand moment of dysfunction.
What should the Browns do?
Now that Banner is gone and Lombardi is sharing top-secret Browns stuff with the New England Patriots or is simply using the rest of his Browns paper, the franchise may not be as sold on Manziel.
In fact, the Browns may have never been all that sold on Manziel at all.
That is what NFL Media's Daniel Jeremiah would have us believe. Jeremiah was on The Dan Patrick Show and NFL.com's Marc Sessler put some of his comments in print. They were worth it.
"The one thing about the combine is, you get there, you're around all your contacts, a lot of different NFL people," Sessler quoted Jeremiah as saying. "And it had been so out there that the Browns loved Manziel under the previous regime, and I talked to enough people that firmly believe that that was a total smokescreen."
I have no idea if this is true, but it is both believable and understandable.
The NFL draft is like a big poker game. Teams are going to bluff and do everything else to try and get the upper hand.
Now, for the sign of dysfunction. Jeremiah added:
Their guy is (Fresno State quarterback) Derek Carr and they're going to take a different player with the fourth pick and they want to take Derek Carr with their second one (at No. 26)...I heard that from several different places.
Again, I have no idea if this is true, but it gains validity by the fact that the credible Jeremiah reports hearing it from "several different places." Browns fans should be hoping something got lost in translation here.
I read this, and I'm left thinking, "I bet the Browns prefer Jadeveon Clowney at No. 26 over Johnny Manziel at No. 4. I bet they also prefer Manziel at No. 26 over Manziel at No. 4."
Lots of teams would like Carr at No. 26, and that is exactly why the Fresno State product will be long gone by the time the Browns make their second selection.
There are far too many teams in this draft desperate for quarterback help for Carr to last that long.
Of the teams with the first five selections in this draft, only the St. Louis Rams aren't in obvious need of an upgrade at the most important position on the field.
As Vic Tafur, who covers the Oakland Raiders for the San Francisco Chronicle, notes, the top five is too early for Carr:
"@ItsRangel_: chances raiders draft Derek Carr?" >> 19 percent. I could see trading down to get him. 5 too high

— Vic Tafur (@VicTafur) February 12, 2014
What that does mean, however, is that the three men usually valued more than Carr at the position, Blake Bortles, Johnny Manziel and Teddy Bridgewater, will likely be gone in the top five.
Also for the sake of this argument, Tafur didn't mention the Raiders picking up Carr in the second round because he knows he'll be gone long before that.
Beyond the top-five selections, the Tampa Bay Buccaneers, picking at No. 7 overall, have said they are not sold on quarterback Mike Glennon as their future QB. The Minnesota Vikings sit at No. 8 and need a quarterback. The Tennessee Titans sit at No. 11 and may be interested in a quarterback to give them some flexibility should the injury-prone, still-developing Jack Locker, whose contract expires after the 2014 season, not turn out to be a franchise savior.

Then there are teams like the Dallas Cowboys at No. 16 and the Arizona Cardinals at No. 20 who both have aging, turnover-prone quarterbacks. Or how about the Cincinnati Bengals at No. 24. The franchise is giving quarterback Andy Dalton its support, but I don't think anyone would be floored if they looked for a signal-caller who can dive to the turf without fumbling.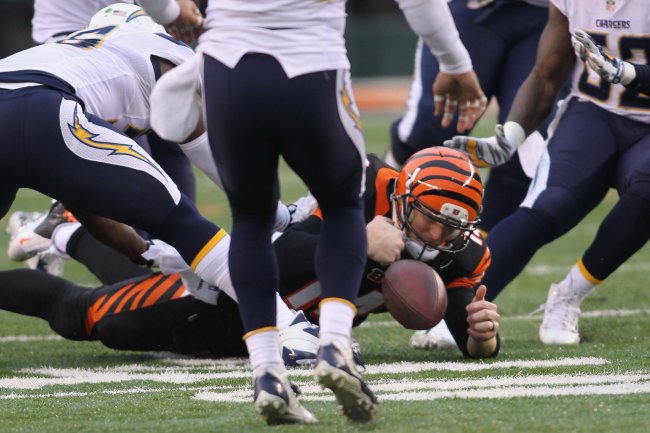 John Grieshop/Getty Images
Obviously, none of this means all of these teams are going to draft quarterbacks. It just means that the Browns are fools to base any plans on the notion that a quarterback who appears to be universally placed among the top-four quarterbacks in this class will be there at the 26th selection.
Sure, there are discrepancies in the evaluation of his potential in the NFL. For example, ESPN's Todd McShay doesn't get all the hype:
Most surprising part of '14 draft process so far is all the Derek Carr love. Good arm but not accurate downfield and/or under pressure.

— Todd McShay (@McShay13) February 17, 2014
Then there are those like ESPN's Adam Caplan who view Carr as the best quarterback in the class:
Adam Caplan (@caplannfl): #NFL QB Prospect Derek Carr is "best quarterback in this draft." #NFLCombine

— SiriusXM Fantasy (@SiriusXMFantasy) February 22, 2014
As there is a big discrepancy among media analysts when it comes to evaluating Carr, that discrepancy will exist among NFL teams.
It is only going to take one of the many quarterback-needy teams I mentioned above to believe in Carr to have him be off the board by the time the Browns make their second selection.
If the Browns want to pass on Manziel at No. 4, I will not begrudge them that. If they do so based on the assumption that they can draft Carr at No. 26, however, they are fools.