Jose Mourinho's warpath continued as the Chelsea manager played down the success of Roberto Mancini and Rafa Benitez during the build-up to his club's Champions League showdown with Galatasaray.
The Portuguese boss—who has hogged this week's headlines after his private mockery of Chelsea's strikers was aired to the world, per Martin Lipton of the Mirror—belittled the success of Benitez, who helped the Blues to Europa League victory last season.
ESPN provides the quotes:
So I don't consider last year as a successful year because our competition is the Champions League. Last year was our worst year because it's the only time Chelsea have been knocked out in the group phase.

We have already done better this season by qualifying through the group phase but what we did is normal - it's nothing special, nothing outstanding.
Calling qualification into the Champions League knockout stages "better" than capturing the Europa League trophy stretches away from the truth, but Mourinho's dig comes after Benitez inherited the Chelsea squad from Roberto Di Matteo halfway through last season.
The Portuguese boss implies this lessens Benitez's achievement. He endured a frayed relationship with the former Liverpool manager during his first Chelsea reign, and after Benitez replaced Mourinho at Inter Milan, claimed the Serie A side's 2010 World Club Cup title success as his own, per the Daily Mail:
"I thought he was going to thank me for the title I gave to him," said Mourinho at the time. Diego Milito, one of Inter's most important players during this era, also said, "it is thanks to Mourinho that we were able to arrive at this point," once Benitez ushered the team to victory.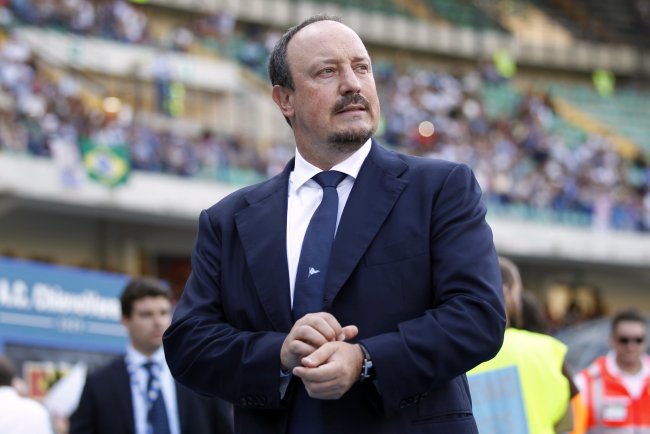 Felice Calabro'/Associated Press
Funnily enough, the current Chelsea boss denied reverse claims from Mancini, who believes Mourinho's 2010 Champions League win was down to the squad he built across his four-year San Siro residency.
"Mourinho won the Champions League because he took a good team," said Mancini, reported by ESPN. Not wanting to be outdone, Mourinho replied with his typically cutting edge:
It's funny because my [Inter] team in the final had Lucio, Thiago Motta, Diego Milito, Samuel Eto'o, Goran Pandev and Wesley Sneijder. From 11 players, he didn't work with six of them. So he made a five-a-side team because I played with only five players from his team.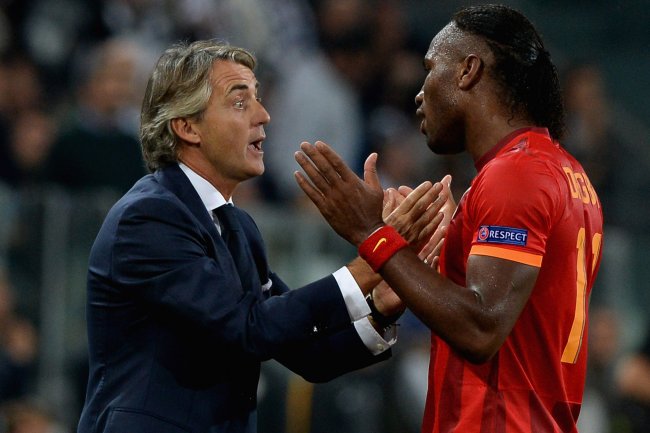 Claudio Villa/Getty Images
Mourinho and Mancini go head-to-head for a place in the Champions League quarterfinals on Wednesday, a first-leg fixture that sees Didier Drogba face his former team for the first time.
Should the Chelsea legend score an important winner for Galatasaray, it wouldn't be beyond Mourinho's combative nature to somehow find a way in which he can take credit.