Kent State's Dri Archer Nearly Breaks Chris Johnson's 40-Yard Dash Record
Use your ← → (arrow) keys to browse more stories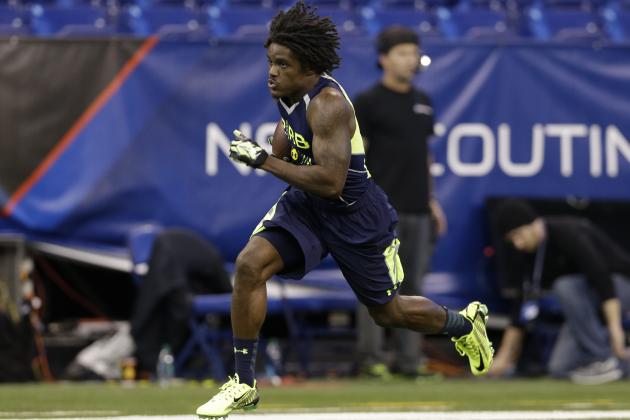 Nam Y. Huh/Associated Press

Former Kent State running back Dri Archer ran the 40-yard dash in 4.26 seconds at the NFL Scouting Combine on Sunday, finishing just .02 seconds short of the combine record (4.24) set by Tennessee Titans running back Chris Johnson in 2008.
Players have been manually clocked with times faster than Johnson's 4.24, but the NFL didn't officially record 40-yard dash results until 1999, and times from before that year are often considered unreliable. Former Oakland Raiders running back Bo Jackson notably turned in an unofficial time of 4.12 seconds in 1986, but with the pre-1999 results considered questionable, Johnson's 4.24 is the record that every speedster shoots for.
A quick look at Johnson's twitter timeline makes it clear the the Titans running back takes a great deal of pride in his record. Prior to the combine, Archer announced his intention to best Johnson's record, and CJ2K even admitted that Archer had him nervous.
While the Kent State product fell short of Johnson's mark, he somehow finished the 40-yard dash in just 18 steps, matching a record set by Detroit Lions wide receiver Calvin Johnson in 2007. The Lions' Johnson is a towering presence at 6'5", while Archer measured in at a mere 5'8" over the weekend. The record for fewest steps comes with zero prestige, but it was still an incredible feat for a vertically challenged player to accomplish.
Archer's breathtaking speed should ensure him of a spot in May's NFL draft, but the 173-pounder probably isn't big enough to be used as anything more than a change-of-pace back. He does have experience as a kickoff return man, and his hands are good enough that a move to slot receiver is conceivable.
Chris Johnson aside, the top performers in the 40-yard dash generally haven't found much success in the NFL.