As the 2014 NHL trade deadline approaches—it is scheduled for Wednesday, March 5—the rumors surrounding possible deals has once again picked up now that the Olympic roster freeze has been lifted.
With top names like Buffalo Sabres goaltender Ryan Miller and Tampa Bay Lightning winger Martin St. Louis reportedly on the trade block, where the biggest stars land at the deadline is a main focus for hockey fans and league executives.
Here are the latest rumors circulating throughout the NHL.
Ryan Miller Trade Inevitable?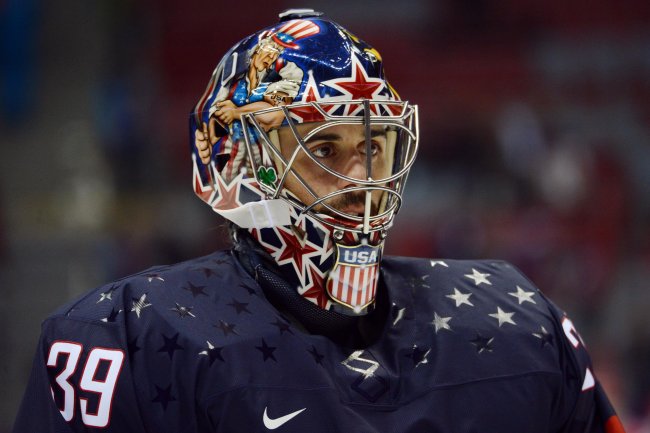 Jayne Kamin-Oncea-USA TODAY Sports
After primarily filling the role as backup goalie for Team USA in the Winter Olympics, Buffalo Sabres star Ryan Miller has been launched back into the center of trade talks as the impending unrestricted free agent awaits his fate.
The most recent report of the Sabres' desire to deal Miller comes from the Associated Press via Sportsnet:
A person familiar with discussions told The Associated Press that general manager Tim Murray continues to pursue offers for Miller with the intention of trading him by next week. "Tim is testing the waters as hard as he can," the person said, speaking on the condition of anonymity because Murray declined to speak to reporters Monday. The person said the team's first option is trading Miller, who is in the final year of his contract and eligible to become an unrestricted free agent. Option No. 2, the person added, would be making a bid to re-sign Miller if a trade can't be completed.
While Miller may be viewed as a rental player by some general managers, the possibility that he could re-sign with his new team is a serious option. As one of the best goaltenders in the league, despite a horrible team in front of him, acquiring Miller would be a long-term solution for a contender.
The lack of elite defensive play in front of him in Buffalo has caused a high 2.74 goals against average (much higher than his career average of 2.60), but Miller is still boasting an impressive .923 save percentage.
Whether it's a team like the Minnesota Wild, Washington Capitals or another dark horse that makes a deal in the 11th hour, Miller will be dealt before the trade deadline.
Martin St. Louis Wants Out of Tampa Bay?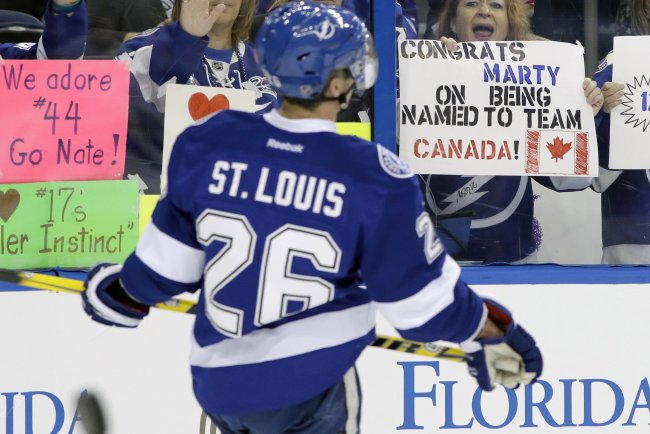 Chris O'Meara/Associated Press
Tampa Bay Lightning winger Martin St. Louis has been one of the most consistent forwards in the NHL over the last decade, but his time with the franchise may be coming to an end after he reportedly asked for a trade.
According to Nick Kypreos of Sportsnet, the move is something that was discussed before the break and could be a factor as the deadline approaches:
It's believed St.Louis did ask #Lightning 4 trade when left off Canada. I'm told some #NHL clubs not sure if he still feels the same way now

— Nick Kypreos (@RealKyper) February 24, 2014
St.Louis does have a full no move expiring 2014-15. As reported by @NYP_Brooksie Yzerman not interested in renting a top player without term

— Nick Kypreos (@RealKyper) February 24, 2014
As one of the best offensive players in the game, St. Louis scored 60 points in 48 games during the lockout shortened 2012-13 season and has racked up 56 points in 58 games this year already, despite the losses of Vincent Lecavalier to free agency and Steven Stamkos to injury.
Not only is St. Louis one of the best offensive wingers in the league, he is also a fierce forechecker that can be a force at even strength or on the penalty kill.
Add in his ability to get in scoring positions around the net on the power play, and St. Louis has the ability to take a team on the cusp of contending for a playoff spot and make them a serious threat to win it all.
Thomas Vanek On the Move Again?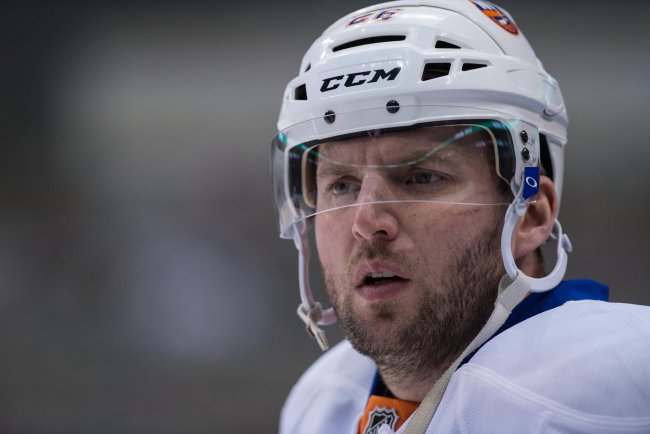 Jerome Miron-USA TODAY Sports
New York Islanders forward Thomas Vanek is one of the best goal scorers in the league, but he has been bounced around during the 2013-14 season. After being traded from the Buffalo Sabres in October, Vanek is likely going to be dealt once again before the deadline.
According to a report from Brett Cyrgalis of the New York Post, Vanek's time on Long Island is likely almost over:
It's inevitable that by the March 5 trade deadline, general manager Garth Snow will trade Vanek, now even more so in the wake of star center John Tavares' injury, sustained while playing for Team Canada en route to its gold medal.
Vanek was traded for forward Matt Moulson, a 2014 first-round pick and a 2015 second-round pick, and the Islanders were hoping to lock Vanek up in a long-term deal. The team offered Vanek $50 million over seven years, but he rejected the deal and will test free agency.
New York will not get the return it paid for Vanek initially, but the team must deal him before the deadline to get anything in return. If the veteran isn't dealt, he will walk as a free agent on July 1.
*All stats via NHL.com. Salary info via Capgeek.com.