Who Would Fight on Your MMA Dream Card?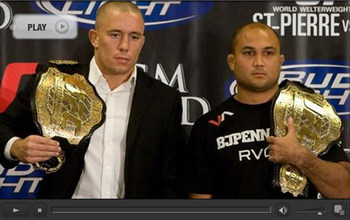 Mixed Martial Arts is continuously evolving and changing, and for this reason it is arguably the most exciting sport in the world. Much like the sport, my taste for which fights I most want to see varies from month to month. I regularly compose my dream card based upon which fighters seem sexy to me at the moment. When reviewing the card please operate under the following assumptions:
1—There are no promotional barriers, pretend the UFC, DREAM, Affliction could not stand in the way from making these fights happen.
2—The card includes the fights that I want to see the most and not necessarily the best or most relevant fighters.
3—My fights are designed to test the fighters in a way that they have not yet been tested against opponents they have not yet faced.
4—Rules were not defined because the card isn't going to happen anyways.
5—The card is only allowed eight fights. I could probably put 50 fights together I would like to see but for the purposes of this article we are limited to eight.
6—Most importantly they are intended to produce the most exciting fights imaginable as of June 2009.
Kenny Florian(11-3) vs. Eddie Alvarez(17-2), 155lb. limit
These two guys are extremely tough and continue to improve. Many times fighters can be equally skilled in their disciplines and the will to win is the deciding factor. This fight excites me because I honestly don't know who would impose their will the most.
Wanderlei Silva(32-9-1) vs. Yoshihiro Akiyama(12-1), 185lb. limit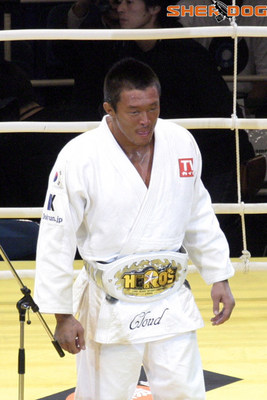 First off let me say that Akiyama can wear his gi if he so chooses. Second, I'm quite sure Wanderlei wouldn't even care. Wanderlei has shown his intention to move down to the middleweight division so the size factor shouldn't matter. Akiyama is a resilient, intelligent fighter whose genius shines through when he is pressed(see Akiyama vs. Manhoef). This match would create a lot of hype among the Japanese fights and could end up being the most entertaining fight on my card.
Mauricio "Shogun" Rua(18-3) vs. Gegard Mousasi(25-2-1), 205lb. limit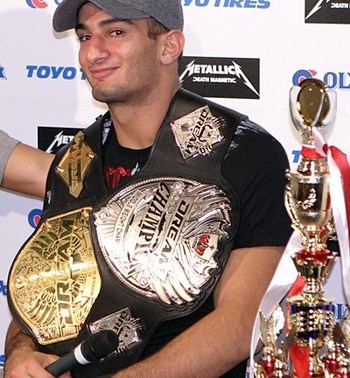 Mousasi has repeatedly said he no longer wants to fight at middleweight and cut weight(evidence by his vacancy of the Dream Title), therefore the weight shouldn't be an issue. In my eyes this battle is eye catching for the same reason as the Florian/Alvarez fight. Both fighters are skilled in many different areas but their will to win is their biggest asset. I see each of these fighters bringing out the best in one another in an epic scrap.
Quinton "Rampage" Jackson(30-7) vs. Mirko "Cro Cop" Filipovic(24-6-2), Open weight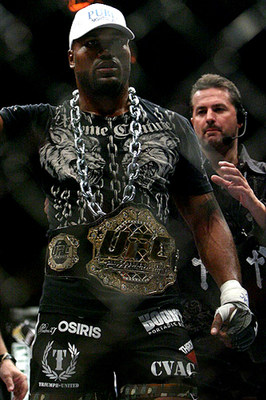 I doubt there is much of a difference in size for these two guys. I'm sure Cro Cop could make the Light Heavyweight cut if he wanted, but he chooses not to do so. These two guys are strikers first so you know you will see stand up action, but Rampage's take down attempts on Cro Cop's defense and adds another dynamic to the fight. I want to see Rampage's stalking strategy versus Cro Cop's counter striking. I cannot imagine how this would be a boring fight.
Josh Barnett(24-5) vs. Frank Mir(12-3), 265 lb. limit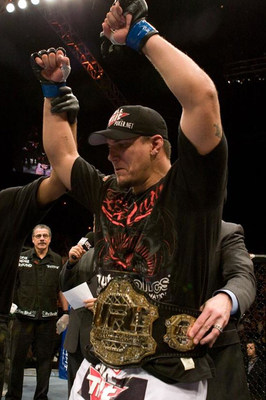 Frank Mir impressed me so much with his win over Antonio Nogueira that I want to see him on my dream card. There were plenty of opponents that were available but Josh Barnett intrigued me the most. Barnett is very well rounded and a tough, intelligent, aggressive fighter. Mir has improved his striking a great deal and has a world class ground game. These two heavyweights should put on a great show and the winner would elevate his name with a win over a top notch opponent.
Georges St. Pierre(18-2) vs. Melvin Manhoef(23-5-1), 185 lb. limit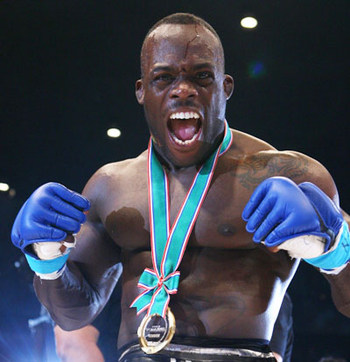 St. Pierre has fought many different styles of fighters, but I believe Manhoef would pose a style that would be quite challenging for GSP. First GSP is used to being physically stronger than his welter weight opponents, with Manhoef they might be equal but GSP would not be stronger. Additionally, GSP's striking is extremely dynamic, whereas Manhoef's is pretty straight forward. They could stand and bang for a while, or GSP could go for the take down. Either way, I envision fireworks and a tough opponent that would bring out the best in GSP.
Shinya Aoki(20-4) vs. B.J. Penn(13-5-1), 155 lb. limit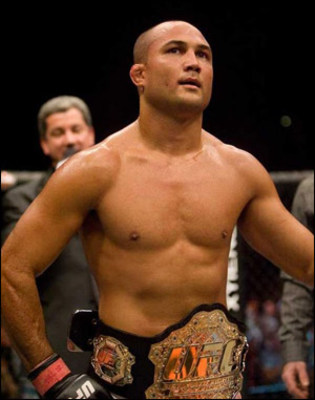 This fight would be a jiu jitsu chess match for the ages. I can imagine it would be like two anacondas tied up with one another. Penn would have the advantage in the striking, but I would have my fingers crossed that this one hit the ground. Several arms or legs could be lost because I don't see either guy tapping.
Main Event: Fedor Emelianenko(30-1) vs. Anderson Silva(24-4), Open weight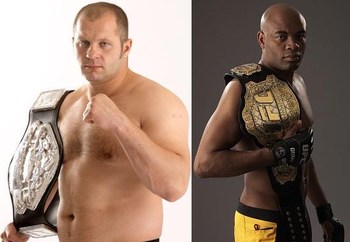 Quite simply, these two men are both at the top of the mountain and is the biggest fight I can imagine at this time. There will be people who will say that there is too much of a size difference for this to be a legitimate match up. I'm not buying it. Fedor is a very pudgy, undersized heavyweight, that I believe could make 205 if he so desired. We have seen Anderson move up to 205 and didn't sacrifice any of his skills in doing so. Just tell both fighters to show up at whatever weight they would like. Throw Big John McCarthy in the middle for his patented, "Let's get it on," and the fans will get to see the two best men on the planet doing what they do best.
Feedback, Criticisms, and Compliments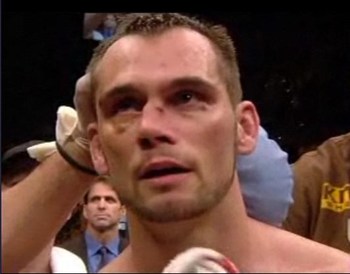 There you have it folks, my fantasy night of fights. Please respond with your dream cards as well, I would love to hear your thoughts.
Keep Reading