The man who won the Champions League for Chelsea two seasons ago now stands between them and a berth in the quarterfinals.
When Chelsea travel to Istanbul to face Galatasaray in the round of 16, all eyes will be on Didier Drogba, now scoring goals for the Turkish giants. Two years ago, it was Drogba that not only scored the goal that sent the Champions League final against Bayern Munich into extra time, but also Drogba who won the game in the penalty shootout.
Now, he faces his former club and the current Premier League leaders. Will Drogba be able to lead Galatasaray to an early advantage in this tie? Or will the Blues travel to Turkey and steal a win?
When: Wednesday at 2:45 p.m. ET
Wednesday at 7:45 p.m. ET
Where: Turk Telekom Arena, Istanbul, Turkey
Watch: Fox Sports 1; Fox Soccer 2Go; Sky Sports 1
Key Storylines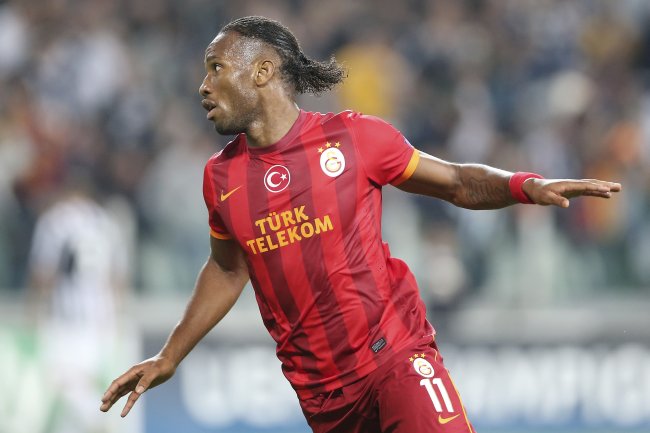 Antonio Calanni/Associated Press
You have to imagine that a reunion with some of his former teammates will be emotional for Drogba. After all, he is one of the finest players to ever don the Chelsea blue. He talked about what the experience might be like with Ben Smith of the BBC:
'It will be difficult,' he says. 'You don't stay eight years in a place you don't like, especially in football—it is very emotional. I love Chelsea but I play for Galatasaray now and I will give everything for them.'

Drogba retains the same passion, almost two years after scoring the most significant goal in Chelsea's history to secure a first Champions League trophy.

He fiddles with his black cloth flat cap as he recalls a gallery of memories from his time at Stamford Bridge. Of 157 goals in 342 games, three Premier League titles, four FA Cups, two League Cups and that winning penalty against Bayern Munich—his last kick in a Chelsea shirt—in the Champions League final.

'When you're happy at a club, you want to stay forever,' said Drogba who joined Chelsea from Marseille for £24m in July 2004. 'But sometimes you can't do everything you want to do. I am proud of what I achieved.'
Of course, for all of the magic Drogba has possessed over the years, Chelsea are the clear favorites to advance. Galatasaray are no pushovers, of course, led by Drogba and Dutch midfield wizard Wesley Sneijder.
For sure, their homefield advantage in Istanbul is not to be underestimated. Consider the following, from David Hirshey of ESPN:
Instead of friendly calls from Lee Probert, Chelsea will be greeted by flares, firecrackers, spitting fans and riot police. And that's just at their hotel.

'We know from our game there in 1999 what to expect,' said Mike Neat, president of the New York Blues, who along with three of his fellow intrepid Chelsea fanatics was leaving for Istanbul after the Everton match. 'It will be a hostile atmosphere but Chelsea is providing a bus to take us right to the gate and we have enough common sense not to wear our kits. I mean, you wouldn't wear red to Stamford Bridge unless you wanted to get your a-- kicked.'
But the Blues come into this game having emerged as the top team in the Premier League, at least at the moment. While they are far better at home than on the road, they've traveled well in the biggest matches, drawing with Arsenal, Manchester United and Tottenham and beating teams like Manchester City and Schalke away from home.
It's against the Premier League's less talented sides that Chelsea has seemed to struggle with away from home. Go figure.
But the Turkish hosts will challenge the Blues. They have dangerous forwards in Drogba and Burak Yilmaz. They have crafty midfielders in Sneijder and Felipe Melo. They have a manager in Roberto Mancini who is plenty familiar with most of Chelsea's roster, having faced them when he managed Man City.
Chelsea counters with players like Eden Hazard and Oscar, among others, but this is a very difficult task for the Blues. Expect a real cracker of a contest.
Prediction
You'd imagine Chelsea would approach this game as they do any road contest against a tough opponent—they'll focus on maintaining their shape, look to take the air out of the stadium by playing a boring but defensively sound brand of football and look to strike on the counter when given the opportunity.
But remember, this is a Galatasaray side that beat Real Madrid at home in the Champions League last year and Juventus in Istanbul this year. They'll know that heading to Stamford Bridge without an advantage will be nearly impossible to overcome, as the Blues have yet to lose there in Premier League play this season.
The Turkish giants will get their win, but Chelsea will earn a vital away goal. Galatasaray win, 2-1.