College Football's 2009 Preseason All-American Team: Offense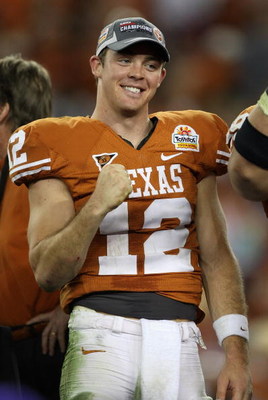 With a new season come new expectations.
The 2009 NFL Draft saw the departure of much offensive talent and production. Someone has to fill each pair of cleats.
Here is a look at my 2009 Preseason Offensive All-American Team.
The selections were based on equal parts career production and consideration of potential and upside.
All comments and criticism are welcome.
QB—Colt McCoy, Texas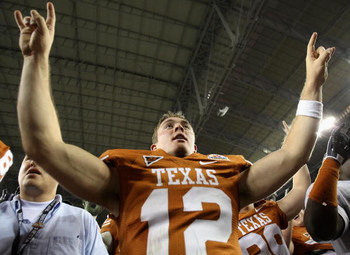 A year removed from finishing second to Sam Bradford, Colt McCoy should take home the Heisman in guiding his team to the Big-12 title.
As for lost weapons, McCoy said his goodbyes to WR Quan Cosby and RB Chris Ogbonnaya.
McCoy is still surrounded by disgusting talent in receivers Jordan Shipley, John Chiles and Malcolm Williams, and backs Vondrell McGee and Cody Johnson.
The Longhorns' front line returns four starters, so McCoy will feel more than comfortable in the pocket.
Texas' schedule is anything but difficult. The non-conference portion includes Louisiana-Monroe, Wyoming, UTEP and Central Florida.
As for Big 12 matches, the two games that appear to be the Longhorns' most difficult are against Oklahoma in Dallas and at Oklahoma State.
Texas' advantage in easy competition should push them into the conference title match and quite possibly the BCS National Championship, giving McCoy all the more reason to be alone at the top of quarterback mountain.
RB—Jahvid Best, California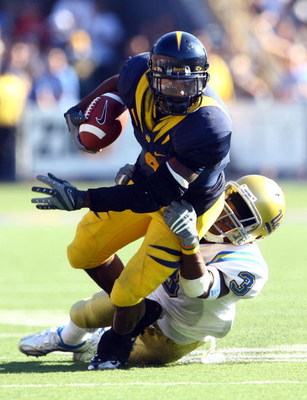 Jahvid Best tore up Pac-10 defenses last season as a sophomore.
Best ran for 1,580 yards on only 194 carries, good for an average of 8.1 yards per attempt.
15 of those carries were for rushing touchdowns. He added one receiving touchdown on 27 receptions.
California's schedule doesn't look too intimidating. Their toughest games are at home against USC and Arizona, with the lone difficult road game in Los Angeles versus UCLA.
Best has been knocked for being undersized.
This stereotype has not been translating well to the field as of late.
Some of the bigger RB names in college football are small: Noel Devine at WVU and Jacquizz Rodgers of Oregon State who was the 2008 Pac-10 Offensive Player of the Year.
RB—Kendall Hunter, Oklahoma State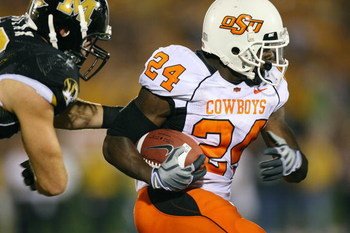 Hunter became the first All-American running back at Oklahoma State since 1990.
He did so by rushing for 1,555 yards on 241 carries, with 16 touchdowns.
OSU returns three starting offensive linemen. Anthony Morgan, a top five junior college transfer will fill in at right guard.
If the Robinson-to-Bryant connection stays strong, and the offensive line molds into something similar to last year, Hunter's experience and talent should pave his way to another All-American award.
WR—Dez Bryant, Oklahoma State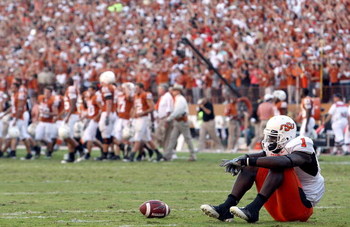 Dez Bryant was one of the most successful receivers last season.
With 87 receptions, 19 of which were for scores, Bryant had 1,480 receiving yards and an average of 17.0 yards per catch.
Bryant has brilliant speed and quickness, with outstanding hands. The ball should be in his hands nearly every other play.
I see no reason for any halt to Oklahoma State's offensive production, with Bryant leading the way.
WR —AJ Green, Georgia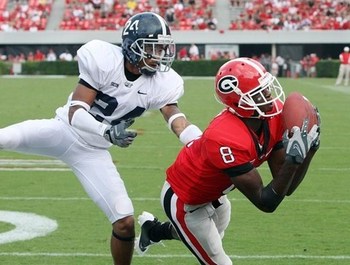 As a true freshman last season Green started against the best defenses in the nation. Every week. And he performed.
He was first team All-SEC, grabbing eight touchdowns on 56 receptions and 963 yards of receiving.
Although Matt Stafford has since departed, Joe Cox has shown much moxie and leadership in the preseason. Cox was 31-0 during his days at quarterback in high school, and enters his senior season after playing behind No. 1 draft pick Matt Stafford.
Green can only have gained more confidence, strength and knowledge of Georgia's playbook.
With the departure of Knowshon Moreno, the team will need to field offensive production, and Mark Richt will most likely look to his all-league receiver.
WR—Dezmon Briscoe, Kansas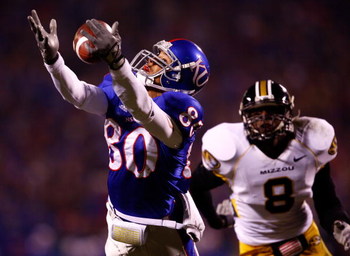 Dezmon Briscoe is not as well known as he should be.
Only a sophomore, and in the most pass-happy conference probably ever, Briscoe quietly placed himself on the All-Big 12 Second Team.
He caught 92 passes for 1,407 yards, 15 for scores.
Briscoe is a big, physical receiver (6'3" 200), who does not have great speed.
Although KU has to replace three starting offensive linemen, if Briscoe can once again catch over 90 balls, he could push himself to All-American status.
In 2007, Jordy Nelson proved you didn't have to play for a top 25 team to be an All-American wide receiver, especially in the Big 12.
TE—Jermaine Gresham, Oklahoma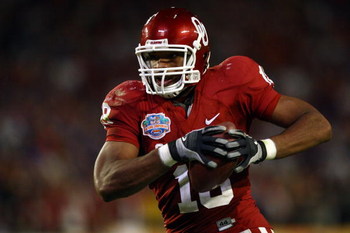 An absolute freak, Jermaine Gresham scares opponents.
He stands at 6'6" and weighs 261 pounds.
Gresham was All-Big 12 last season, nabbing 66 passes for 950 yards from Sam Bradford, 14 for scores.
With Oklahoma replacing nearly their entire offensive line, it will be a challenge for Oklahoma to produce.
But who better to have at the helm than the reigning Heisman Trophy winner.
Gresham is the returning receiving leader for the Sooners and looks to get as much production as last year, if not more.
He will most certainly be a first round pick in next years NFL draft, but not before he takes home All-American honors.
C—Kristofer O'Dowd, Southern California
Kristofer O'Dowd is widely regarded as the best offensive lineman in college football.
This season, USC has the best offensive line it has fielded during the Pete Carroll era, and they're lead by O'Dowd.
In 2007, O'Dowd became the first true freshman to start at center for the Southern California Trojans, as he started three games and played in seven.
In 2008, O'Dowd was All-Pac 10 last year as a sophomore, starting every game.
We all know USC has one of the greater programs in the nation. O'Dowd knows he will have success if he puts in the right effort.
Only a junior, O'Dowd has a lot of upside and quite the potential to be All-American this upcoming season.
G—Brandon Carter, Texas Tech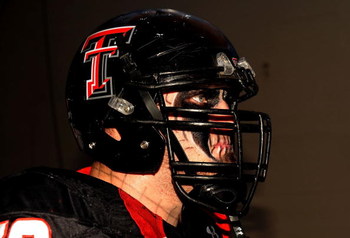 Another imposing figure is Texas Tech's Brandon Carter.
Carter stands 6'7" and 340 pounds.
Carter has twice been named to the All-Big 12 Honorable Mention Team, as well as both an AFCA Coaches All-American and an AP Second Team All-American in 2008.
Last season, Carter allowed only one sack.
Carter's recognition might solely depend on TTU's success, but nonetheless, it is hard to come across an athlete with his talent, and he should be recognized as so.
G—Mike Johnson, Alabama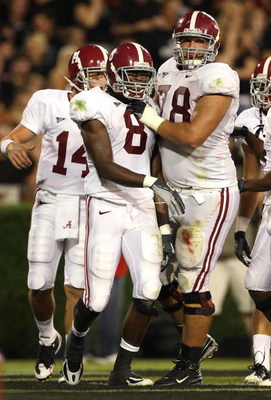 Mike Johnson earned All-American and All-SEC Second Team honors last season, opening holes for Glen Coffee and Mark Ingram.
The 6'6", 305 pound senior said goodbye to Antoine Caldwell and Andre Smith, who were also All-American linemen last year.
Alabama is sure to have another stellar season on the ground with four of their top five rushers returning.
Mike Johnson will be the leader of this prestigious group of athletes.
T—Ciron Black, Louisiana State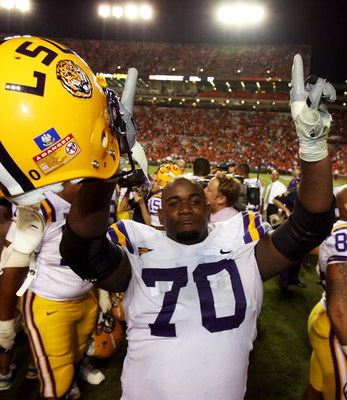 Ciron Black is extremely decorated for an offensive lineman.
After redshirting his 2005 season, Black started all 13 games during the 2006 campaign. He was named to the Freshman All-SEC and Freshman All-American Third Team for his talent.
In 2007, he again started every game (14) and set a school record for consecutive snaps played with 1,031. He was rewarded with the award of All-SEC Second Team.
Black again started every game in 2008 (13), and again was named to the All-SEC Second Team.
Black looks to close out his career with LSU by starting every game played (he currently sits at 40), and making his first All-America Team.
T—Sam Young, Notre Dame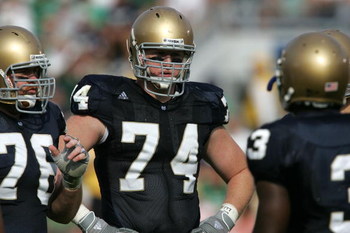 Sam Young came to Notre Dame as the top offensive tackle in the nation.
He made history in 2006 by becoming the first true freshman to start on the offensive line. (Freshman became eligible to start on the OL in 1972.) Young earned a spot on the Freshman All-American Team for 2006.
Young has started every game in his career—13 as a freshman in 2006, 12 as a sophomore in 2007 and 13 as a junior last season.
It is hard to pass up on a player as good as Young, who had to go through tough times and much criticism. He started on the line for Brady Quinn, and the past two season with Jimmy Clausen.
Young is a behemoth, standing at 6'8" and 330 pounds. Look out for him this season.
K—Matt Bosher, Miami, Fl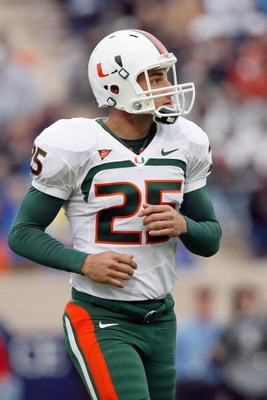 Bosher handles both the kicking and punting duties for the Hurricanes. His being busy won't yield any achievements though.
In 2008, his first season handling kicking, Bosher hit 18 of 20 field goals (with a long of 52), as well as all 40 attempted extra points.
He added six touchbacks on 69 kickoffs.
His performances at both positions in 2008 made him All-ACC Second Team, both at punter and kicker.
KR—Brandon James, Florida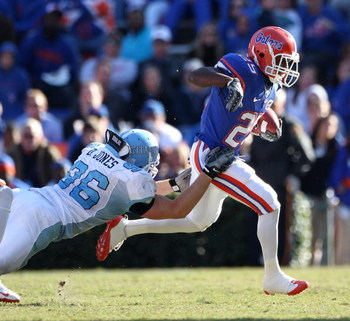 Brandon James is a track star at the University of Florida. But that doesn't mean he can't play football.
James can score whenever he touches the ball. Last year he had two rushing touchdowns, one receiving and two on punt returns.
James earned All-SEC Freshman Team honors as a true freshman in 2006 due to his punt returning ability (33 returns for 363 yards and a score.) Rivals.com placed him on their Freshman All-American Team for that season, as well.
In 2007, both The Sporting News and Rivals.com named James to their All-America Second Team for his kick returning production (28.0 yard average, 18.1 on punt returns.)
In 2008, James returned 37 punts for 510 yards (13.8 average) and two scores, as well as 32 kicks for 738 yards good for a 23.1 average.
It's hard to find another player as fast as James, or as good in the return game, which gives him the nod as preseason All-American.
Keep Reading

Oklahoma State Football: Like this team?