The 9 Best Long-Range Goals of the Weekend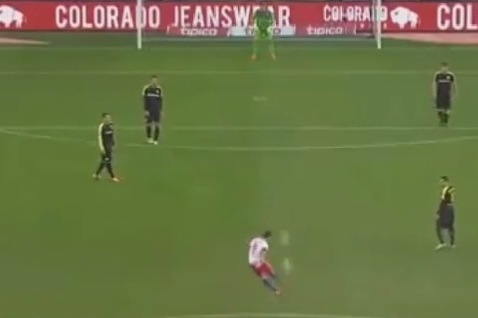 (YouTube/SkillsShowHD)

Scoring inside the box is so last week. Over the weekend, there was a plethora of long-range goals, some of which were quite stunning.
Here's a pick of the best long shots from the past few days, kicking off with Hakan Calhanoglu's outrageous 50-yard free-kick for Hamburg against Borussia Dortmund.
Begin Slideshow

»
Borussia Dortmund's grip near the top of the Bundesliga loosened on Saturday when they were defeated 3-0 by Hamburg—a team in crisis, who have lost their past eight games.
It was a bitter pill to swallow for BvB, particularly when midfielder Hakan Calhanoglu scored directly from a 50-yard free-kick in injury time.
One of the most visually stunning long-rangers of the weekend came from the right boot of Cruz Azul's Rogelio Chavez during the 3-1 victory over Queretaro in the Mexican Primera League.
Take a moment to admire the bend on the ball. Roberto Carlos eat your heart out!
Not bad for someone who has scored only nine times in 200 appearances.
Gareth Bale notched his 10th La Liga goal of the season in style on Saturday, contributing to Real Madrid's 3-0 win over Elche in spectacular fashion.
The Welshman hit a 35-yard strike that the goalkeeper had no chance of stopping. According to Marca, it was hit at a dizzying 100.5km/h.
With the new MLS season just around the corner, LA Galaxy warmed up with a friendly against their reserve team.
Robbie Keane showed that he still has a keen eye for goal (sorry) by successfully converting a 40-yard punt in the second minute of the match.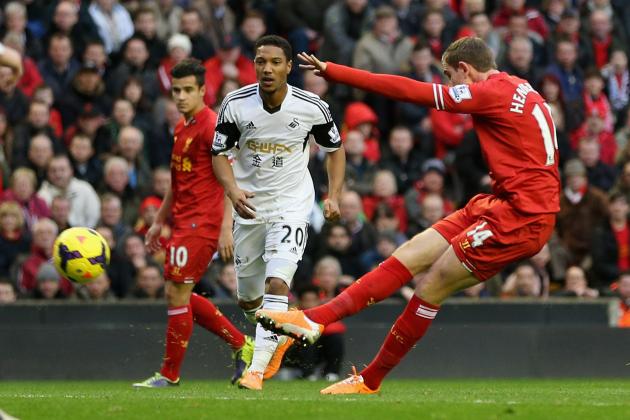 Clive Brunskill/Getty Images

Jordan Henderson's evolution from Liverpool liability to essential team player took another step on Sunday when the midfielder found the net twice in the Reds' thrilling 4-3 victory over Swansea.
His first was a delightful strike from outside the box—see it here.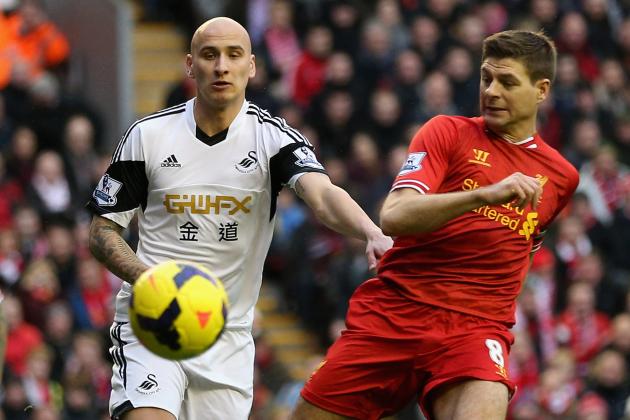 Clive Brunskill/Getty Images

A mere three minutes after Jordan Henderson's long-ranger, Jonjo Shelvey produced his own interpretation of the strike, taking one touch to beat Simon Mignolet from outside the box. Check it out here.
Out of respect for his time playing for the Reds, Shelvey refused to celebrate his superb effort.
PSV Eindhoven closed in on the Eredivisie top four on Saturday with a 2-0 away win over NEC.
Brilliantly named striker Memphis Depay secured three points for the Rood-witten in the 82nd minute with a lovely strike from 30 yards.
Fiorentina's pursuit of Champions League football took a positive step thanks to a 2-2 draw at Parma.
The equaliser came in dramatic fashion from Chilean free-kick specialist Matias Fernandez, who converted a dead ball with flair in the 85th minute.
Juventus went nine points clear at the top of Serie A and won the Turin derby 1-0 thanks to a powerful 30th-minute strike from Carlos Tevez.
It was the Argentine's 14th league goal of the campaign.