Every Top 25 Team's Fastest 40 Time Ever Recorded at the NFL Combine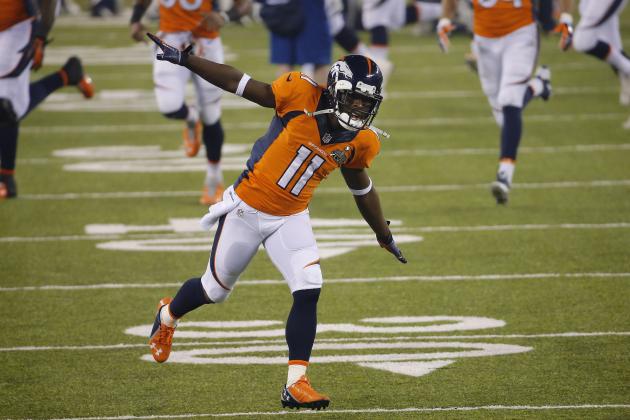 Matt York/Associated Press
Former LSU standout Trindon Holliday can flat-out fly.
Depending on your point of view, the 40-yard dash is either the most exciting aspect of the NFL combine or the most useless, overrated waste of time ever invented.
You might argue that football speed is different than straight-line speed without pads, and you wouldn't be wrong. But professional scouts arrive in hoards to see how fast players are for a reason, and for fans, it can be fun to find out exactly how fast your favorite speedsters can run.
How important the results should be in the draft process is a matter of opinion, but either way, there's something entertaining about watching some of the world's best athletes move their legs as fast as they possibly can.
We're taking a look now at the Top 25 teams in college football and the players from those schools who have run the fastest 40-yard dashes at the NFL combine.
Note: This includes times strictly from the NFL combine that can be verified. Most players on this list are from 1999-present day because prior to that year, only handheld times were recorded, and records kept were not as thorough or complete.
All 40-yard-dash times via NFLCombineResults.com unless otherwise noted. The 25 teams were selected in accordance with the final AP poll in 2014. All stats via Sports-Reference.com.
Begin Slideshow

»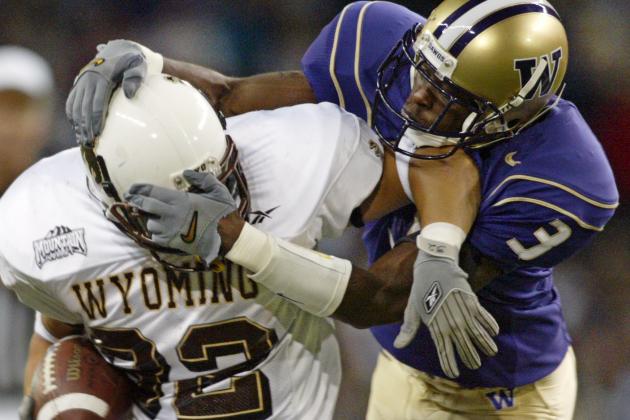 JOHN FROSCHAUER/Associated Press
CB Roc Alexander
Fastest 40-yard dash: CB Roc Alexander, 4.35
Our list begins with the Washington Huskies, who are in a down era despite a history that would place them among the Top 25 in terms of prestige. From Mark Brunell to Napoleon Kaufman, Washington has had a number of greats walk into Husky Stadium and leave a lasting legacy.
But speed is the sole factor here, and thus it's the relatively unknown cornerback Roc Alexander who gets the nod for fastest 40-yard dash at the NFL combine.
A Husky from 2000-2003, Alexander was one of the fastest players ever to don the purple uniform. His most prolific season came as a sophomore, when he nabbed four interceptions and returned a kick for a touchdown. He played just three seasons in the NFL.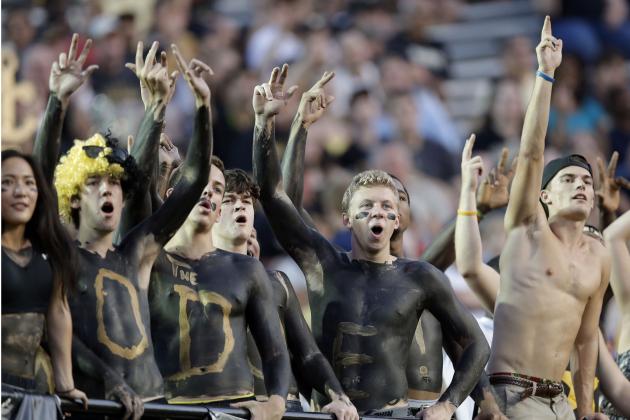 Mark Humphrey/Associated Press
Vanderbilt fans
Fastest 40-yard dash: CB Fred Vinson, 4.39
Next up is Vanderbilt, and the fastest Commodore at the NFL combine was cornerback Fred Vinson, who played his college ball from 1995-98.
The 5'11" speedster was one of the cornerstones of the Commodores defense, and he even played every game as a freshman. He tallied four picks during his career and was eventually drafted by the Green Bay Packers.
He played in the NFL for several seasons before injuries derailed his career. Like many other names on this list, you probably won't recognize Vinson unless you're a longtime college football junkie. But he remains on record as having the fastest 40-yard dash by a Vanderbilt player at the NFL combine.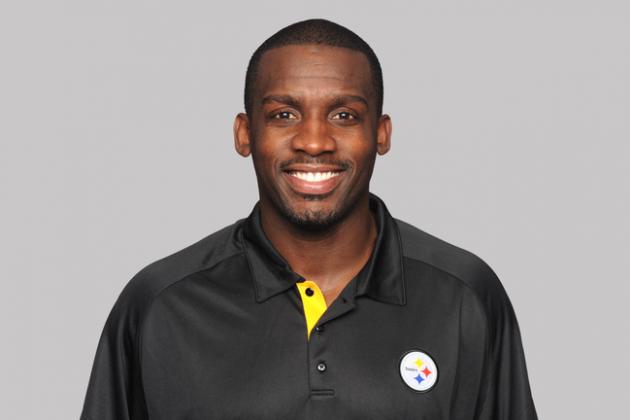 Uncredited/Associated Press/Associated Press
Former Blue Devil Scottie Montgomery also served as a WR coach in Pittsburgh.
Fastest 40-yard dash: WR Scottie Montgomery, 4.57
Hide your eyes, Duke fans, because the fastest 40-yard dash by a Blue Devil isn't that fast at all, at least in a football sense. Nonetheless, former wide receiver Scottie Montgomery holds the record.
If you're familiar with the Blue Devils program, the name should look familiar, as the late-'90s standout is now the team's offensive coordinator after previously serving as a wide receivers coach in the NFL for Pittsburgh.
In college, Montgomery had a prolific career, catching 171 passes for 2,379 yards and 13 touchdowns.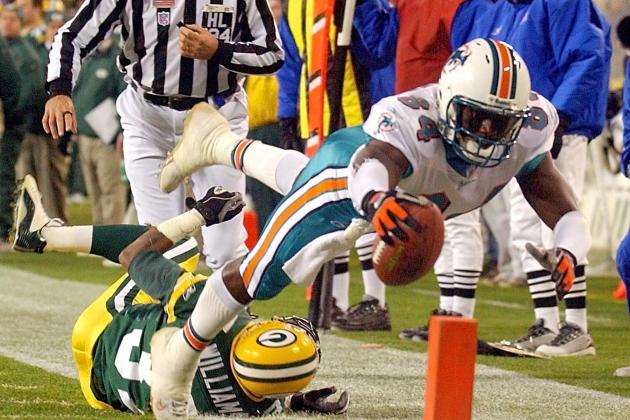 MIKE ROEMER/Associated Press
WR Chris Chambers
Fastest 40-yard dash: WR Chris Chambers, 4.33
Wide receiver Chris Chambers makes the list as the fastest Wisconsin alumnus ever at the NFL combine with an impressive time of 4.33 seconds.
His most productive season in college came as a senior in 2000, when he caught 52 passes for more than 800 yards and five touchdowns. Of course, many of those teams were dominated by the hard-nosed running of some guy named Ron Dayne.
Still, Chambers was talented enough to get a look from the NFL, and after burning through the combine, he went on to have an excellent career with the Miami Dolphins and San Diego Chargers.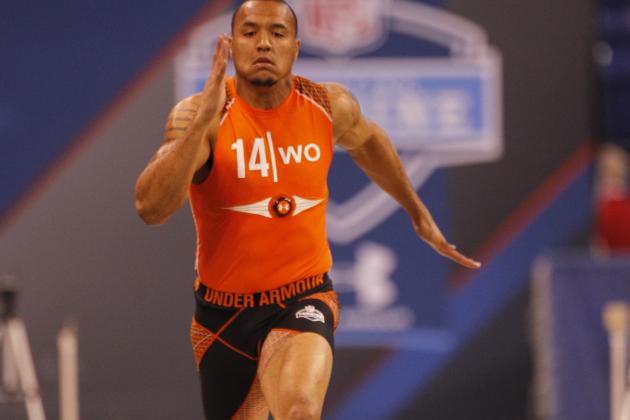 Dave Martin/Associated Press
WR Michael Floyd
Fastest 40-yard dash: WR Michael Floyd, 4.40
One of the best receivers in Notre Dame history, Michael Floyd also has the fastest time at the NFL combine by a former Fighting Irish player. Your first thought may have been Tim Brown, but mere Internet rumor without verifiable proof wasn't enough to put the all-time great on the list.
Instead it's Floyd, who's done well in his own right. In South Bend, he totaled nearly 3,700 yards receiving in his four-year career to go along with 37 touchdowns.
Now a member of the Arizona Cardinals, he was a 1,000-yard receiver in 2013.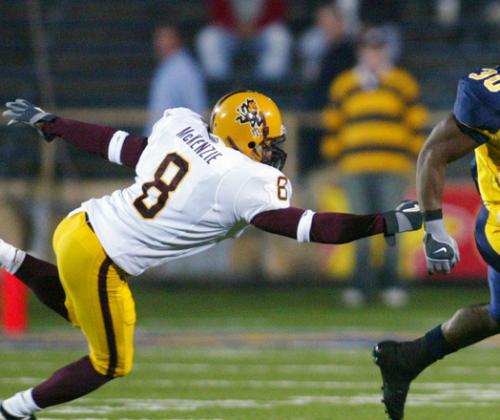 D. ROSS CAMERON/Associated Press/Associated Press
CB Chris McKenzie
Fastest 40-yard dash: CB Chris McKenzie, 4.32
You may notice a trend with this list being dominated by wide receivers and defensive backs, and next up is a former Arizona State player who continues the pattern.
Defensive back Chris McKenzie, who finished up his Sun Devils career in 2004 with a pair of picks, ran a blazing-fast 4.32 40-yard dash at the 2005 NFL combine.
His NFL career was short-lived, however, as the diminutive 5'8" speedster played just one season as a member of the Houston Texans.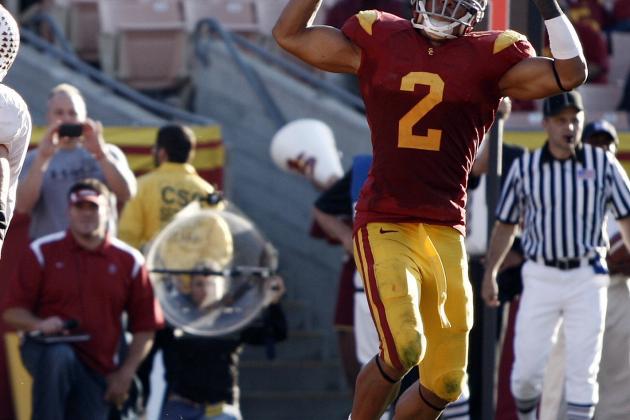 Matt Sayles/Associated Press
USC S Taylor Mays
Fastest 40-yard dash: S Taylor Mays, 4.31
Former USC running back Reggie Bush may have passed the eye test as one of the fastest Trojans ever to take the field at the Los Angeles Coliseum, but it's safety Taylor Mays who has the quickest time in an NFL combine at just 4.31 seconds.
Talk about fast! Since his outstanding career with USC, Mays has played one season with the San Francisco 49ers and three with the Cincinnati Bengals.
It's rare for a player at 6'3" and 230 pounds to have the kind of speed to rival track stars, but that's what makes Mays so special. He has yet to put it all together in the NFL, but he'll forever be one of the fastest players ever at the NFL combine.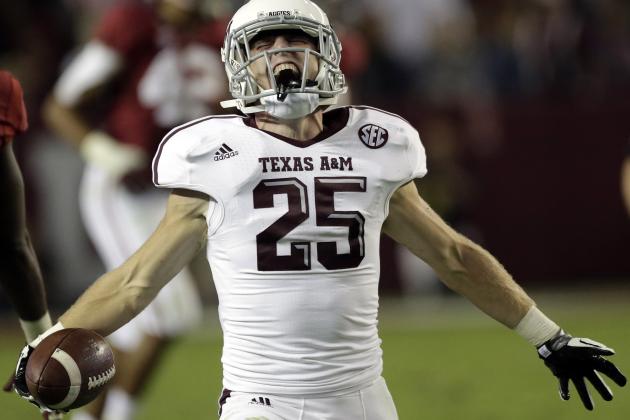 Dave Martin/Associated Press
WR Ryan Swope
Fastest 40-yard dash: WR Ryan Swope, 4.34
Contrary to what you might have thought, former Texas A&M standout Dante Hall is not the player with the fastest time at the NFL combine.
That would instead be wide receiver Ryan Swope, who benefited greatly from the magic that was quarterback Johnny Manziel's first season.
In 2012, Swope caught 72 passes for 913 yards and eight touchdowns in the Aggies' surprising 10-win campaign. For all the talk about how it would be hard for any program to enter the SEC and match the conference's speed, Texas A&M did just fine thanks to guys like Swope, who really knew how to fly.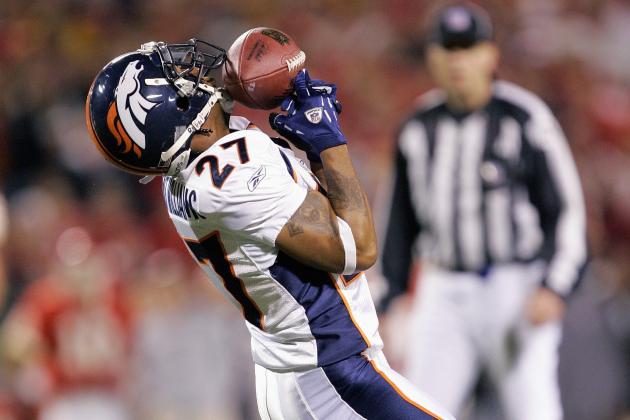 Brian Bahr/Getty Images
CB Darrent Williams
Fastest 40-yard dash: CB Darrent Williams, 4.30
Next up is Oklahoma State, which is represented by former cornerback Darrent Williams. He boasts one of the fastest times on this list at 4.30 seconds.
A standout in Stillwater, he went on to play for the Denver Broncos, where he was beginning to emerge as a star before tragedy struck. Early in the morning on Jan. 1, 2007, Williams was killed when a barrage of bullets hit the stretch hummer he was riding in.
His legacy will live on far beyond the football field, but he also remains to this day as the fastest Oklahoma State player to run a 40-yard dash at the NFL combine.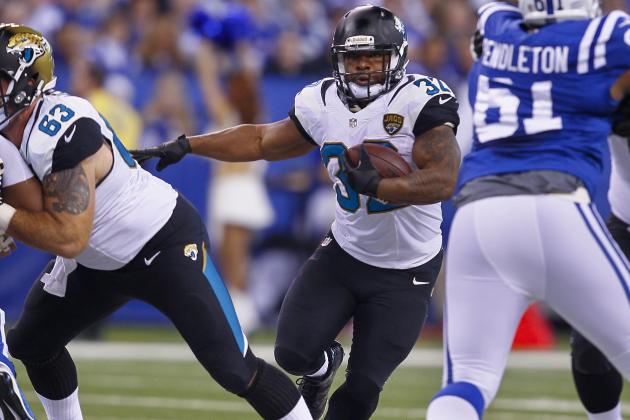 Michael Hickey/Getty Images
RB Maurice Jones-Drew
Fastest 40-yard dash: RB Maurice Jones-Drew, 4.39
While some names on this list are relatively obscure and wouldn't otherwise have a place in football lore if not for their speed, it's the exact opposite for the man who represents the UCLA Bruins.
Running back Maurice Jones-Drew, one of the most consistent backs in the NFL, clocked in at 4.39 seconds during his 40-yard dash, and he's gone on to speed past defenses as a professional as well.
After a stellar career with the Bruins, he has racked up more than 8,000 yards on the ground in his eight NFL seasons, all with the Jacksonville Jaguars. At just 5'8", you may not find a tougher player on this list.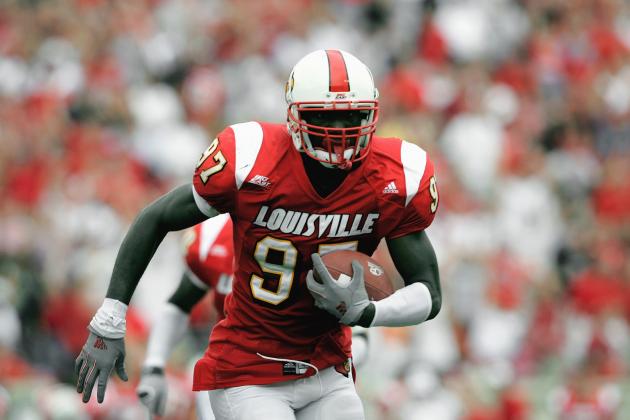 Andy Lyons/Getty Images
LB Brandon Johnson
Fastest 40-yard dash: LB Brandon Johnson, 4.44
It's rare that a linebacker makes any kind of list that relates to speed, but former Louisville linebacker Brandon Johnson didn't really fit the norm.
In his senior year with Cardinals, he racked up 73 tackles and a pair of interceptions before going on to play for, you guessed it, the Cardinals.
After two years in Arizona, Johnson spent four in Cincinnati, where he appeared in every single game. The 6'5" freak of an athlete is one of the fastest players in Louisville history.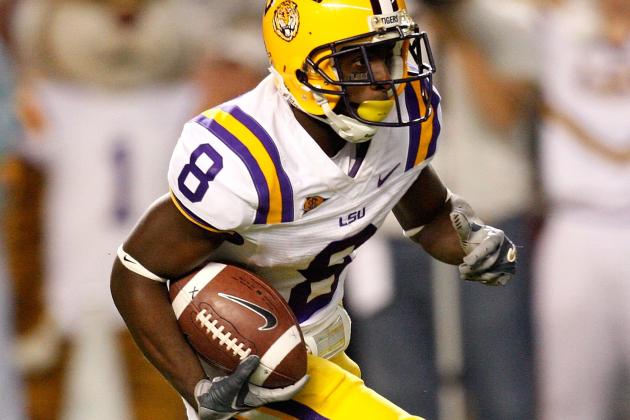 Kevin C. Cox/Getty Images
LSU's Trindon Holliday
Fastest 40-yard dash: WR Trindon Holliday, 4.21
If not for a few mind-boggling times by several football legends, former LSU wide receiver Trindon Holliday would have the fastest dash in history. Depending on where you look, his combine time is reported to be anywhere from 4.21 to 4.34.
Either way, his speed doesn't lie, and despite being just 5'5", he's used that burst to maintain a steady gig on kickoff returns. In fact, he's returned two for touchdowns as a member of the Denver Broncos.
There might not be a faster player in the NFL right now than Holliday, although running back Chris Johnson may want to challenge that notion. But the fact remains that the tiny speedster is the fastest player in LSU's storied history.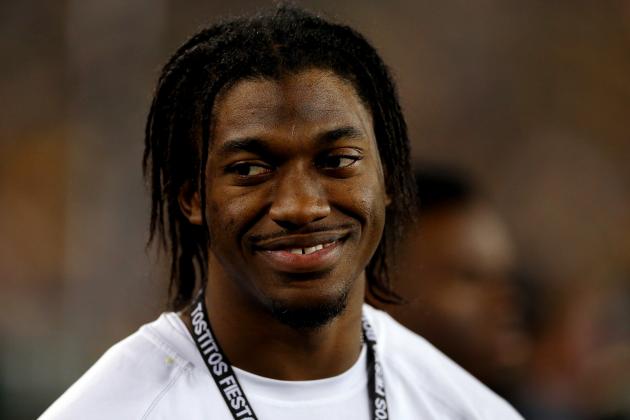 Ronald Martinez/Getty Images
QB Robert Griffin III
Fastest 40-yard dash: QB Robert Griffin III, 4.33
Only in the last few years has the college football world recognized Baylor as an excellent team, and it's the man who helped changed the program's identity, former quarterback Robert Griffin III, who also gets the nod for fastest 40-yard dash at the NFL combine.
Again, depending on where you look, you'll see everything from 4.33 to somewhere in the 4.4 to 4.5 range. Still, he's the only signal-caller to make this list, and as a former track athlete, you can see why.
His first couple of seasons in the NFL have been topsy-turvy to say the least, but when he's healthy, Griffin is one of the most dynamic athletes in the game.
Handout/Getty Images
WR Joey Galloway, as a member of the Washington Redskins
Fastest 40-yard dash: WR Joey Galloway, 4.18
We officially enter into the gray area of the 40-yard dash, not only because many records weren't kept prior to 1999 but because handheld times, such as wide receiver Joey Galloway's, can be inaccurate.
Nonetheless, some records indicate that he ran a 4.18-second 40-yard dash, and an insane time like that has to be mentioned. Another name that may have popped into your mind for the Buckeyes could have been Ted Ginn Jr., but there's little doubt that Galloway was the fastest Ohio State player in program history.
Unlike many other players on the list, however, Galloway went on to have a successful NFL career with the Seattle Seahawks and New England Patriots, among several other teams.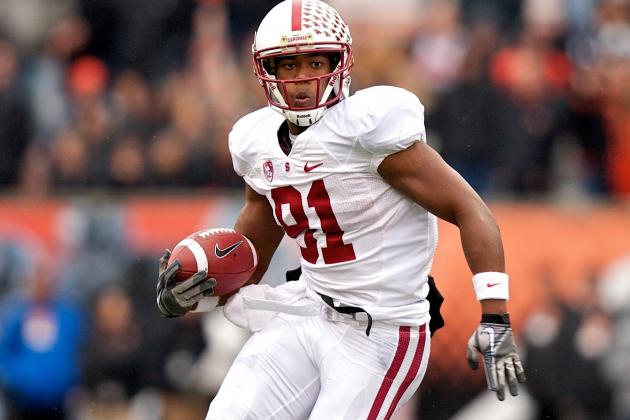 Craig Mitchelldyer/Getty Images
WR Chris Owusu
Fastest 40-yard dash: WR Chris Owusu, 4.31
Next on the list is none other than one of quarterback Andrew Luck's favorite college targets, receiver Chris Owusu.
After appearing in just five games as a freshman, Owusu went on to haul in 10 touchdowns and more than 1,500 yards receiving in his four-year career, which was riddled with numerous head injuries.
Despite the health issues in college, he proved to be one tough customer and finished the 2013 season with 13 grabs for 114 yards with the Tampa Bay Buccaneers.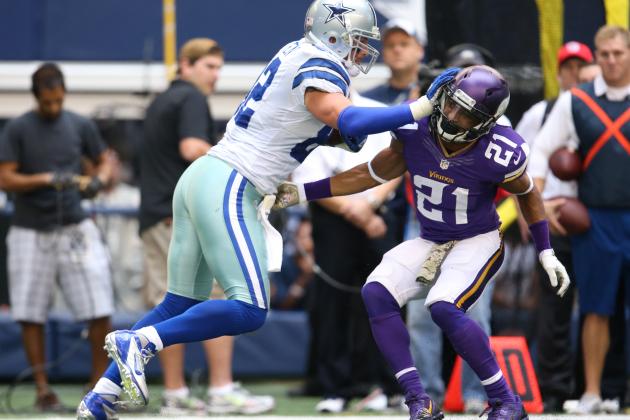 Matthew Emmons-USA TODAY Sports
CB Josh Robinson (left)
Fastest 40-yard dash: CB Josh Robinson, 4.29
Former UCF cornerback Josh Robinson just missed out on being part of the Knights' BCS run, but his play from 2009-2011 laid the foundation for what is now an up-and-coming force in the AAC.
During his career with the Knights, he racked up 10 picks and was good enough to earn an invite to the NFL combine, where he ran a rare, sub-4.3 40-yard dash.
If he hadn't turned heads before that run, the quick sprint did that and more. He was drafted by the Minnesota Vikings, where he still plays.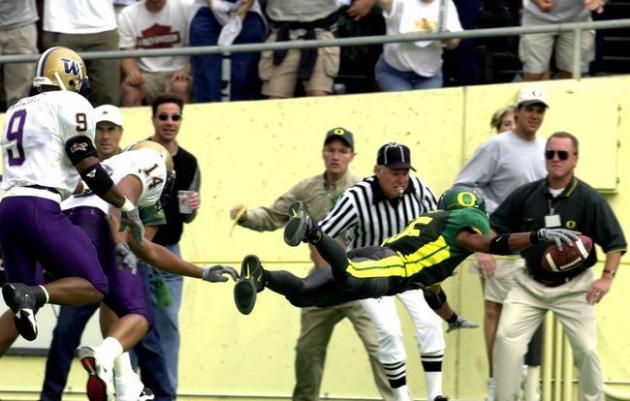 DON RYAN/Associated Press/Associated Press
RB Allan Amundson
Fastest 40-yard dash: RB Allan Amundson, 4.34
Oregon has gained a reputation for being one of the fastest teams in the country, but it's not LaMichael James or De'Anthony Thomas who makes the list for fastest 40-yard dash at the NFL combine.
Instead, it's little-known running back Allan Amundson, who raced his way into the Ducks' record books with a time of 4.34 seconds, which would make even some of the team's current speedsters blush.
With all the track-speed athletes that Oregon is churning out this day, it may simply be a matter of time before Amundson's mark falls. For now, however, his name will live on in the history of speed.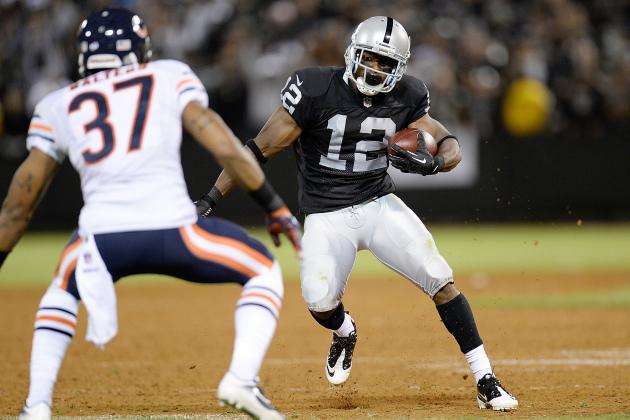 Thearon W. Henderson/Getty Images
Former Clemson WR Jacoby Ford
Fastest 40-yard dash: WR Jacoby Ford, 4.22
When it comes to flat-out burners, there aren't many athletes in the world, in any sport, who can run faster than former Clemson wide receiver Jacoby Ford. It should come as no surprise that he's also a track athlete.
Ford may be hidden in the depths of mediocrity that is Oakland in recent years, but his speed always finds a way to stand out.
As a player on the Tigers, he totaled nearly 2,000 yards receiving and also returned two punts for scores.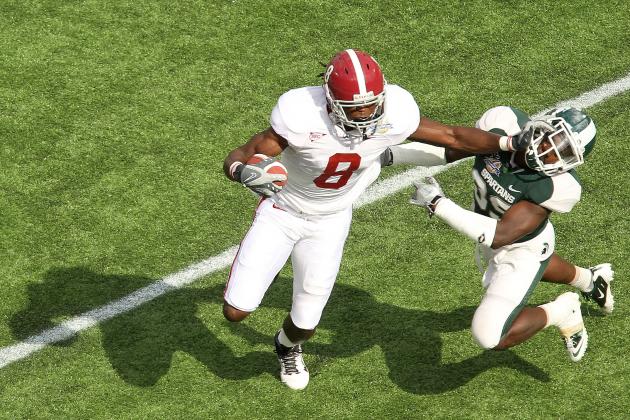 Mike Ehrmann/Getty Images
WR Julio Jones
Fastest 40-yard dash: WR Julio Jones, 4.34
Is there a more exciting young football prospect than wide receiver Julio Jones right now? After a dominant career with the Alabama Crimson Tide, he has continued to shine at the NFL level.
In three years, he already has nearly 3,000 yards receiving to go along with 20 touchdowns. He only played in five games in 2013.
In his senior season at Alabama, he had 1,133 yards receiving and seven touchdowns. His talents as a receiver extend far beyond the stopwatch, but his incredible ability to race past defenders gives him a spot on this exclusive list.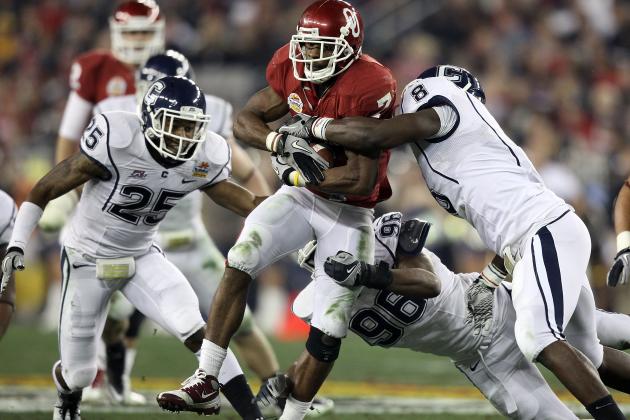 Christian Petersen/Getty Images
RB DeMarco Murray
Fastest 40-yard dash: RB DeMarco Murray and WR Mark Bradley, 4.37
Oklahoma is represented on this list by a pair of former Sooners: running back DeMarco Murray, who's still running strong with the Dallas Cowboys, and wide receiver Mark Bradley, who played several seasons with the Chicago Bears before finishing his career in Kansas City in 2009.
Murray is the more recognizable name. He had the unenviable task of following up the great Adrian Peterson at Oklahoma, and he's recently become one of the best backs in the NFL.
Bradley is slightly less heralded, although he did reel in more than 400 yards receiving as a senior in 2005.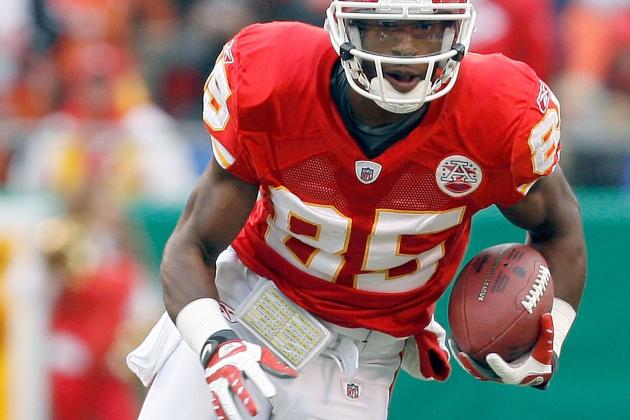 Harry How/Getty Images
WR Will Franklin
Fastest 40-yard dash: WR Will Franklin, 4.37
Wide receiver Will Franklin is likely another name that you've never heard of or has escaped your memory in recent years, but he may have been the fastest player in Missouri football history.
In his four seasons with the Tigers, he reeled in 143 passes for more than 2,000 yards and 13 touchdowns.
His professional career lasted just one season, but his 4.37 40-yard dash at the 2009 NFL combine won't be forgotten anytime soon.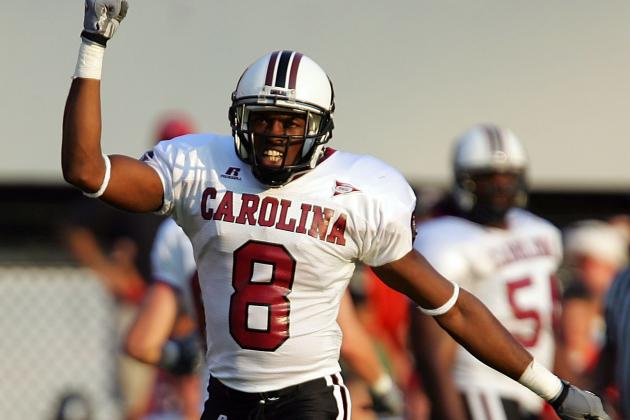 Streeter Lecka/Getty Images
CB Johnathan Joseph
Fastest 40-yard dash: CB Johnathan Joseph, 4.31
Arguably the best cornerback in South Carolina history, Johnathan Joseph also wins the honor of having the fastest 40-yard dash by a Gamecock at the NFL combine.
Sometimes speed can be misleading, and when teams draft players due in large part to how quick they can run, the plan can backfire. That wasn't the case with Joseph.
After collecting 14 interceptions in five seasons with Cincinnati, Joseph reeled in another nine in the past three years as a starter for the Houston Texans. His speed is a huge asset, and he's also one of the best all-around players on this list.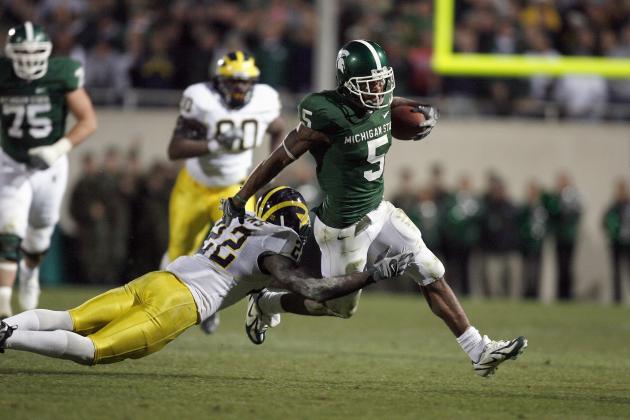 Kevin C. Cox/Getty Images
WR Devin Thomas
Fastest 40-yard dash: WR Devin Thomas, 4.41
Michigan State probably isn't a team you associate with speed, and thus it makes sense that no player has cracked the 4.4 barrier. Still, wide receiver Devin Thomas isn't someone you wanted to face in the fall of 2007.
In addition to being fast, the former Spartan also knew how to dominate to the tune of 79 catches for 1,260 yards and eight touchdowns in his final year in East Lansing.
Despite his pro career never really taking off, Thomas remains one of the fastest football players in Michigan State history.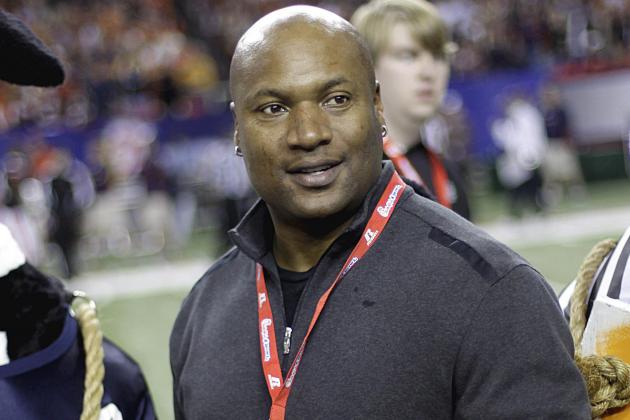 David Goldman/Associated Press
The legendary Bo Jackson
Fastest 40-yard dash: RB Bo Jackson, 4.12
The time has finally come to unveil who many believe to be the fastest football player in history, former Auburn running back Bo Jackson. His now-famous combine scamper may have occurred in an era that didn't have the sophisticated timing systems of today, but that shouldn't make a 4.12 40-yard dash any less impressive.
Widely regarded as one of, if not the greatest athlete in the history of sports, Jackson's speed was simply another tool in his back pocket, as the man could do it all.
His best season with Auburn came in 1985 when he rushed for nearly 1,800 yards and 17 touchdowns. He went on to play both baseball and football as a professional.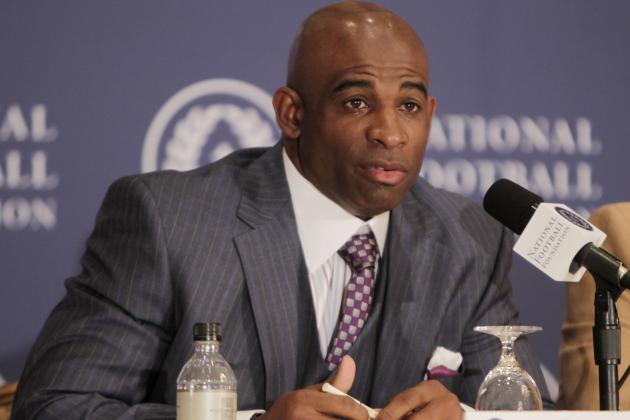 Seth Wenig/Associated Press
The great Deion Sanders
Fastest 40-yard dash: CB Deion Sanders, 4.21
Last but probably the furthest thing from least is another legend of the game—former Florida State cornerback Deion Sanders, who ran a reported 4.21 40-yard dash at the 1989 NFL combine.
He was fantastic as a Seminole, but he built his legacy in the NFL with the Atlanta Falcons and Dallas Cowboys. He collected a whopping 53 interceptions as a pro, nine of which were returned for scores.
His speed also allowed him to dominate on special teams, where he returned three kickoffs and six punts for touchdowns. He's also a member of the NFL Hall of Fame. His speed alone didn't get him there, but boy, was it something to watch on the field.