The NFL Combine features a number of drills that supposedly test the athleticism and NFL-readiness of the top prospects in the upcoming draft.
However, it is the 40-yard dash times that draw all the headlines and attention. After all, speed is an important element of the game regardless of what position you play (outside of maybe kicker or punter), and the 40 is the closest thing to a pure evaluation of straight-line speed at the combine.
A number of potential defensive superstars took the field in Indianapolis on Monday and many influenced their draft stocks with their 40 times and workouts.
Jadeveon Clowney was the main attraction, and how could he not be after posting a running back-like 4.53 in the 40-yard dash?
Will Brinson, a senior NFL writer for CBS Sports, gave that time a little context:
Clowney would've been 29th fastest WR, 14th fastest RB ... and fastest QB at combine.

— Will Brinson (@WillBrinson) February 24, 2014
There have been some question marks surrounding Clowney in the pre-draft process, including those about his work ethic and overall production. He only posted a handful of sacks all season and really became a victim of his own hype.
Everyone who doesn't watch a lot of South Carolina football on a consistent basis saw the hit he had against Michigan in the Outback Bowl at the end of last year and simply assumed that would happen every time he took the field. When it did not, questions began to arise even though he was virtually double teamed every game.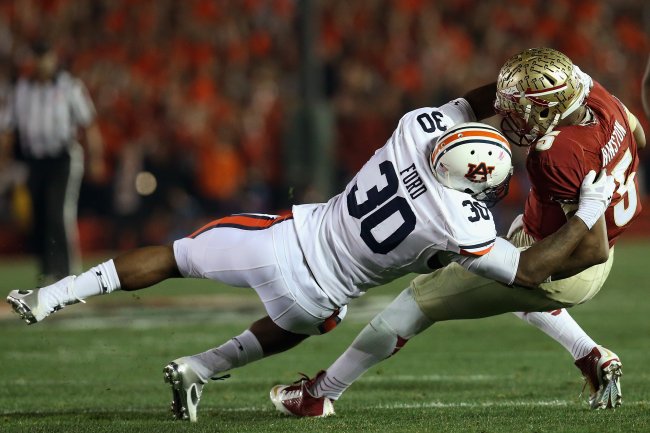 Stephen Dunn/Getty Images
Posting a 40-yard dash time like he did will do a lot to erase any doubts about his potential.
It's much more difficult to run an effective offense in the NFL if you are double teaming one guy on the defensive line, so Clowney will get plenty of opportunities at the next level to use that speed to explode past his blocker and disrupt both the passing and rushing attacks.
One player who isn't impressed with Clowney—if his quotes during an interview with Sirius XM NFL Radio are to be believed—is Dee Ford (via Chase Goodbread of NFL.com):
I'm better (than Clowney). Let's put it like this. People like to talk about size all the time. Size is pretty much overrated in my eyes. You can look at guys like Robert Mathis, Elvis Dumervil, Von Miller. These are 6-2 guys and under. People are just looking at the fact that he's a physical specimen. Honestly if you watch the film, he plays like a blind dog in a meat market, basically.
After making those comments, Ford did not even participate in the 40-yard dash because of medical reasons.
He missed an opportunity to showcase his athleticism and versatility to a number of teams that could potentially use him as an outside linebacker in a 3-4 set. Ford may not have hurt his stock necessarily, but he could have helped it with a fast time.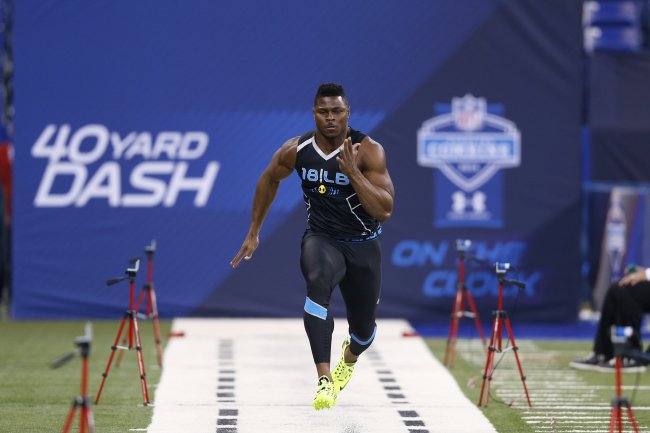 Joe Robbins/Getty Images
Outside of Clowney, two other defensive stars who are projected as potential top-10 picks are linebackers Anthony Barr of UCLA and Khalil Mack of Buffalo.
Who would you rather have?
There is a legitimate debate about which one should be taken first between the two pass-rushing specialists. Mack posted an impressive 4.65 in the 40, while Barr was right on his tail at 4.66.
The microscopic difference in the two times underscores just how close Mack and Barr are in terms of talent level and production. Neither separated himself from the other in the 40, but both posted formidable times and affirmed their place near the top of various draft boards.
Elsewhere, Kony Ealy of Missouri has a chance to be taken early in the draft. He posted a 4.92 in the 40-yard dash, which was somewhat underwhelming, as Mike Huguenin of NFL.com pointed out:
Kony Ealy's official 40 time: 4.92, which is a bit slower than expected

— Mike Huguenin (@MikeHuguenin) February 24, 2014
While the 40 time wasn't exactly what Ealy was hoping for, he is a physical specimen who won't necessarily be drafted simply for his straight-line speed. As long as he continues to impress in the other drills before the draft, he will still be an early pick.
Another linebacker who could play his way into the first round is Ryan Shazier of Ohio State, but he was unfortunately unable to run the 40 with a hamstring issue.
Looking ahead to the draft, this was particularly disappointing for Shazier because his appeal to scouts at the next level is his ability to make impressive plays in the open field, largely as a result of his speed. Had he posted a formidable time at the combine, it would have confirmed in the eyes of NFL teams what the tape already does.
Shazier will still have a chance to impress at the Ohio State pro day though, so the first round is certainly not out of the question.
Defensive backs get a chance to show off their credentials at the combine on Tuesday.
Note: All combine results courtesy of NFL.com's results tracker.
Follow me on Twitter: