Erin Andrews is headed back to the popular ABC show Dancing with the Stars. But instead of reprising her role as a contestant, twirling, whirling and mamboing on a weekly basis, she will be hosting the show alongside Tom Bergeron.
The news came as you can expect, via Twitter. The Fox Sports reporter retweeted confirmation after Good Morning America let the world in on the surprise twist for Season 18 of the hit show:
Very excited! I have HUGE shoes to fill RT @GMA: #DWTS Announcement: Joining @Tom_Bergeron as a co-host this season will be @ErinAndrews!

— Erin Andrews (@ErinAndrews) February 24, 2014
It seemed as though some were already in the know over the weekend. The Big Lead's Jason McIntyre reported on Feb. 22 that Andrews would be taking over for Brooke Burke on the show.
The 35-year-old, who currently hosts FOX College Football and holds various reporting duties for Fox Sports, is headed to ABC to greet celebrities as they show off their dancing chops.
And, of course, Andrews knows very well what it takes to compete on such a show, because she managed to place third alongside partner Maksim Chmerkovskiy back in 2010.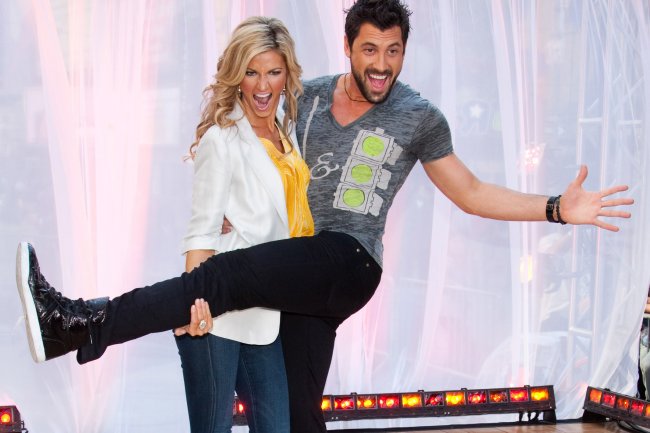 Charles Sykes/Associated Press
Things are greatly different for Andrews, who has since moved on from duties as ESPN's star sideline reporter, taking up with rival network Fox Sports in 2012.
Brooke Burke-Charvet, the now-former host of DWTS who debuted back in Season 10, tweeted the following over the weekend when she learned of her dismissal:
weird day….Shocking pre-season elimination #DWTS…ME. @Tom_Bergeron didn't even read my name. I won't be returning to the show this season.

— Brooke Burke-Charvet (@brookeburke) February 22, 2014
Fans of the show will certainly miss Burke, but Andrews is well versed in both the show and the nuances of reporting a live event.
Some viewers, like ESPN's Mike Greenberg, clearly love the decision:
And congratulations to @ErinAndrews on being named co-host of Dancing With The Stars. Another perfect fit.

— Mike Greenberg (@Espngreeny) February 24, 2014
The New York Daily News' Chiderah Monde offers what might be the impetus behind the switch: "The move appears to be part of ABC's attempt to attract younger viewers to 'Dancing with the Stars.'"
We could sit here and lob snark at the announcement, but this is really a fantastic match for Andrews, who will now attract a much larger audience outside the sports world, and ABC, which is getting a big sports name.
And one who is fairly excited at the moment:
And yes, I'm still a part of the @FOXSports family..it will be a BUSY fall..getting tips from @michaelstrahan on how to balance it 🏈💃

— Erin Andrews (@ErinAndrews) February 24, 2014
Love u @Tom_Bergeron!! I can't wait..and the best part is I won't be getting 7's from Len and yelled at for not pointing my toes! #winner

— Erin Andrews (@ErinAndrews) February 24, 2014
More than that, the show is getting a renowned hard worker who resonates well with the audience. There is little doubt that Andrews, if she so chooses, will become a mainstay for DWTS faithful.
There is always a risk in switching personnel—perhaps shaking things up despite the wishes of your fanbase. However, with Andrews, there is no worry. ABC has one more star for the foreseeable future.