The NFL Scouting Combine always generates a considerable amount of interest, and with the importance of quarterbacks, the top players in the 2014 class at the position were under the microscope on Sunday.
Former Texas A&M Heisman Trophy winner Johnny Manziel and pro-ready Louisville QB Teddy Bridgewater were the headliners, along with ex-UCF star Blake Bortles and even Fresno State's Derek Carr—the only senior from that quartet.
There were plenty of storylines to follow from the group of exciting, potential franchise signal-callers, so let's take a look at the most notable happenings from Lucas Oil Stadium in Indianapolis this past weekend.
Bortles Dazzles as Only Top QB to Throw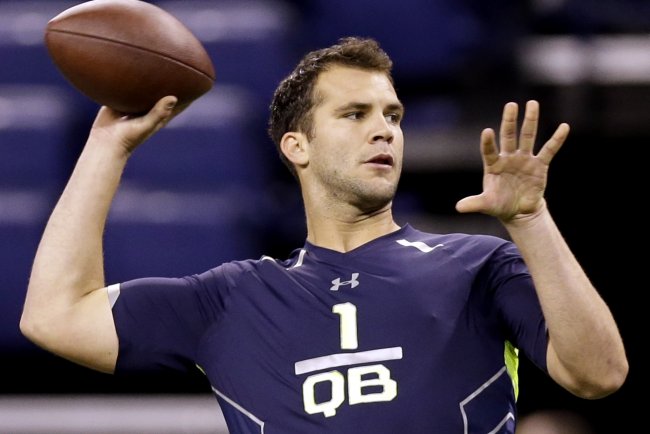 Nam Y. Huh/Associated Press
Not as many football fans are as well-acquainted with Bortles as they are with the higher-profile QBs such as Manziel and Bridgewater. Instead of waiting for his pro day to throw to receivers with whom he had chemistry, Bortles rolled the dice and took part in the throwing portion of the combine.
That turned out to be an excellent decision, as Bortles showed off a strong arm and accuracy, proving he could make every throw required of a franchise quarterback.
Arm talent isn't necessarily Bridgewater's strong suit, and Manziel has perhaps underrated arm strength but doesn't have the big frame to absorb hits like Bortles does. Bleacher Report draft expert Matt Miller was pleased with Bortles' decision:
Blake Bortles announced he will throw at the Combine. Love it. Top players should show competitive fire and want to impress.

— Matt Miller (@nfldraftscout) February 18, 2014
Bortles indeed expressed he wanted to compete—the problem was, none of the other top signal-callers did.
Blake Bortles says he always intended to throw at the Combine. "I want to compete. That's the way I was brought up" pic.twitter.com/rB7pneaUxI

— Ian Rapoport (@RapSheet) February 21, 2014
The move to throw was almost universally praised and should help Bortles' bid to be the first quarterback off the board. With his great size at 6'5", 232 pounds and athleticism, it's going to be hard for teams to pass Bortles up based on his upside.
A comparison to Tennessee Titans QB Jake Locker makes sense given Bortles' skill set. Hopefully he's not hampered with injuries like Locker is as he embarks on the beginning of his pro career, and it's a big plus Bortles demonstrated willingness to compete at the combine.
Manziel Mania Mellows Johnny Football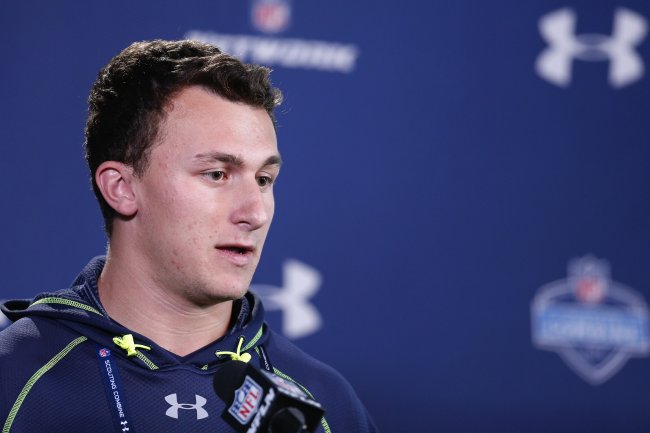 Joe Robbins/Getty Images
One of the big knocks on Johnny Manziel is that he lives life in the fast lane, so to speak, which is an apparent concern regarding his work ethic as he enters the NFL.
With so much fanfare and hype entering the combine, Manziel made waves when he stated that he wouldn't check in under six feet tall, but he did—albeit by a quarter of an inch. Although Manziel did say that he plays with extreme passion and competitiveness, he was stoic, serious and not the dynamic personality football fans are used to.
On the field, the 4.68 official time he ran in the 40-yard dash was solid but not spectacular, and in saying how competitive he was, Manziel decided not to throw. It wasn't quite the show observers hoped to see.
It's this delicate balancing act that Manziel has to juggle with the media. The bright lights of the combine made Manziel seem a bit smaller than he's ever been—in the literal sense with regard to his height and in the figurative sense with how he answered questions, playing every statement pretty conservative and close to the vest.
That could be the result of the exhausting interview process that goes into the week, and even before Sunday Manziel had to talk to teams, probably having to answer inquiries regarding "character issues."
MMQB.com's Peter King filed a report from the combine in which he did an extensive interview with Manziel, but the long list of teams Manziel reportedly met with—and the executive King talked to—unearthed nothing controversial:
An executive of one team who met with Manziel over the weekend said, "Has there been one killer incident for him? If there is, we haven't found it." [Manziel and his agent, Erik Burkhardt, declined to discuss how many teams he met with this weekend or which they were, and the executive of the team I just referred to didn't want to identify his team because it has an established quarterback and didn't want to drum up controversy in that market. But it's known from reports in various places that Manziel met with Houston, Jacksonville, Cleveland, Dallas, Tampa Bay and Philadelphia coaches and team officials, and very likely Oakland, this weekend before flying back to Texas late Sunday afternoon.]
Manziel seems like a standup guy, and the party perception is a touch overblown to say the least. Unfortunately, he wasn't able to strike a strong enough balance between saying what he needed to say and saying what he wanted to say.
This isn't to accuse Manziel of tiptoeing around anything or any issue. It's just a commentary on the negative connotation that defines his night-life choices. It took away from his individuality in his mass gathering with the media, and the hope is that he continues to feel out the situation and bring a little more "Johnny Football" to the podium.
Granted, Manziel is 21, has dealt with arguably an unprecedented amount of hype in the spotlight at the college level and is just getting his first taste of the NFL. He has a ton of time to figure it out, and he will. The good news is, the best of Manziel is not even close to arriving.
Laying a bit lower may be wise at the moment for Manziel, because whichever team drafts him will get a big shot in the arm and an accompanying, massive increase in attention and profile. It's a lot to prepare for, and for Manziel, like his blossoming game, it's still a work in progress.
Carr Boosts Stock With Fast 40-Yard Dash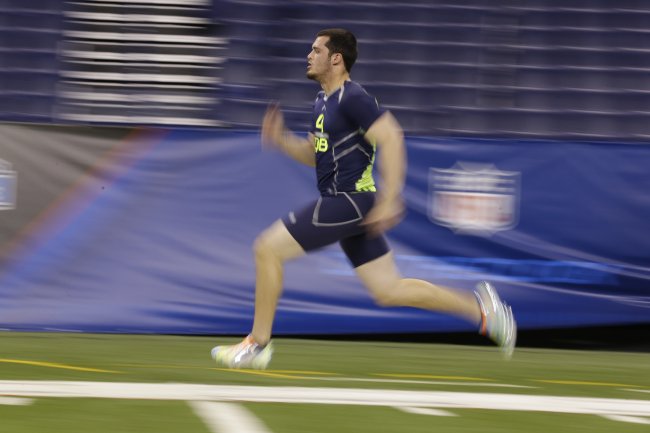 Michael Conroy/Associated Press
Who will be the most successful NFL quarterback?
Since he didn't throw, it was going to take something special from Carr to get noticed. Despite operating almost exclusively from the pocket in a quick-trigger, spread system at Fresno State, Carr showed off surprising speed with a 4.69 official time in the 40-yard dash.
That was just one hundredth of a second slower than Manziel and it beat Bortles (4.93) by a wide margin, so that has to help Carr's cause to stay in the first round—or even leap over one of the three other QBs.
Carr has experience on his side at least, as the lone senior among the best quarterbacks in this class. With his superior seasoning and faster feet than expected, he could become an occasional dual threat at the next level.
Opinions are scattered regarding the big-armed brother of former No. 1 overall pick David Carr. ESPN draft guru Todd McShay has his doubts, while Miller contends the Bulldogs star could go in the top 15 picks:
Most surprising part of '14 draft process so far is all the Derek Carr love. Good arm but not accurate downfield and/or under pressure.

— Todd McShay (@McShay13) February 17, 2014
I still see many possibilities in which Derek Carr is a first-round pick. And maybe even top 15 at that.

— Matt Miller (@nfldraftscout) February 22, 2014
Part of what has knocked down Carr a couple of rungs in the QB hierarchy was his worst game, which happened to be his last for the Bulldogs, when his team lost 45-20 to Southern California in the Las Vegas Bowl. He's looking forward to proving himself capable of handling the scrutiny, and also implied he wants to be a great teammate upon his NFL arrival, per the Akron Beacon Journal's Nate Ulrich:
I've been booed and I've had a standing ovation in the same stadium in my career. I'm used to it. It's all part of it. [Labeling someone a] franchise quarterback, that's great, but it's not about me. Whatever team I go, they're going to get absolutely everything I have from an effort standpoint, preparation, extra work, making people better around me. They're going to get all that, and that's just one piece of the puzzle. It takes a team to win Super Bowls, and that's my No. 1 goal.
Also helping Carr's cause was a further showcase of his athleticism, when he put up a broad jump of 110 inches and a vertical leap of 34.5 inches. At 6'2" and 214 pounds, he is passable in terms of size, but what was most important is that he proved he's far more than a rocket-armed pocket passer.
Whether his future pro team takes advantage of Carr's unexpected fast foot speed remains to be seen. In any event, that element to his game—to go with a strong Senior Bowl performance—will go a long way in determining how early Carr comes off the board.
Bridgewater's Bulk and Bold Proclamation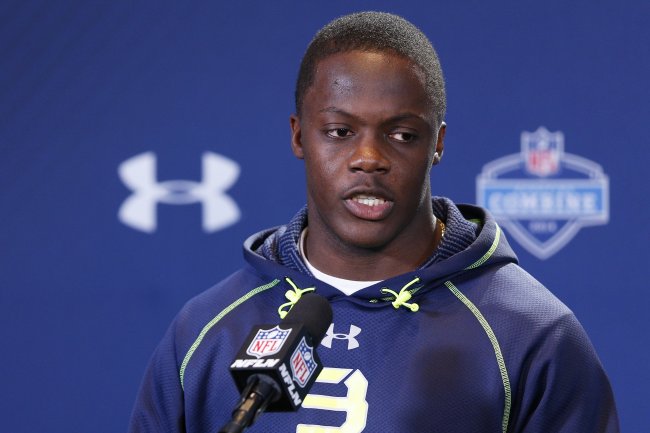 Joe Robbins/Getty Images
This may have made headlines before the combine commenced, but in any event, Bridgewater looked a little more toned and thicker than he did in his playing days at Louisville. The added weight will help dismiss concerns about his slender frame, which is just about the only knock on Bridgewater.
Bruce Feldman reported Bridgewater gained nine pounds to get to 214, but also noted he wouldn't throw or run in Indianapolis:
#Louisville QB Teddy Bridgewater, who packed on 9 lbs since the season ended to get to 214 won't throw OR run here in Indy.

— Bruce Feldman (@BFeldmanCBS) February 23, 2014
Not throwing at the combine was a bit head scratching, given he has uncanny accuracy, requisite arm strength and the ability to call out plays at the line of scrimmage. Like Andrew Luck did back in 2012 at his pro day, Bridgewater is capable of having multiple plays at his disposal, reading the defense and calling the appropriate audible.
Instead of doing any of that, he let his talk do the talking. Now bear with me here, because Bridgewater made a bold statement after noting he'd throw during his March 17 pro day, per ESPN College Football's official Twitter account:
Teddy Bridgewater will throw at his March 17 pro day, says "I feel that I'm the best QB in this draft"

— ESPN CollegeFootball (@ESPNCFB) February 23, 2014
Bridgewater better be ready to pull out all the stops when he hits the field with his familiar targets. The 21-year-old's confidence is admirable, and it's almost a quiet poise with an undercurrent of football fever and a burning desire to be the best.
But it is a bit of a concern Bridgewater decided not to run the 40 and didn't throw. As long as he lights it up at the pro day, he'll be fine and his draft stock won't be impacted. It's almost inconceivable he'll fall as far as Aaron Rodgers, who resembles a lot of the characteristics Bridgewater brings to the table.
At the end of the combine, though, Bridgewater was talked about more for what he didn't do than for what he did do.
Note: All combine results courtesy of NFL.com's results tracker.