10 Early-Season Games That Will Have Impact on 2014 College Football Playoff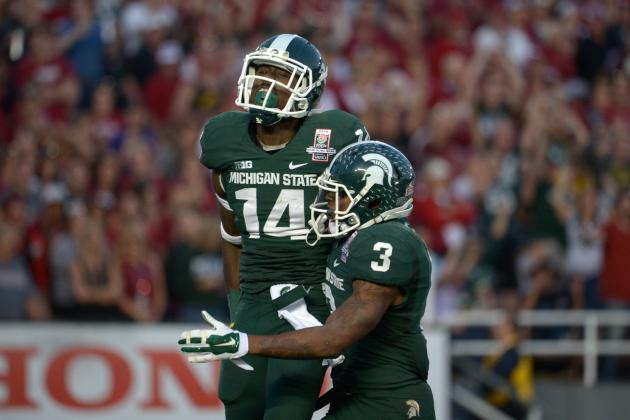 Kirby Lee-USA TODAY Sports
The Spartans will have a pivotal roadblock in Week 2.
Unlike the BCS era, the College Football Playoff won't be as heavily influenced by early-season matchups.

Still, there's no doubt that every game counts.
In 2014, college football fans will be treated to a handful of scintillating matchups. Among them are rematches from some of last season's most exciting games, key divisional tilts and showdowns between legitimate CFP contenders.
All in all, we will learn a lot about how this year's college football season will play out within the first month.
Join B/R as we take a closer look at the 10 early-season games that will have an impact on the CFP.
Begin Slideshow

»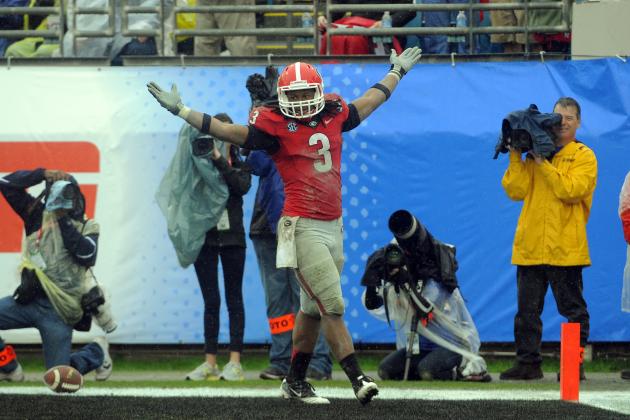 Stephen B. Morton/Associated Press
Can Gurley prove he is the man that can lead the Bulldogs to glory?
Where/When: Sanford Stadium (Athens, GA), Saturday, Aug. 30
The Skinny
No, the 2014 version of this matchup most likely won't be as exciting as last year's installment.
Clemson will be without several key playmakers that helped them to a 38-35 win at Death Valley in 2013, including quarterback Tajh Boyd and wide receiver Sammy Watkins. Meanwhile, Georgia will come in without quarterback Aaron Murray under center.
But while the Tigers would be happy with merely competing in the ACC next season, the Bulldogs have their eyes set on a spot in the inaugural College Football Playoff.

The team certainly has the talent, returning 10 players on a defense that will welcome in Jeremy Pruitt as the new defensive coordinator. Not to mention, running back Todd Gurley should be a favorite for the Heisman Trophy.
All in all, this should serve as an early litmus test for Georgia.
More specifically, we will have a better idea of whether the team is a contender or a pretender when this one is through.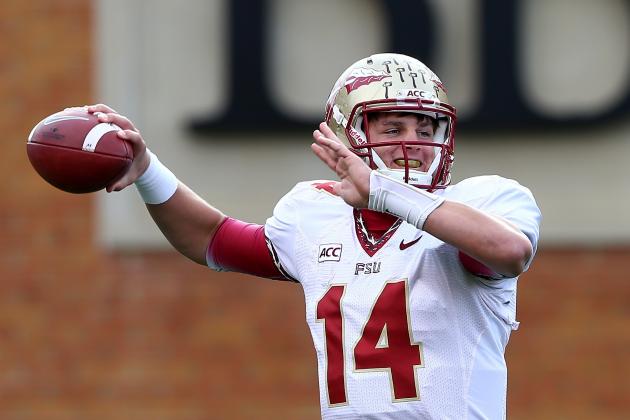 Streeter Lecka/Getty Images
Could Coker be the answer under center for the Tide?
Where/When: Georgia Dome (Atlanta, GA), Saturday, Aug. 30
The Skinny
For three years, Alabama had the security of having quarterback AJ McCarron under center.
Now that he's gone, who will lead the charge?
The Crimson Tide will certainly have some options. Florida State Jacob Coker is the favorite to win the job, but Blake Sims, Alec Morris, Parker McLeod, Cooper Bateman and David Cornwell will all be in the running this summer.
Whoever emerges as the starter will be under the microscope in the season-opener.
Sure, West Virginia isn't the most daunting of opponents. The team is coming off a four-win season, lost starting running back Charles Sims to graduation and both options at quarterback took turns playing themselves out of the job in 2013.
Still, the Mountaineers return 14 starters and will be out to shock the nation.
On the other hand, Alabama will have its work cut out defensively. The team returns just five starters from a unit that struggled late last season.
By the end of this one, we will have an idea of whether or not the Tide dynasty is truly finished.
Jonathan Bachman/Associated Press
It's Jennings' time to shine.
Where/When: Reliant Stadium (Houston, TX), Saturday, Aug. 30
The Skinny
Both of these squads are coming off disappointing seasons.
LSU finished a season that began with national title aspirations by losing three games. Wisconsin suffered a late-season collapse, losing its final two contests to finish 9-4.
It doesn't help matters that both teams will be without several key starters in 2014—Tigers return 12 while Badgers return nine.
For LSU, the season-opener will be an opportunity to get a good look at quarterback Anthony Jennings and top-2014 signee and 5-star running back Leonard Fournette. Meanwhile, Wisconsin will try to put the pieces together on a defense that loses eight starters.
Only the Tigers have a realistic shot of competing for the College Football Playoff this season.
Still, just how much of a contender they can be depends on how the team handles this matchup.
Chris Carlson/Associated Press
How will the Seminoles respond in 2014?
Where/When: AT&T Stadium (Arlington, TX), Saturday, Aug. 30
The Skinny
Only one team returns fewer starters than the nine that Oklahoma State will bring back. Those losses include quarterback Clint Chelf and playmaker cornerback Justin Gilbert.
That could prove to be a problem against defending champion Florida State.
Sure, the Seminoles have some key losses of their own on both sides of the ball. However, having heralded quarterback and 2013 Heisman Trophy winner Jameis Winston for another season could be more than enough.
Although his team may be inexperienced, Cowboys head coach Mike Gundy should still have his boys ready to compete. Rising senior running back Desmond Roland could pose some problems.
In what will be the Seminoles' first action of 2014, it will be interesting to see how the team responds.

Is Florida State content with just winning the title last year or is it hungry for more?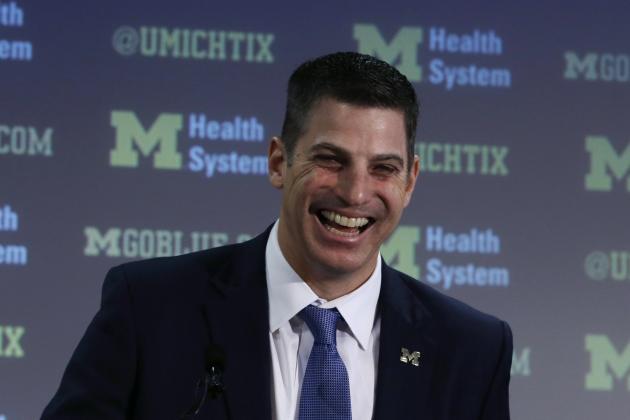 Carlos Osorio/Associated Press
Is this the man that can turn around the Wolverines offense?
Where/When: Notre Dame Stadium (South Bend, IN), Saturday, Sept. 6
The Skinny
After the 41-30 trouncing it received in Ann Arbor last year, Notre Dame will be out for revenge this time around.
Then again, both teams will come in with a chip on their shoulder after disappointing campaigns in 2013.

For Michigan, the team is coming off a disastrous 7-6 season. With the addition of offensive coordinator Doug Nussmeier, the team will set out to re-discover its offensive prowess and establish itself as a Big Ten contender again.

On the other hand, the Irish will try to wipe away the memory of a 9-4 season. Although quarterback Tommy Rees is graduating, the team will welcome back likely starter Everett Golson—who led Notre Dame to BCS title game in 2012.
In a matchup between two traditional football giants, expect both teams to enter the clash with hopes that a victory will springboard their chances for an invitation to the College Football Playoff.
Who will it be?
Stephen Dunn/Getty Images
Sarkisian is ready to lead the Trojans back to competing for national championships.
Where/When: Stanford Stadium (Stanford, CA), Saturday, Sept. 6
The Skinny
Last season, USC played spoiler to Stanford's BCS title hopes, recording an impressive 20-17 victory at the Coliseum.
This time around, the Cardinal are hoping for payback.
The Trojans return seven players on both sides of the ball. Throw in a sensational 2014 recruiting class—No. 11 overall—and first-year head coach Steve Sarkisian has the team ready to surprise a lot of folks.
Meanwhile, Stanford is dealing with several key losses, including running back Tyler Gaffney and linebackers Trent Murphy and Shayne Skov. Forget a national title, contending for a Pac-12 title is good enough.
Whichever team emerges victorious in this early-season matchup will make a case to be a serious contender for a spot in the College Football Playoff as well as the Pac-12 title game.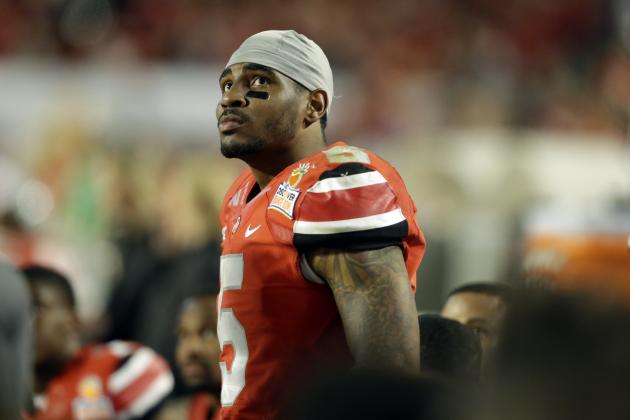 Wilfredo Lee/Associated Press
Miller will look to lead the Buckeyes back to the promise land.
Where/When: Ohio Stadium (Columbus, OH), Saturday, Sept. 6
The Skinny
If it can top Navy in Week 1, Ohio State will enter this matchup riding a 25-game winning streak in the regular season.
With the game played in front of Buckeyes Nation, expect that streak to be extended. Furthermore, the team will look to solidify its place as a College Football Playoff contender and Big Ten favorite.
Losing running back Carlos Hyde and linebacker Ryan Shazier will certainly hurt. But with quarterback Braxton Miller under center, Ohio State will be capable of beating any opponent.
Although Virginia Tech only returns five starters on defense, the team always seems to be more than capable on that side of the ball.

If the Buckeyes can come out of this matchup unscathed, the team should be just fine on its quest for a national title. With a loss, Ohio State would be as good as done.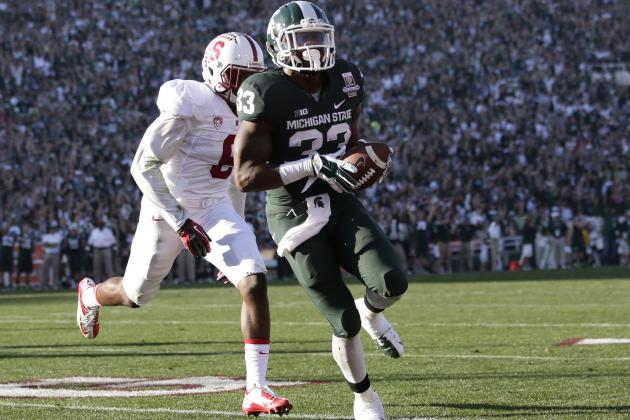 Jae C. Hong/Associated Press
Can Langford power the Spartans past the Ducks?
Where/When: Autzen Stadium (Eugene, OR), Saturday, Sept. 6
The Skinny
This is exactly the kind of early-season matchup fans wanted to see when the College Football Playoff was announced.
Both of these teams just missed out on playing for the BCS title last season. Furthermore, both of these teams would stand to be a front-runner for one of the four CFP spots with a win in this meeting.
Michigan State should enter as the favorite, as the team returns both quarterback Connor Cook and running back Jeremy Langford. The defense only returns four starters, but defensive coordinator Pat Narduzzi should have no problem getting the unit up to par.
On the other hand, Oregon will benefit with playing at home. Not to mention, Heisman Trophy contender Marcus Mariota will be back under center.
This should be one of the most anticipated matchups of the early part of the 2014 season. Expect the winner to take a significant leap in the polls while the loser shouldn't drop too far.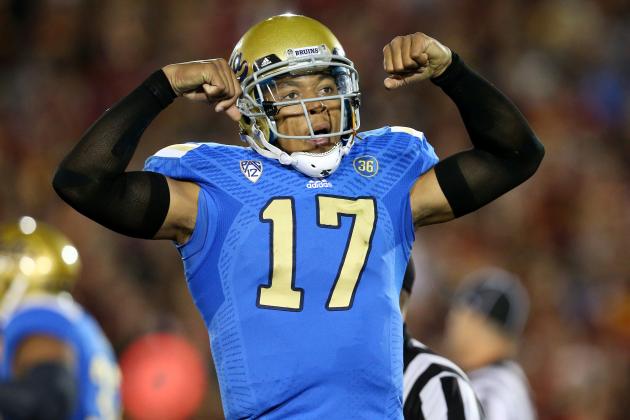 Stephen Dunn/Getty Images
Hundley is poised to take the Bruins to the next level.
Where/When: AT&T Stadium (Arlington, TX), Saturday, Sept. 13
The Skinny
It may be pegged as a neutral-field showdown, but there's no doubt Texas will have somewhat of a home-field advantage.
Still, that won't be enough to avoid being the underdog against UCLA.

The Bruins will bounce back from an up-and-down 2013 campaign. Quarterback Brett Hundley returns and two-way playmaker Myles Jack will enter his sophomore season as a Heisman Trophy contender.
On the other hand, the Charlie Strong era in Austin will welcome in a new quarterback under center. But the strength will be a Longhorns defense that returns seven starters.
While Texas is merely trying to prove it can be a viable threat in the Big 12, UCLA has to feel like it has a legitimate shot to be a dark-horse contender for the College Football Playoff.
Expect this showdown to serve as the Bruins first step.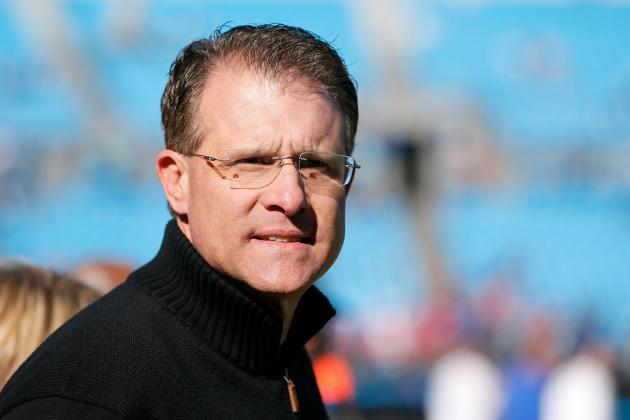 Kevin C. Cox/Getty Images
Can Malzahn continue his magic in 2014?
Where/When: Bill Snyder Family Football Stadium (Manhattan, KS), Saturday, Sept. 20
The Skinny
With a matchup with LSU on the horizon, Auburn will have to be careful during this road tilt.
Kansas State closed out the 2013 campaign as one of the hottest teams in college football, winning six of its final seven games. That includes an impressive romp of Michigan, 31-14, in the Buffalo Wild Wings Bowl.

The Wildcats may only return 10 starters in 2014, but they have playmakers on both sides of the ball. Quarterback Jake Waters will once again continue his dynamic connection with wide receiver Tyler Lockett and Ryan Mueller will continue to create havoc on the defensive line.

If the Tigers have any hopes of returning to the national title game, they will have to be prepared to handle the road environment in Manhattan.

Losing running back Tre Mason will hurt, but quarterback Nick Marshall returns another year wiser. Not to mention, Auburn returns six starters on defense.
Will fate favor the Tigers once again in 2014?
Unless otherwise noted, all stats, rankings and recruiting information courtesy of CFBstats and 247Sports.
For complete coverage and everything college football, you can reach Sebastian on Facebook, Twitter and via email at Sebastian.LenaBR@gmail.com.